<![if !vml]>

<![endif]>
<![if !vml]>
<![endif]>
<![if !vml]>

<![endif]>
<![if !vml]>

<![endif]>The British university building programme of the late 50s and early 60s, enables more people than ever before to experience academia, and the life opportunities that it could offer. 
<![if !vml]>

<![endif]>
A number of red brick and concrete campus's begin to sprawl across towns and cities, offering an alternative to the longer established and in some cases more "exclusive" seats of learning.  The mid 60s sees a rush by banks to purchase sites at universities in order to be able to cash in on the growing student banking market. 
<![if !vml]>

<![endif]>
In service: 30 September 1965 – 27 November 2009
<![if !vml]>

<![endif]>
<![if !vml]>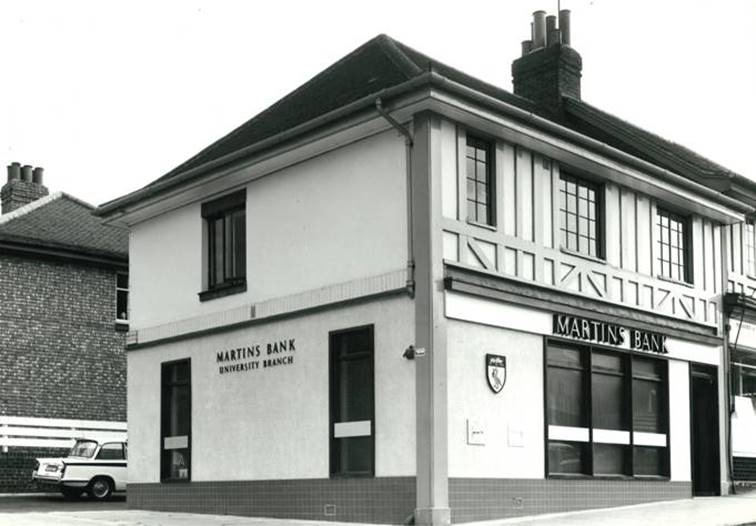 <![endif]>
Image © Barclays Ref: 0030-0862
<![if !vml]>

<![endif]>
Durham University opens in 1832, but has to wait 133 years for its first Branch of Martins!   In 1965 the Bank sets up shop at No 26 New Elvet as a self-remitting sub Branch.  This is a both a prudent and an important step, because it gives the Branch its own sorting code, and therefore the scope to expand and open a large number of accounts without distorting the workload of the main office. 
<![if !vml]>

<![endif]>
<![if !vml]><![endif]>

<![if !vml]><![endif]>

Image © Martins Bank Archive Collections

Advertisement re-mastered 2018

<![if !vml]><![endif]>

Branch Images © Barclays Ref: 0030-0862

<![if !vml]><![endif]>

<![if !vml]><![endif]>

At the same time it enables Martins to manage -  both remotely and in situ, with Clerk in Charge, Mr P Hide available to make the immediate decisions and help the Bank's student customers.  By the time of the merger with Barclays in 1969, Martins Bank has ten University Branches across the country.

These are found at Bradford, Bristol, Durham, Lancaster, Leeds, Liverpool, Newcastle upon Tyne, Norwich, Sheffield and York.

<![if !vml]><![endif]>

<![if !vml]><![endif]>

<![if !vml]><![endif]>

Branch Images © Barclays Ref: 0030-0862

<![if !supportMisalignedColumns]>
<![endif]>
<![if !vml]>

<![endif]>