<![if !vml]>

<![endif]>
<![if !vml]>

<![endif]>
<![if !vml]>

<![endif]>
Cleckheaton Branch is opened by the West riding Union Bank in 1888 in this quite splendid building, looking like something from a Brothers Grimm fairy tale. The Lancashire and Yorkshire Bank inherits this branch from their takeover of the West Riding Union Bank in 1902,  and in 1928 it becomes a branch of Martins, thanks to the merger of the L & Y with the Bank of Liverpool and Martins.
<![if !vml]>

<![endif]>
Further down this page you can see photographs of the branch bearing the signage of its two previous owners. It is not until 1950 that Martins Bank Magazine pays Cleckheaton a visit, and discovers on this occasion, that the staff are apparently 'mothered' by the Branch Caretaker, and 'fathered' by the Manager – how curious…
<![if !vml]>

<![endif]>
In Service: 1888 until 29 May 2020
<![if !vml]>

<![endif]>
<![if !vml]>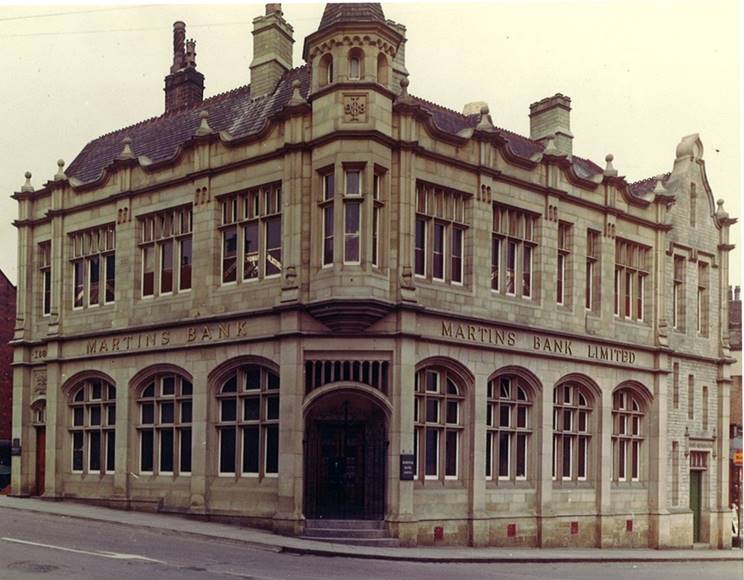 <![endif]>
Branch Images © Barclays Ref 0030-0671
<![if !vml]>

<![endif]>
<![if !vml]>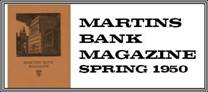 <![endif]>Cleckheaton was the choice of <![if !vml]>
<![endif]>Manchester District for our next visit and on 9th January we took the train to Manchester where John Southworth was waiting for us with a car.   It was a mild day with fog hanging about as we threaded our way through the city to the Oldham road, with John assiduously pointing out the sights of Manchester to make the journey more interesting. There was Strangeways Gaol, Shudehill branch and the executioner Pierrepoint's pub, with its macabre name 'Help the Poor Straggler', and then we were speeding via Oldham to Brighouse, over the moors to the Spen valley, with mist spoiling the magnificent view from the backbone of England.
<![if !vml]>

<![endif]>
<![if !vml]><![endif]>

Branch Images © Barclays Ref 0030-0671

Mrs. Taylor seemed to think our visit was unnecessary, for when she was told that we were coming to get a bit of local colour she told her husband: - "Tell him it's black."  It's a funny (peculiar) little place, with factories and residences all mixed up.  One sees quite a nice house and garden with a factory round the comer. The black of which Mrs. Taylor complains is largely borne by the wind from the nearby large manufacturing towns.  But we didn't go to see Cleckheaton; our little family there was our primary interest. Mr. A. L. Taylor, the Manager, is well-known to many of us as the Captain of the Manchester cricket team for the past two seasons, and he has also been Captain of the Spen Victoria team for the past two years. He has a daughter at Birmingham University, training to be a gymnastic mistress, and a young son who has only just started school. Mr. Taylor entered the Lancashire and Yorkshire Bank in 1919 and has served at Ashton, Harpurhey and Elland (where he became Pro Manager in 1941) before his appointment to Cleckheaton last year.

<![if !vml]><![endif]>

He served with H.M. Forces from 1942-1946. R. Sharpe, the second man, is another L. and Y. man, who commenced his service in 1915, and has been at Cleckheaton since 1923, twenty-seven years.  He has a daughter on our staff at Heckmondwike. He saw service in the first World War and his chief claim to distinction outside the Bank lies in his skill with the cue—he is an accomplished billiards player.  K. B. Ramsden is one of those northerners who volunteered for service in the London District during the war, working at Bexley, Kingsway, Moorgate and Welling for varying periods.   He entered the service in 1936 at Huddersfield and has also been at Sowerby Bridge. This   is   his   second   spell   at Cleckheaton, his first being in 1938. D. Reynolds, the junior, has only been with us for six months. The only girl, Miss H. Hardill, came into the Bank in 1941 and has been at Cleck­heaton all the time. 

<![if !vml]><![endif]>

What struck us about the place was the real family spirit pre­vailing; we are getting quite accomplished in sensing the atmosphere at a branch, and when we went to meet Mrs. Annie Rumley, the caretaker, who lives on the premises, we knew why. Mrs. Rumley is no ordinary caretaker; she mothers the family and it was she who told us that Mr. Taylor fathers his staff.  Between them they keep everybody happy and the regard in which they are held is plain for all to see. After lunch we went to have a look at the sub-branch at Gomersal—far too nice an office only to be used twice a week. We were sorry not to meet G. D. T. Pickering, the bank guard, who, in the course of an adventurous career has been a factor with the Hudson Bay Company. On the way back we called in at Oldham and had tea with Mr. P. B. Walton, arriving back in Manchester at dusk.

<![if !vml]><![endif]>

Branch Images © Barclays Ref 0030-0671

<![if !supportMisalignedColumns]>
<![endif]>
<![if !vml]>

<![endif]>