<![if !vml]>

<![endif]>
<![if !vml]>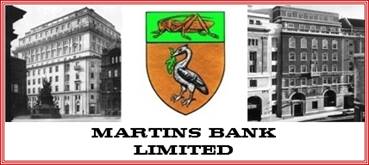 <![endif]>
<![if !vml]>

<![endif]>
<![if !vml]>

<![endif]>Wrescam is one of three trading estate branches run by Martins Bank.  The first, at GATESHEAD TEAM VALLEY is a large office built on a sprawling new industrial estate in 1938.  In 1947 it is Wrexham's turn, with a branch on the new trading estate.  A previous sub branch had been opened in nearby Overton on Dee in 1923 but this was closed by 1931.   Wrecsam Trading Estate branch survives a little longer, being closed down in 1957, and Martins waits another eight years before opening at HUCCLECOTE TRADING ESTATE in Gloucester in 1965. 
<![if !vml]>

<![endif]>
In Service: 17 July 1947 until 1957
<![if !vml]>

<![endif]>
<![if !vml]>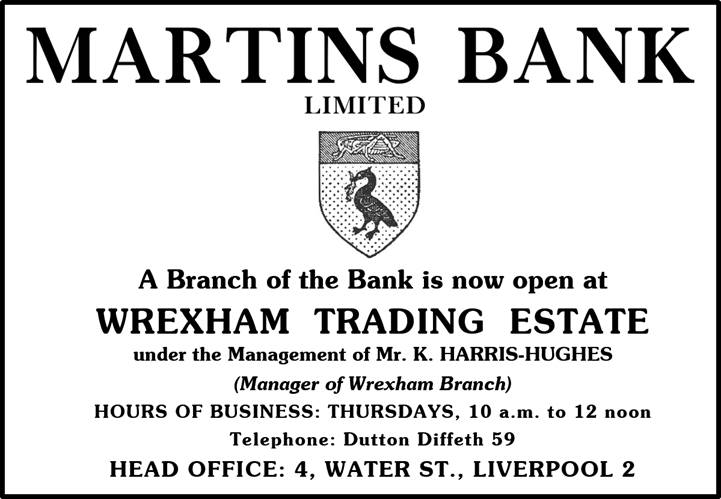 <![endif]>
Image © Martins Bank Archive Collections – Advertisement re-mastered 13 May 2020
<![if !vml]>

<![endif]>
The success of any "specialist" branch depends on how it can sell itself to the customer, and on the actual business traffic in the area.  Many branches of this type have ended up being little more than experiments, but for all that, they were at least worth a try. The opening of Wrexham Trading Estate Branch is announced in the local press of North Wales and Cheshire over the weekend of 26/27 July 1947.
<![if !vml]>

<![endif]>