<![if !vml]>

<![endif]>
<![if !vml]>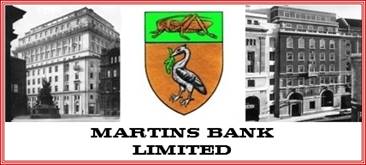 <![endif]>
<![if !vml]>

<![endif]>
<![if !vml]>

<![endif]>Prestatyn branch opens in 1938, another example of the mock tudor effect favoured by Martins Bank in the design of many of its new Southern and Western branches in the first half of the twentieth century, largely to give an impression of history and stability.  1947 sees the appointment of a new manager at Prestatyn, who will hold the post continuously until his retirement in 1965 – Mr F A Chadwick.  He is the focus of our two short features, his appointment being covered by a brief announcement in Martins Bank Magazine's Winter 1946 edition, and his retirement by a longer article in the Spring 1965 issue. During its first two years the Magazine regularly features newly promoted Managers alongside images of their new Branches, but sadly this feature does not last beyond the first few editions. The retirement features are, on the other hand a popular fixture from the first to the very last edition of the Magazine, and today they provide us with invaluable information about those they depict.
<![if !vml]>

<![endif]>
In Service: 10 November 1938 until 5 May 1972
<![if !vml]>

<![endif]>
<![if !vml]>
<![endif]>
Image © Barclays Ref 0030-2343
<![if !vml]>

<![endif]>
<![if !vml]>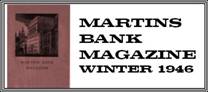 <![endif]><![if !vml]>

<![endif]>Mr F A Chadwick, the new manager of Prestatyn Branch entered the service of the Bank in 1923 at Sefton Park Branch. After service at Liverpool City Office, Central, Head Office Relief, Breck Road and Smithdown, he joined H M Forces.  After demobilisation he went to Wrecsam, where he became Pro Manager in 1945, a position he vacated to assume his present position at Prestatyn on 1ST September 1946.
<![if !vml]>

<![endif]>
<![if !vml]>
<![endif]><![if !vml]>

<![endif]>mr chadwick retired from the management of Prestatyn branch at the end of January, and on February 5th he and his wife entertained at home some 30 colleagues and friends many of whom had travelled a long way. Mr I. Buchanan (Liverpool District General Manager) spoke of him as a 'kindly, lovable gentleman' who had been a great sportsman in his youth and he praised the great services he had performed for the Bank over 42 years and particularly for local organisations in his 19 years as Manager at Prestatyn. It was known that Mr Chadwick wished for a greenhouse and the presentation money was therefore handed to him by Mr Buchanan in the form of a bill of exchange drawn on a local firm and accepted payable at Prestatyn branch, colleagues associated with the gift endorsing the bill. A bouquet was presented to Mrs Chadwick from the staff. Mr Chadwick entered the service at Sefton Park branch in 1923 and worked at Merseyside branches prior to joining Wrexham branch in 1943 where, two years later, he received signing authority. He became Manager at Prestatyn in 1946.
<![if !vml]>

<![endif]>