<![if !vml]>

<![endif]>
<![if !vml]>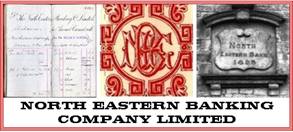 <![endif]>
<![if !vml]>

<![endif]>
It takes two…
After amalgamating in 1914 with the North Eastern Bank, the Bank of Liverpool wastes no time in putting its name above the door of our branch at Albert Road Middlesbrough.  Four years later, there is another change of name, and ten years after that another one, this time upon the creation of the modern-day Martins Bank.
<![if !vml]>

<![endif]>
We fast forward to the Second World War now, when Martins owes an immense debt of gratitude to the army of ladies who have taken on roles of responsibility to run our branches as Pro Manager or Clerk in Charge whilst staff are called up to fight for their country.  The Bank's Branch at Albert Road in Middlesbrough is looked after in this way not by one, but by TWO ladies from 1942 until the end of the conflict. Miss Mary Cranston is Clerk in Charge from 1942 to 1945, and Miss Norah Cranston takes charge in the same role from 1945 to 1946.
<![if !vml]>

<![endif]>
<![if !vml]>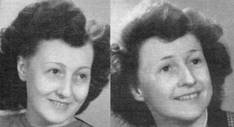 <![endif]>
<![if !vml]>

<![endif]>
At the end of the war the Cranstons stand down, and a new branch manager – Mr J A Naisbitt -  is appointed at Middlesbrough.
<![if !vml]>

<![endif]>
In service: pre 1914 – 16 September 2011
<![if !vml]>

<![endif]>
<![if !vml]>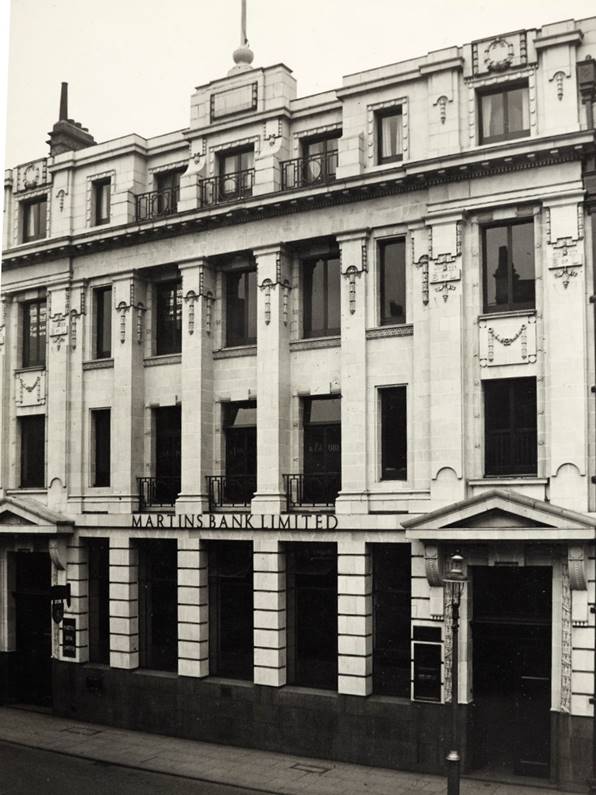 <![endif]>X
Image © Barclays Ref 0030-1889
<![if !vml]>

<![endif]>
Mr Naisbitt goes on to be Joint General Manager of the Bank from 1961 to 1964, so success is obviously in the air in this particular part of the World… We have two retirement features for Middlesbrough, Mr Goostrey retires in 1959 after eight years there as Manager.  Then we move forward a little to 1964 to say goodbye to Mr Raine who has served in a "pro Manager" role since 1958.
<![if !vml]>
<![endif]><![if !vml]>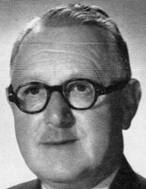 <![endif]>On the eve of his retirement at the end of August, Mr. Percy W. Goostrey acted as host to past and present colleagues at the Masham Hotel, Middlesbrough. Presenting him on behalf of the subscribers with a portable transistor radio, Mr. J. Milner, Assistant Manager, spoke of the high regard shared by customers and colleagues alike for Mr. Goostrey. In reply, Mr. Goostrey expressed his appreciation of the loyalty all members of the staff had extended to him. "Without this," he said, "no manager could make any progress at all." Miss Rosemary Pallister then presented a bouquet to Mrs. Goostrey, who, in a touching little speech expressed her gratitude and also her pride in her husband's achievements. These proceedings were followed by a happy gathering from which those present were reluctant to depart. Among those who attended were Mr. A. B. Hindmarsh (Manager, Leeds City Office), Mr. S. A. Elton (Manager, Darlington), Mr. K. J. Peacock (Manager, South Shields), Mr. H. E. Pearson (Manager, Durham), Mr. E. G. Lowery (Mr. Goostrey's successor), and several customers. Mr. Goostrey commenced his service with the Lancashire & Yorkshire Bank. He was appointed Pro Manager at St. Ann's Square in 1933 and the following year became Sub Manager at Preston. He was appointed Manager at Wigan in 1936, at Darlington in 1946 and at Middlesbrough in 1951. Mr. and Mrs. Goostrey are going to live in Scar­borough.
<![if !vml]>

<![endif]>
<![if !vml]>

<![endif]><![if !vml]>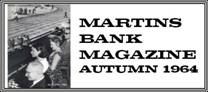 <![endif]>the eve of Mr John Raine's retirement at the end of June was a memorable occasion. He was entertained to lunch by Mr W. Weatherill (District General Manager) and his colleagues, after which, at a gathering at Middlesbrough branch, Mr E. G. Lowery, the Manager and a friend of many years' standing, presented him with a gold wristlet watch as a token of affection and good wishes from sixty colleagues, including some now far removed from Tees-side. Tribute was paid to Mr Raine's loyal and con­scientious service and to his genial and understanding nature which had won for him so many friends. He replied in a grate­ful and humorous vein. In the evening Mr and Mrs Raine were host and hostess at a happy gathering at the Masham Hotel, where Miss Jean Carmichael handed Mrs Raine a brooch she was known to have admired. There were about sixty guests including Mr M. A. Charlton (Pro Staff Manager), representing North Eastern District Office. Mr Raine entered the Bank at Willington in 1920 and later moved to Bishop Auck­land. In 1929 he transferred to Middles­brough branch where, apart from service in the London area during the 'blitz' and three years at Sedgefield, he spent thirty-five years of his career. He was appointed Pro Manager in 1958.
<![if !vml]>

<![endif]>
The 1960s bring with them ambitious plans for changing the centres of many of our towns and cities almost beyond recognition.  This Architect's drawing for a new shopping and office complex in Middlesbrough's Albert Road completely dwarfs the North Eastern Banking Company's original building, (right) which was traditionally one of the taller buildings in Middlesbrough!  Do these plans come to fruition?  Well, sort of, eventually. Barclays moves to the new premises in 1979. The artist's impression below (left) is interesting because it shows the Woolwich Building Society to the left of the new building, and Martins Bank to the right. Both Woolwich and Martins are of course swallowed up by Barclays…
<![if !vml]>

<![endif]>