<![if !vml]>

<![endif]>
© THE JOURNAL 9 MAY 1960
<![if !vml]>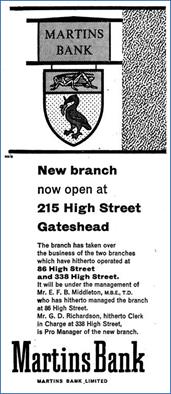 <![endif]>Grasshopper Emblem links progress and tradition…
by Sidney Sterck
<![if !vml]>

<![endif]>
For centuries, the banks in this country have so smoothed out the pattern of business transactions that it is difficult to imagine what life in our islands would be like if we suddenly became "bank-less." Bankrupt? Bewitched, bothered, and bewildered? Try to work it out. In the meantime, thank the banks for acting as a perfect go-between, linking borrower with lender, producer with consumer, wholesaler with retailer, rich man with poor man… The flow of money would, indeed, become highly erratic if the banks were not with us.
One bank that has been with us for a long time is Martins. It started as the Bank of Liverpool more than 125 years ago, but its roots lie much deeper in time than that, as the old private concern — Martins Bank, London — dates to 1563. Still on the Bank's coat of arms is the grasshopper emblem which Sir Thomas Gresham, the famous Eliza­bethan financier, displayed outside his house in Lombard Street, where the principal London office of Martins Bank now stands.
In the course of its growth, Martins has absorbed or amalgamated with more than 30 smaller banks, many of them family concerns, and today sees the outcome of a further amalgamation, though one of a somewhat differing nature. The changing face of Gateshead High Street brought about by the Corporation's development schemes, made it necessary, for the bank to fuse two Branches in that thorough­fare, and replace them with a new building.
<![if !vml]>

<![endif]>
<![if !vml]>

<![endif]>
<![if !vml]><![endif]>

The Attractive façade and the interior of the

new Bank building at 215 High Street Gateshead

<![if !vml]><![endif]>
<![if !vml]>

<![endif]>
CAR PARK, TOO
Gone are the Branches at 86 and 338 High Street, and in their place is an imposing structure bearing the number 215 which like its predecessors, stays at the heart of business life of the community. Customers from the Branches now closed will see much that is new, but a lot that is familiar to them, for most of the staffs of the defunct Branches, including the two managers, have gone over. This new Branch of Martins conforms to the modern "banking in comfort" trend. There is a comfortable waiting room for clients, and—perhaps of greater importance — car parking facilities in a yard at the rear. The businessman will be able to drive in, and enter the Branch through a rear-access door. 
<![if !vml]>

<![endif]>
| | |
| --- | --- |
| <![if !vml]><![endif]> | <![if !vml]><![endif]> |
<![if !vml]>

<![endif]>
COLOURFUL
<![if !vml]>

<![endif]>
The building is steel framed with reinforced concrete floors and roof. Green marble from northern Italy has been used for the ground floor facade, while the upper floors have yellow facing bricks. Doors and windows to the main facade are in polished teak, and the windows and mullions behind the entrance doors are of anodised aluminium. In the banking hall is an illuminated ceiling made of panels suspended below the steelwork. Here, the main wall is finished with wood panelling, while the two entrances are clad with Roman stone — a creamy-brown marble. Sand-blasted glass screens in anodised aluminium frames have been fitted to counters and desks, and the space in front of the counters has been finished in grey and green ceramic mosaic tiles.
<![if !vml]>

<![endif]><![if !vml]>

<![endif]>
<![if !vml]>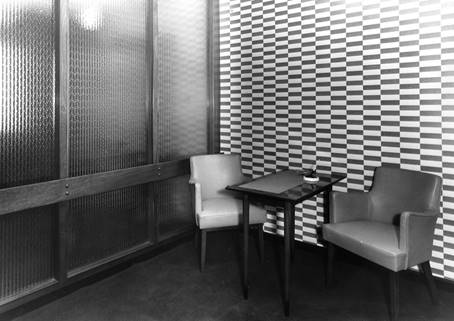 <![endif]>THERMAL STORAGE
<![if !vml]>

<![endif]>
In the Manager's room, one wall is panelled out in elm to give a fitted wardrobe, bookcase and films cupboard, and the floor is close-covered with a dark grey carpet. The heating of the whole of the ground floor is by low-temperature radiation, the electric cables being embedded in the concrete floors. Full advantage has been taken of the thermal storage characteristics of the building materials., "off-peak" electricity tariffs being used to build up a store of heat in the floor slab overnight for release during the day.
<![if !vml]>

<![endif]>
MEN IN CHARGE
<![if !vml]>

<![endif]>
In charge of the new Branch is Mr. E. F. B. Middleton, who was in control at 86 High Street from 1957. Before that date he was manager at Low Fell, and earlier still at Hebburn. During his 18 years' Territorial and active service association with the 5th Battalion, Royal Northumber­land Fusiliers, Mr. Middleton was awarded the M.B.E. and the Territorial Decoration. Mr G. D. Richardson, who has relinquished control at 338 High Street, will assist Mr Middleton at the new Branch. A native of South Shields, he served during the 1939-45 war in the Royal Air Force, partly in Canada. There is, too, the Coatsworth Road Branch serving the less concentrated part of Gateshead. Here, Mr. J. W. Johnson, is manager.
<![if !vml]>

<![endif]>
<![if !vml]>

<![endif]>
EXPERT ADVICE
<![if !vml]><![endif]>

<![if !vml]><![endif]>

<![if !vml]><![endif]>

Mr G D Richardson who

will assist Mr Middleton

at 215 High Street

Mr J W Johnson, manager

of the Coatsworth Road

Branch, Gateshead

Mr E B F Middleton, who

is in charge of

 the new Branch
At the high Street Branch, as indeed obtains at the rest of the 600-plus Branches of Martins Bank throughout England, Wales, the Channel Isles, and the Isle of Man, customers will be able to draw on a highly-specialised service which goes far beyond the purely physical business of banking and withdrawal of money. In addition to acting as executor or trustee under a will, the bank acts a trustees for marriage settlements and for public, charitable, and other institutions and deals with, the administration of trusts of other highly specialised kinds. People with income-tax troubles can take their affairs to a special department where returns for assessments are prepared and repayment claims of all kinds handled. Expert advice is also offered in other fields. The highly-skilled and complicated business of financing exports and imports to and from all parts of the world, for instance, occupies the attention of qualified staffs.
ARTICLE © THE JOURNAL 1960.  BRANCH IMAGES © BARCLAYS REF 0030-1048
Special thanks to Mr G D Richardson, friend of Martins Bank Archive
<![if !vml]>

<![endif]>
In 1965, after five years at the helm of 215 High Street,  it is time for Gateshead Manager Mr Ted Middleton to retire.  His farewell party is attended by more than a hundred guests, and of course, Martins Bank Magazine…
<![if !vml]>

<![endif]>
<![if !vml]>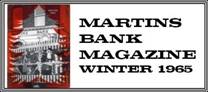 <![endif]><![if !vml]>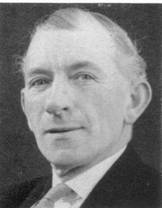 <![endif]>mr ted middleton, M.B.E., T.D., retired as manager of Gateshead Branch on September 30 when the staff of the Branch presented him with a table lighter as a mark of their affection. Later in the evening he enter­tained about one hundred colleagues at an informal party in the Northern Conservative and Unionist Club, Newcastle upon Tyne. Mr W. Weatherill (District General Mana­ger) acted as chairman and Mr B. G. Robson (Pro Manager, Gateshead) ex­pressed the good wishes of a host of friends and, on their behalf, presented Mr Middleton with a cheque. Mrs Middleton received a bouquet from Miss M. Crump. In returning thanks, Mr Middleton spoke of his 45 happy years in the Bank. He intends to buy a picture with the cheque. Prior to his retirement Mr Middleton had lunched at Head Office and at Grey Street. He entered the Bank in 1920 at Jarrow and served at various North Eastern Branches until 1939. After six years' war service he was appointed manager at Hebburn in 1946, at Low Fell in 1948, and in 1957 manager at Gateshead.
<![if !vml]>

<![endif]>
Good reason to "Rentaset"!

What better neighbour for a sparkling new Branch of Martins Bank than a TV hire shop, providing the people of Gateshead with entertainment. The people of the North East have until now had only one television channel – unthinkable in the twenty-first Century.  The demand for TV sets from this shop is likely to be very high at this time, as Tyne Tees Television is only just over one year old, providing a local televsion service – and importantly a second TV channel – bringing choice, variety, and that wonderful new curiosity, television advertising!  For more information about the fascinating early history of ITV, why not visit our friends at the home of UK TV history, Transdiffusion:

<![if !vml]><![endif]>

<![if !vml]><![endif]>

<![if !vml]><![endif]>

<![if !vml]><![endif]>

<![if !vml]><![endif]>

<![if !vml]><![endif]>