<![if !vml]>

<![endif]>
<![if !vml]>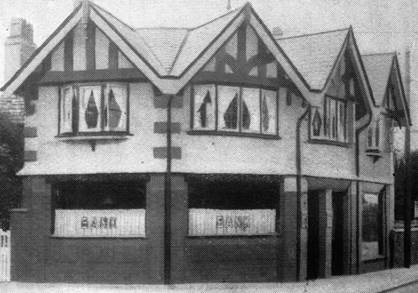 <![endif]>Therefore at the end of World War II a new branch is built on the site of the old one, the image at the top of this page appearing in Martins Bank Magazine in the Autumn of 1946.  From 1927 until 1946 Gatley is managed by Mr Percy Arnett, first as a sub branch, and with full branch status from 1931.   Following the rebuild, we see a far more commodious building with office space upstairs to help cope with future expansion, not least the ever changing paraphernalia needed to achieve "mechnised accounting".  Gatley remains a full branch of Martins right up to the merger with Barclays, enjoying full banking hours, six days a week. The branch is featured along with five others which are seen as representative of the Bank in a special celebration of the 1951 Festival of Britain, in Martins Bank Magazine.
<![if !vml]>

<![endif]>
<![if !vml]>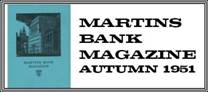 <![endif]>We must confess that when we decided to visit our branch at Gatley we wondered what on earth we would find to say about the place which would be of some interest to readers in London and the North-East, for instance.  But we needn't have worried, for there is something of interest in most places if one goes to the trouble to dig it out, and in the case of Gatley Mr. W. E. Taylor had done the job for us before our arrival.  This is what he found out. Somewhere between Cheadle and Gatley Bonnie Prince Charlie crossed the Mersey. He disdained a horse and waded up to his middle. One of the Highlanders commanded George Hardy, a villager of Gatley, to pull off his brogues. Hardy, thinking the loss of his clogs preferable to an intimate acquaintance with the dirk, complied and handed over the wooden soled shoes. The Highlander looked at them and threw them back. He could not, he said, wear shoes made out of a tree.
The day of our visit was August 14th during Stockport Wakes week, when, on every day except Monday the branch was closed from 11 a.m. But this seems to have very little effect on the work of the branch and the hour of finishing is much the same as when the Bank is open until the usual hour. Customers come in requiring special service whether the doors are open or closed and the office is a busy and thriving unit of the Manchester district. Mr. Taylor entered the Bank in 1915 and served at various branches in the Manchester district, including Hulme and Sale before his first appointment as Pro Manager at Altrincham in 1943. He was appointed Manager at Gatley in 1946. Our branch operates in a new building erected on the site of the old one and is one of the most attractive from an architectural point of view of any of the newer ones.
<![if !vml]>

<![endif]>
<![if !vml]>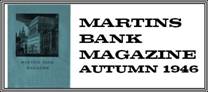 <![endif]><![if !vml]>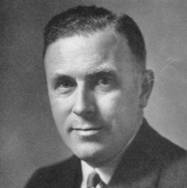 <![endif]>On May 31st Mr. Arnett retired from the management of Gatley branch and on the previous evening a very happy send-off party was held at Parker's Cafe, on the invitation of Mr. and Mrs. Arnett. More than 70 guests were present and after the meal a very pleasant entertainment was provided. Mr J H Harrop, manager of Altrincham branch, pre­sided and his opening toast to Mr. and Mrs. Arnett was supported by Mr. W. E. Taylor, the new manager, and by Mr. J. S. Richards, former Manchester Superintendent of Branches. A cheque and an engraved tankard were later presented to Mr. Arnett on behalf of former colleagues. A bouquet of roses was presented to Mrs. Arnett by a lady member of the staff of the branch. The following branches were represented at the function :—Stockport, Brown Street, Sale Moor, Ardwick, Altrincham, Levenshulme, Huddersfield, Northenden, St. Ann's Square, Brooks's Bar, West Didsbury, Urmston, Bramhall, Great Ancoats Street, Old Trafford, All Saints, Hale, Broadheath, Pendleton, Wigan, Timperley, Widnes, Whitefield, Cheetham, and of course Manchester ; a striking tribute to Mr. Arnett's popularity. He entered the service of the Lancashire and Yorkshire Bank in 1901 at Stockport, becoming clerk-in-charge of Gatley in 1927, and manager in 1931.
<![if !vml]>

<![endif]>
<![if !vml]>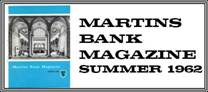 <![endif]><![if !vml]>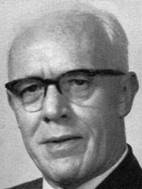 <![endif]>At the end of March Mr. R. Nicholson retired after 45 years' service which commenced at Kirkby Stephen in 1917 and took him to Appleby, Windermere and Bowness where he received his first appointment as Manager in 1943. He became Manager at Ambleside in 1954 and for the last two and a half years of his service he went to the Man­chester District as Manager at Gatley. To mark the occasion Mr. and Mrs. Nicholson invited past and present members of the staff and friends to a cocktail party which was followed by the presentation of a golf bag trolley by Mr. L. Paulson, on behalf of the subscribers. In his remarks Mr. Paulson made special mention of the happy atmo­sphere at the branch and expressed the good wishes of everybody for a long and happy retirement among the familiar surroundings of Windermere, and that Mr. Nicholson's health would be greatly improved. Miss Button, the senior lady on the staff, then presented Mrs. Nicholson with a bouquet of spring flowers. Mr. Manser, Manchester District Superintendent of Branches, spoke on behalf of the Bank, mentioning that Mr. Nicholson had made a wide circle of friends throughout the country during his service and had achieved high office in the Masonic world. He had also acted in official capacities for the Lakeland Sheep Dog Trials, fell races and for numerous other county events. We recall with pleasure the presence of Mr. and Mrs. Nicholson as members of the Bank holiday party to Cadenabbia in 1951. They made a great many friends and Mr. Nicholson played the piano for us most mornings at the short service in the hotel with which we started each day.  In thanking his colleagues for their gift Mr. Nicholson also expressed his appreciation for the whole hearted co-operation he had received from them. On the following day he was entertained to lunch at Spring Gardens by Mr. E. H. Priestley, the District General Manager.
<![if !vml]>

<![endif]>