We took the opportunity to ask Caroline a few questions about her child stardom:
<![if !vml]>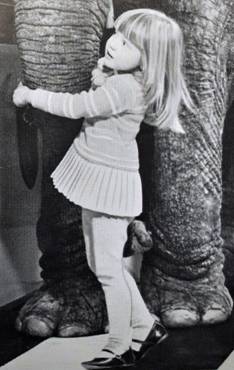 <![endif]>It was you that found us - how?
I fell upon your web site because I wanted to know the name of the elephant and whether it is still alive. My daughter is studying to be a vet and we were chatting about it and I said I wonder if it would remember me as we did the advert together. Yours is a lovely web site and I was thrilled to see my picture on it.
Where were the pictures taken?                                           
I was about 5 years and we went to a studio off the Finchley Road in Hampstead, on the opposite side of the road to where the bank was, to do the photo shot. It was a mock up of a bank and not the real thing.
What do you remember about making the ad?
Unfortunately I don't remember much of the day but I do remember being allowed to walk with the elephant back to the lorry and hold the trunk which was very exciting for a small child. I also did another advert for Martins Bank with a camel but I don't remember much about it so the camel was probably not as friendly as the elephant.
Did you have any other connections to Martins Bank?
I think I actually had an account at the Bank in Finchley Road, Hampstead. I remember the Branch being there years after my photos being taken because I always thought about the time I got to play with a real live elephant. Not many children get such a wonderful opportunity and I got paid for it as well.
<![if !vml]>

<![endif]>