<![if !vml]>

<![endif]>
<![if !vml]>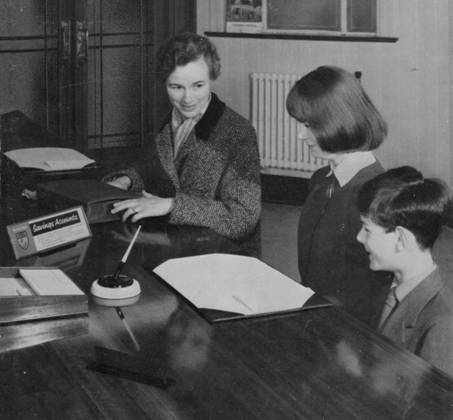 <![endif]><![if !vml]>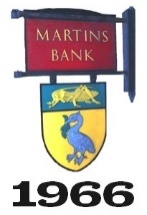 <![endif]>Looking at this picture (right), It doesn't seem like there are only a few months left until the "Summer of Love", with its long hair, flower power clothes, drugs and freedom to explore almost anything, but in 1966, this is how most of our shiny scrubbed children still look.  Seen here, feigning interest in savings whilst a lady looking more like a 1940s film star than a Bank Offical smiles sweetly, they pose for the cover of the Spring 1966 Edition of Martins Bank Magazine, reassuringly "un-rock 'n' roll" in the same year that an Elephant, a Camel and a Hippo will fundamentally change the way Martins Bank advertises itself.  Perhaps we are witnessing the strong family appeal that the Bank has always engendered amongst its staff, and would like to keep forever?  The fact is, that time is sadly running out for the idyllic childhood of the 1950s.  New freedoms will bring not only great opportunity, but also many many dangers for the next generation of children, as the world becomes at once more competitive, and less safe.  In ten years time these smiling children might be heading for university, or they might be adorned with safety pins and torn clothing, screaming out the message of punk on "Top of the Pops"…   Let's return now to the relative safety of the 1960s, to see just how our kids are being wooed by Martins Bank and others, to put their pennies in the vault. The majority of Martins' Giveaways are aimed at children, and in this re-written feature, we look at what has been on offer at Martins (and some other banks) down the years, in order to tempt young savers…
<![if !vml]>

<![endif]>
The moneybox comes of age…
<![if !vml]>

<![endif]>
<![if !vml]>

<![endif]>Marketing savings to children is nothing new, and certainly not born from the new competitiveness that Banking undergoes from the late 1960s onwards.  In 1921, a classic design is born – the oval metal HomeSafe that is used by generations of adults and children to save for that rainy day. This image shows a stack of Home Safes, ready for customers of the Bank's portable Branch at the Royal show in Manchester, 1930. The concept is of course, quite simple. The Home Safe is like having a secure little piece of your bank at home with you: Locked at all times, and opened only at the counter of the bank so that the contents can be paid into an account. These oval money boxes are by no means rare, and it is very easy to pick them up cheaply on internet auctions sites.  Tens of Thousands were issued by hundreds of banks and building societies throughout the United Kingdom between 1921 and the early 1940s, and those bearing the names of Martins Bank, and the Bank of Liverpool and Martins should not be difficult to find, and you should not expect to pay more than a few pounds for one of these charming souvenirs of banking days gone by… 
<![if !vml]>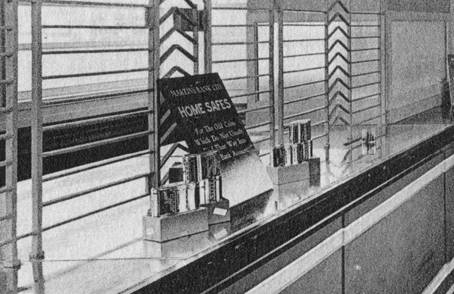 <![endif]>
| | | | |
| --- | --- | --- | --- |
| <![if !vml]><![endif]> | <![if !vml]><![endif]> | <![if !vml]><![endif]> | <![if !vml]><![endif]> |
Images © Martins Bank Archive Collections
<![if !vml]>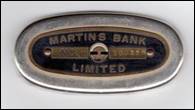 <![endif]>
With the exception of Lewis's Bank, and a small number of others, there's not much to choose from really – the majority of HomeSafes look exactly the same, and the effect might even be to encourage someone to open accounts with the minimum deposit at several banks simply to collect the differently named oval HomeSafe boxes, and not bother to use them as intended by the banks. This will hardly encourage brand loyalty.  By the 1950s many banks have moved away from the generic oval tin, to Home Safes of their own creation, but the basic idea of the key being held by the bank remains.  You might think that the banks had learned the pitfalls of a ubiquitous design, but even when many, Martins included, go for something new and attractive, it ends up looking much of a muchness…
<![if !vml]>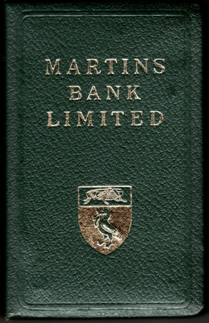 <![endif]>
| | | | | |
| --- | --- | --- | --- | --- |
| <![if !vml]><![endif]> | <![if !vml]><![endif]> | <![if !vml]><![endif]> | <![if !vml]><![endif]> | <![if !vml]><![endif]> |
Images © Martins Bank Archive Collections
<![if !vml]>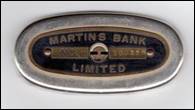 <![endif]>
Catching the Savings Bug…
<![if !vml]><![endif]>With the merger already on the cards, Martins' swansong offering becomes an instant classic – the see-through yellow plastic grasshopper money box, given away to young savers, in combination with a golden coloured grasshopper lapel badge, allows the Bank one last chance to exhibit brand independence before the Spread Eagle takes over.   Sadly, at the same time, a key player in the history and fortunes of Martins drops off the radar, when suddenly the Liver Bird, symbolic both of the Bank of Liverpool, Martins Bank itself, AND its glorious Head Office Building, is nowhere to be seen. 

<![if !vml]><![endif]>

<![if !vml]><![endif]>

<![if !vml]><![endif]>

Image © Martins Bank Archive Collections

Special thanks to John Robertshaw

<![if !vml]><![endif]>

The thinking behind this might be to make the Bank more attractive to London-centric investors. The sturdy little plastic grasshopper which is (apparently) indestructible, might be a strong statement about the bank, but this seems sadly ironic considering how these beautiful little boxes have outlasted the bank itself.   Indestructible they might be, but they certainly don't need a super-criminal to break into them and steal the contents.  In a departure from lockable money boxes that can only be emptied out in front of the cashier, the grasshopper money box has only a small plastic sliding door between you and your pennies. 

Martins Bank makes the most of the arrival of its latest giveaway, and the grasshopper moneybox is celebrated by the following tongue in cheek article in Martins Bank Magazine…
<![if !vml]>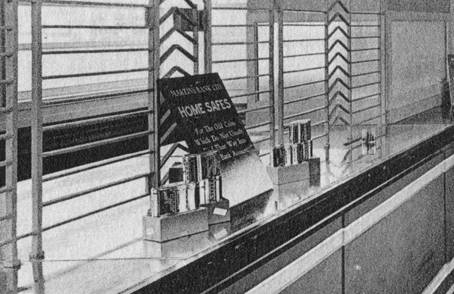 <![endif]>
Grasshoppers Under Stress…
<![if !vml]>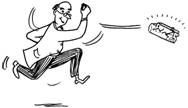 <![endif]><![if !vml]>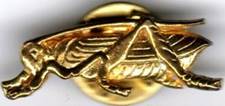 <![endif]>The Childproof Grasshopper Moneybox has taken the nation's children by storm, replacing the traditional piggy-bank, now lying forgotten in dingy attics. In this article we describe the work of the Grasshopper Testing Establishment and pay tribute to the staff whose skill and devotion to duty have brought about this revolution in nurseries throughout the country… fatigue failures in the initial manufacturing stages of the Mark I Grasshopper brought to the fore the danger to the young saver of lethal knife-edged plastic splinters from disintegrated money-boxes. 'Safety for Savers' became the order of the day and the Grasshopper Testing Establishment was set up at Nether Hopping. The project was naturally highly secret and only after careful <![if !vml]>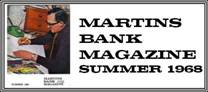 <![endif]>screening, were we permitted to make our visit, travelling down with the weekly supply convoy.  Arriving at the heavily guarded main gate we found the duty dog-handler Herbert Rumford-Street and his watchful tripe hound who were on special detachment from No. 2 Mobile Sub-branch (Fred's Caff, Great North Road). Our passes carefully scrutinised, we were ushered through the outer perimeter to the Admin. Office which had been skilfully disguised as a derelict Nissen hut. On the door was a weatherworn notice which we deciphered as TO LET. FOR GENTLE­MEN ONLY — a cunning subterfuge.<![if !vml]>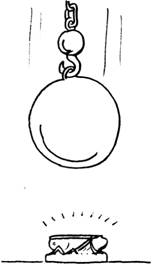 <![endif]> Stepping inside we were impressed with the subtle decor, reminiscent of the later Great Western period, of chocolate and cream relieved with quaint motifs — in particular a simple but effective epitaph for the ubiquitous Kilroy. Here we met the Director of Operations, Isaac O'Kelly (Mac to his friends), who showed us an example of the Grasshoppers at that time being tested. 'These beggars nearly got the better of us' he remarked with a wry smile. Briefly he described testing methods, the ultimate aim, he assured us, being the creation of the Indestructible Grasshopper Money­box. Donning our protective suits of imitation plastic and matching gumboots, we began our tour of the Establish­ment. At Econ. Inf. Pub. and Ad. we met charming Joan Farnsbarns, a prominent figure. While reluctant to reveal vital statistics of which she is in sole charge, she entertained us with several amusing anecdotes.
<![if !vml]>

<![endif]>
<![if !vml]><![endif]> 

The Grasshopper Testing Establishment at Nether Hopping

<![if !vml]><![endif]>

She told us that her hobbies are numismatics, embroidery and that she is a black belt. We moved on… At the reception shed we watched a consignment of Grasshoppers being carefully unpacked. Each received a sharp blow with a six-pound hammer before being forwarded to No. 2 bay where Jim Blogworthy and his happy staff select specimens at random into which are dropped foreign coins of equivalent weight to 73/6d and which are then hurled at a thick brick wall. Jim informed us that 17% of the Grasshoppers handled by his section are found defective, as was a similar percentage of his staff. Mr Blogworthy, who served his apprenticeship at Brooks's Bar, is the father of nine children. He has no hobbies. From a distance we viewed the more sophisticated techniques to test resilience.
Even the ordinary domestic explosion (gas cookers, geysers, oil heaters, etc.) is simulated, thus guaranteeing that our money­boxes (or 'bug-banks' as they are laughingly termed) are completely child-proof. Our final call was to the packaging department where the Grasshoppers are boxed together with a simple picture-leaflet explaining to the kiddies exactly what they can do with them. We were told of the grand opportunities opening up in this field for young men of muscular physique who feel perhaps that their duties in general banking do not give them sufficient outlet. A management training scheme is now in operation for men of the right calibre. It was time to take our leave of Mr O'Kelly and on our way back we recalled the words inscribed above his desk which summed up the raison d'etre of the Estab­lishment — 'We're Bugging Britain'.
<![if !vml]>

<![endif]>
Rainy Day Records…
In common with the building societies, many 1960s banks still offer Passbook Savings – the bank statement is replaced in importance by the passbook, a record of savings activity kept by the customer, and updated by the bank.
<![if !vml]>

<![endif]>
<![if !vml]><![endif]>The credit transfer system, introduced in 1962 is updated in 1968 and re-named Bank Giro Credits.  This is in anticipation of the full computerisation of all banks expected by the Government by the time of the introduction of decimal currency on 15 February 1971, and this is also the time when the National Girobank is created at Bootle, near Liverpool.  The Savings Account paying in slip shown here is virtually the only re-designed piece of Martins Bank customer stationery before the merger with Barclays.   The money mark begins to appear, a symbol used by all banks to denote the new faster ways to transfer money.  

<![if !vml]><![endif]>

<![if !vml]><![endif]>

<![if !vml]><![endif]>

<![if !vml]><![endif]>
<![if !vml]>

<![endif]>
This system is still largely in place in the twenty-first century, although the use of paper transactions is now seen as a hindrance to the fast flow of funds, and in 2018 all banks began working to establish a new system of photographing cheques in order to abolish the traditional clearings. This has mixed results, as the Cheques Act is broken where "house" cheques are concerned. The spirit of the act is that you should be able to take a cheque to the bank branch on which it is drawn, and obtain payment for it immediately.  This is simply unworkable today, and  now that the banks have actively discouraged customers from visiting branches, it probably won't be an issue. Still, waiting a week for a "house" cheque to clear is exactly good progress.
<![if !vml]>

<![endif]>
Let's Play!
<![if !vml]>

<![endif]>
<![if !vml]>

<![endif]><![if !vml]>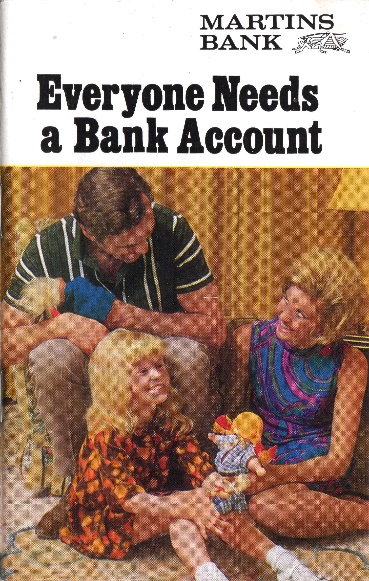 <![endif]>The 1960s child is not only interested in playing "Cowboys and Indians" and "Hide and Seek".  Some like to count their pennies into shillings and their shillings into pounds.  Being given a ten shilling note by a favourite aunt is a magical experience that fewer and fewer of us remember, but playing with money, be it the real thing or cardboard coins used in maths lessons at school helps us learn all about the stuff.  From the late 1950s all the way up to the merger, Martins in conjunction with the Kiddicraft® toy company, offers sets of play money that include miniature Martins cheque and paying in books.   The toys make the front cover of Martins Bank Magazine in Winter 1964, when young Peter is shown giving a miniature cheque for sixpence (£0.025) to his mother in exchange for a bag of chocolate coins. – What fun Christmas must have been in that household. How much for a roast dinner? Or and hour in front of the TV?  Who knows - this may well have been the starting block for many an entrepreneur!
<![if !vml]>

<![endif]>
| | | |
| --- | --- | --- |
| <![if !vml]><![endif]> | <![if !vml]><![endif]> | <![if !vml]><![endif]> |
<![if !vml]>

<![endif]>
Buy your own Martins Bank!
<![if !vml]>

<![endif]>
<![if !vml]><![endif]>

Image © Martins Bank Archive Collections

<![if !vml]><![endif]>

This is not really a giveaway, more of a 1960s collaboration with model railway makers to provide a little scale model Martins Bank to add authenticity to any collector's train set.  Sometimes sold alone, sometimes joined to a model shop, this special branch of Martins comes as a flat piece of cardboard that you then make into a three dimensional model.  We already have one example of each of the 1960s designs in our archive, but imagine our surprise, on learning that these models have just started to undergo a Twenty-First Century renaissance, thanks to our friends at Metcalfe Models of Skipton, North Yorkshire. We recently contacted the company, and Nick Metcalfe told us how one of Martins Bank's branches became the inspiration for the new generation of models:

"I chose the SKIPTON BRANCH as it is a local bank to us, and also it is not over intricate in its design which made it easy to model  in card. I remember going into that branch of Martins Bank when I was a small boy with my Grandmother, and the Manager gave me a bag full of Farthings, which had just gone  out of circulation. I still have some of them today".
<![if !vml]>

<![endif]>
<![if !vml]>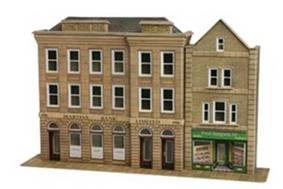 <![endif]>Martins Colleague Dave Baldwin, who is Secretary of the Grasshopper Pensioners' Club, reminds us that the model is based on how the branch looks TODAY:
<![if !vml]>

<![endif]>
"During Martins' time, the frontage was completely different and the model depicts the branch as it is today. Original windows have become doors, the property owned by the bank and leased to Skipton solicitors Charlesworth, Wood and Brown has been incorporated into the frontage whilst 'The Hole in the Wall' public house has become a newsagent's".
<![if !vml]>

<![endif]>
Here (right) is the new version, just one of a whole host of intricately designed models available from the  Metcalfe site.  Our Archive is dedicated to preserving the memory of Martins Bank, whether by preserving items from the past, or supporting those from the present day - so naturally we are thrilled when others want to do the same.  You can find out more about the current range of Metcalfe Models here: www.metcalfemodels.com. Please remember that by clicking on the link to Metcalfe Models, you will be taken directly to their site, which is not part of Martins Bank Archive.
<![if !vml]>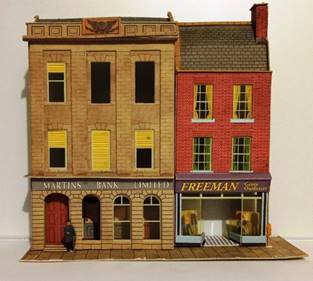 <![endif]>
And finally, the small print…
<![if !vml]>

<![endif]>
<![if !vml]>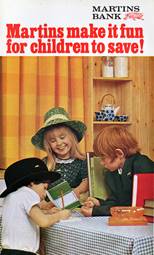 <![endif]><![if !vml]>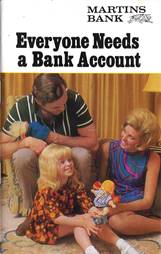 <![endif]>Martins make it fun for children to save! These are the days when children can earn a decent return on their savings of around 4.5%, unlike today when children have no real concept of being paid to save. In fact pre-paid debit card with fees of £2.99 per MONTH, whilst marketed as the way to teach your child to manage their pocket money, provides no incentive whatsoever to save. Noiwadays your "credit score" is the only thing that matters – how much you can BORROW, and sadly all too often not be able to repay.  The optimism of Martins Bank's leaflet for children is charming, but definitely, and sadly now confined to history. EVERYONE NEEDS A BANK ACCOUNT is Martins' final branded customer leaflet to set out the wares of the bank as at November 1968.  Various types of account, and other products are explained in detail, including the new Grasshopper Savings Accounts for Children.  Cue an advertising pose, struck by some "typical" children of the period grouped around the iconic new Grasshopper Moneybox and other account paraphernalia, but please do beware those sunshine bright curtains…
<![if !vml]>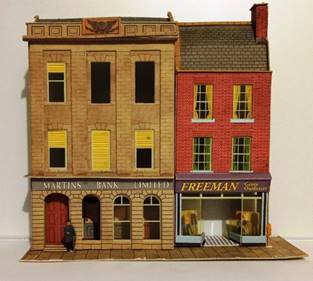 <![endif]>
<![if !vml]><![endif]>

Grasshopper Savings Accounts for Children

These are designed to encourage children to save.  When a Grasshopper Savings Account is opened — the initial deposit can be as little as 1 shilling.

The child is given an attractive money box in the shape of a grasshopper, a  colourful savings book, and a special paying-in and withdrawal book.  The child also receives a gilt grasshopper lapel badge.

This scheme is run on proper banking lines. Children aged seven and over can open their own account: for those under seven the account is opened by a parent or guardian.  The rates of interest and withdrawal arrangements are the same as for ordinary Savings Accounts, but if the child is under seven the parent or guardian signs the withdrawal slips.
<![if !vml]>

<![endif]>
… and there we will leave our 1960s children playing with toy money, Post Office Playsets and model railways.  The competition for the youth market has not yet reached full steam, but will see some unusual attempts by all the banks to grab a slice of the young savers' market.  One fine example is the collaberation between Barclays, the Bank of Scotland and the Royal Bank of Scotland (known previously in England as Williams & Glyns Bank) and Kellogg's® cereals.  Children have only just got out of bed, when already three banks are offering them £2 and a moneybox, and the lure of Saturday morning banking.  Where will it all end?
<![if !vml]>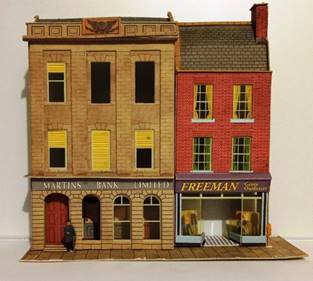 <![endif]>
<![if !vml]>

<![endif]>M
<![if !vml]>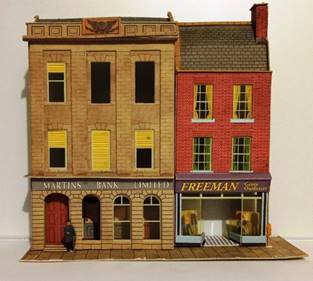 <![endif]>R