<![if !vml]>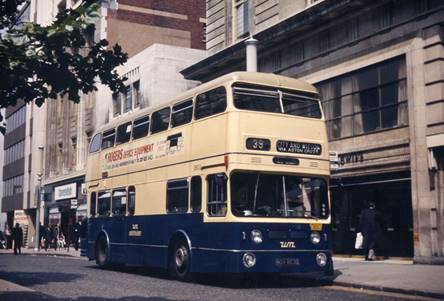 <![endif]>
Lewis's Department Store Birmingham, in the late 1960s.
The bank itself runs along the first floor,
just above the Lewis's sign…
<![if !vml]>

<![endif]>
<![if !vml]>
<![endif]>
… and in 2015, awaiting the new METRO extension.
Our thanks for these and for several new images of Birmingham Staff
Members in our Gallery, go to Roger and Barbara Hodson.
<![if !vml]>

<![endif]>
<![if !vml]>

<![endif]>Lewis's Bank's Branch in Birmingham opens in 1928 – the year that Lewis's Bank Limited is itself created.  Martins Bank Magazine pays a visit to the Branch in July 1959.   Lewis's Department Store Birmingham, opens in 1885.  The advertisement below for the Lewis's Remnants and Oddments sale comes from January 1914 and features in the Birmingham Daily Mail. These are the days when words such as to-day and to-morrow are still written with hyphens.  The First World War hasn't even started, yet the advertising copy here is as modern as you will still see in many of today's newspaper advertisements. The Birmingham Branch of Lewis's Bank has a large staff, and we are lucky to have a photograph taken by the magazine which also includes the names of those present. 
<![if !vml]>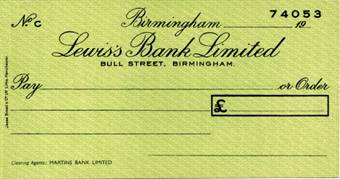 <![endif]>
Image Courtesy British Banking History Society
The two advertisements from the 1950s, are typical of Lewis's Department Stores' bold and brash sales copy from the decade when Martins Bank saw the potential in acquiring the banking arm of the business. The first 1950s ad - "Lewis's Household Bargains" is a little confusing, because it clearly starts with "When in London, there's no place like Selfridges", yet the rest of the text clearly refers to the Lewis's store in Birmingham! 
<![if !vml]>

<![endif]>
This may possibly be the fault of generic advertising not being checked properly before being sent to print, and it remains an interesting curio from the 1950s… For our second feature at Lewis's Bank Birmingham, we travel to 1967 where it is "strictly ballroom" for staff member Barbara Arnold… 
<![if !vml]>

<![endif]>
<![if !vml]>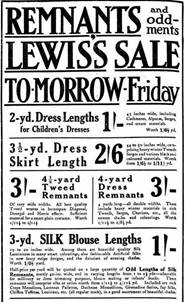 <![endif]>
1914
<![if !vml]>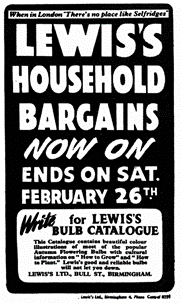 <![endif]>
1954
<![if !vml]>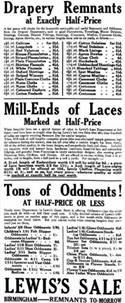 <![endif]>
1955
<![if !vml]>

<![endif]><![if !vml]>

<![endif]>
<![if !vml]>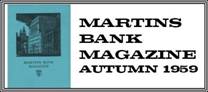 <![endif]>WITH the idea of creating the least possible disturbance by our visit, we chose the middle of the month and the middle of the week to have a look at our colleagues in Lewis's Bank, Birmingham, and we arrived shortly after midday on Thursday, July 16th. The first problem was that of getting near the counter which was full from end to end and remained so right until closing time.  Even the Children's Counter was busy but eventually we caught a sympathetic gleam in the eye of Miss Williams, the Children's Cashier, and soon we were being welcomed by Mr. E. Roscoe, the Manager, and Mr. G. K. Dunn, the Assistant Manager. We were immediately struck by the problem of space which confronts this very healthy and growing business.  As in the case of Manchester, the old and the new stand side by side—the latest ledger posting machines and the high stools and old-fashioned desks of an earlier generation. Every nook and cranny is occupied by staff and still the business grows. A feature of the Birming­ham business is the large number of current accounts, several thousand of them, as compared with deposit accounts.  The branch was opened in 1928.
<![if !vml]>

<![endif]>
<![if !vml]>

<![endif]>
<![if !vml]>

<![endif]>
Back Row:-

Centre row:-

Front row:-

 Miss A. Pettigrew

Miss M. A. Jones

Miss W. B. Buxton

D. M. Jameson

Miss V. A. Gould

Miss J. A. Fletcher

Miss J. A. Holloway

W. S. Guy,

Miss C. J. Silvers,

Miss E.R. Jones,

Miss U. M. Davies

Miss P. C. Mobley

Miss G. Williams

Miss J. Godden,

T. M. Larkin

Miss D. C. Weate,

Mrs. G. N. Cooper,

Mr. G. K. Dunn (Assistant Manager)

Mr. E. Roscoe (Manager)

Miss M. Eborall

Mrs. M. P. James,

J. B. Searle

<![if !supportMisalignedColumns]>
<![endif]>
<![if !vml]>

<![endif]>
The curious spectacle we noticed at Manchester, of grown-ups being served at the Children's Counter, is not apparent at Birmingham, where no reluctance is experienced in persuading people to transfer out of the Children's section to the main counter when they reach a certain age. We feel that with Miss Williams to attend to them they could be excused for wanting to linger! There are over two thousand child customers and Miss Williams has been looking after them since 1953. As in the case of the other branches, the staff of five men and 18 girls numbers several senior ladies with quite impressive records of service. Mrs. James has been there since 1946; Mrs. Cooper from 1945-1953 and, after an interval, from 1955. Miss Eborall entered in 1938, left during the war years and rejoined in 1955. Of the men, Mr. Roscoe commenced his business career in the Store in 1934 and entered the Bank in Manchester in 1936. He was appointed Manager at Leicester in 1938. From 1940-1946 he served in the Intelligence Corps, being commissioned from Sandhurst and attaining the rank of Captain. He has always made a hobby of languages and speaks French, German, Spanish and Italian, an accomplishment which accounts for the nature of his wartime service.
On returning to civil life he went to Leeds and was appointed Manager there in 1949. Three years later he was promoted to be Deputy Manager at Liverpool, and received his present appoint­ment in 1953. He has just completed twenty-five years' service. Mr. G. K. Dunn, the Assistant Manager, entered the Bank in 1943 in Liverpool. His father had worked for the firm before him and had died while still in its service and Mr. Dunn's education was completed by a scheme similar to our own Bank Clerks' Orphanage. His feeling of indebted­ness combined with his desire to make banking his career, impelled him to join his father's firm. From 1944-1948 he served with the Forces, being commissioned in the King's and then being transferred to the Indian Army, 1st Punjab Regiment, and finishing up as a Captain in the Parachute Regiment. He returned to the Bank in Liverpool after his military service and was appointed Manager at Leicester in 1953. He was promoted to be Assistant Manager at Birming­ham earlier this year.
Mr. Searle, the third man, has been at the branch for ten years, having previously served in the National Provincial Bank. He is in charge of the Travel Department and the array of pass­ports and Travellers' Cheques struck quite an unexpected note. It is interesting to speculate as to what the course of the business would be if the branch were to be taken out of the store and set up nearby in a building of its own, but retaining its existing name. These branches seem to flourish as such an integral part of each of the stores that they well might languish if taken out of the store's buildings. The problem of space is a growing one, however, to which some solution will have to be found. We were received in a most friendly and kindly manner by everyone in the branch and spent a very happy and heartening day there, for there is nothing more stimulating than the hum and clatter of a well organised, busy and obviously prosperous business.
<![if !vml]>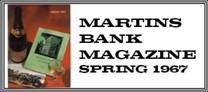 <![endif]>although she had always been interested in ballroom dancing, Barbara Arnold of Lewis's Bank, Birmingham, only took it up as a hobby three years ago when she enrolled as a member of a bronze medal class at a local school of dancing. She was taught the simple basic figures of the waltz, foxtrot, quickstep and tango during her twelve weekly lessons, the aim being to reach a standard worthy of the award given by the examining body, in her case the National Association of Teachers of Dancing. At the examination she had to demonstrate in front ' of a visiting examiner her ability to dance the sequences she had learned, each dance being marked out of 25 points. 
<![if !vml]>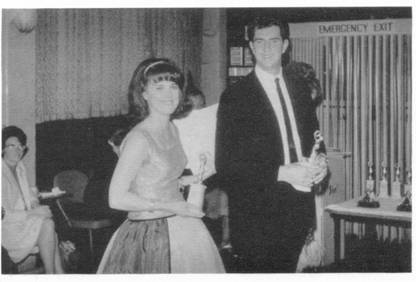 <![endif]>One needs 15 points in every dance to pass, 20 to be commended and 23 to be highly commended. Barbara has been highly commended in every examina­tion she has taken so far. After her bronze medal she went on to take the examinations for the silver and gold medals, each course taking three months. Many people take longer, as there is no compulsion to undergo the examination until both pupil and teacher feel sure that the required standard has been reached. Even those without any sense of rhythm could pass their examinations—eventually, says Barbara. It would, of course, take quite a long time and a lot of determined hard work, but they could develop a rhythmic sense. Being 'off time', though a serious fault at any grade, is more common with beginners, who with patient teaching overcome the habit which is often due to their not listening to the music properly. Barbara has always had the same partner, to whom she became engaged at Christmas. They are judged separately on individual merits and are awarded separate trophies, although only doing each dance once. Awards differ according to the examining body: all bestow a certificate and a medal for the bronze, silver and gold grades but higher awards vary. The higher the grade the more difficult become the steps, sequences and patterns to be learned, more attention being paid in the examination to style, smoothness, strict timing and foot work, and a fifth dance—in Barbara's case the Viennese waltz—is added. Having obtained her gold medal Barbara won her gold cross and gold bar and has recently passed the final grade, the National Award. The photograph shows her and her fiancé on presentation night holding their statuettes and certificates. She has also gained her bronze and silver medals for Latin-American dancing, for which she learned the intricacies of the cha-cha-cha, rumba, samba and jive. There are special junior classes for under-16's but the senior classes comprise every age group from 17 to 70. Dancing schools can have a very friendly atmosphere, bringing the different age groups together, are not too expensive and the only requirements for beginners are a little enthusiasm and a patient teacher.
<![if !vml]>
<![endif]>