<![if !vml]>

<![endif]>Lewis's Department Store and Bank opens in Leicester in 1936.  Three years later, within a month of the outbreak of the Second World War, commerce and Christmas are king, as the wonderful adverts (below) show - £8,000 worth of carpets from Bankrupt stock heavily discounted (by six shillings and eightpence in the pound which is a generous reduction of 33.3%.  By the time Mr Hitler's bombs rain down, much of Leicestershire is bound to be sleeping snugly on matresses, and under blankets and sheets purchased from Lewis's! Our Lewis's Leicester cheque dates from April 1959, and helpfully – for historical purposes at least – Martins Bank is shown along the bottom as Clearing Agents for Lewis's Bank.
<![if !vml]>

<![endif]>
<![if !vml]>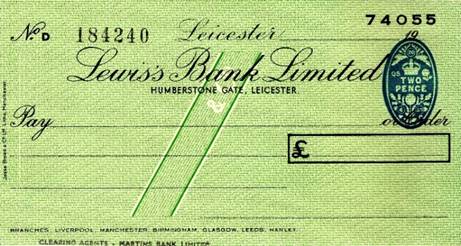 <![endif]>
Image © Martins Bank Archive Collections
<![if !vml]>

<![endif]>
<![if !vml]>
<![endif]>
Grantham Journal  - 17 November 1939
As Christmas 1939 approaches, this advertisement shows just how far Lewis's will go to provide the best possible Christmas for their customers – a "Mammoth toy fair" the "thrilling new Pantomime Land" and "Lunch and tea!
<![if !vml]>

<![endif]>
<![if !vml]>

<![endif]>
<![if !vml]>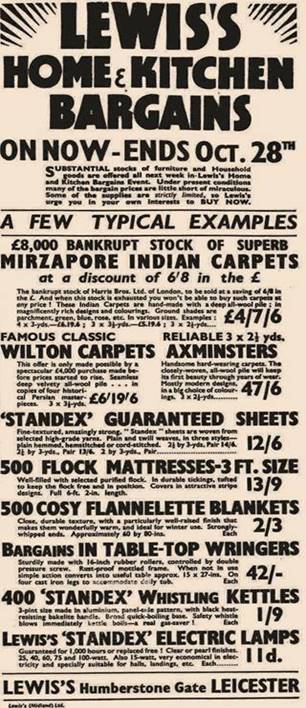 <![endif]>
Lincoln Rutland and Stamford Mercury
20 October 1939
Images © D.C.Thomson & Co. Ltd.
Image created courtesy of THE BRITISH LIBRARY BOARD
Fast forward to June 1960, and the visit to Lewis's Bank Leicester by Martins Bank Magazine.  We find that the space in which the bank is accommodated within the Store has recently been re-arranged.  We also discover that the staff is both personable and efficient. Amongst them we find a rare kind of employee within Lewis's Bank, a male clerk...
<![if !vml]>
<![endif]>
<![if !vml]>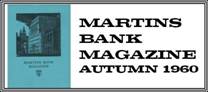 <![endif]>WE visited the Leicester branch of Lewis's Bank on Wednesday, June 15th. The Office, which was opened in 1936, has recently been re-arranged to give more space and the approach from the store has a modern look - a plate glass front, including the doors. The fittings, however, are still largely those of another day - high desks behind the counter and the odd high stool. Behind these the modern desks are gradually appearing and with further improvements about to be carried out complete modernisation will gradually come about.  The Manager of the Leicester branch is Mr. J. C. Hughes, who entered the Bank in 1954 at Liverpool. He was born in Liverpool but after being bombed out three times his family moved to Conway, whence derives his North Welsh accent. He did his National Service in the Nottingham University Air Squadron of the R.A.F. He was appointed Manager at Hanley in 1957 and at Leicester in June, 1959.<![if !vml]>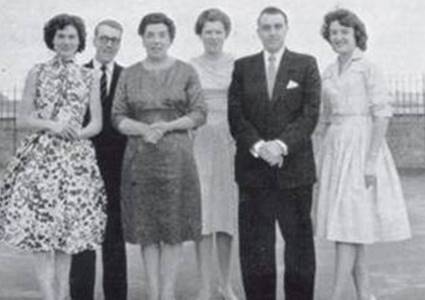 <![endif]>The chief clerk and first cashier is Miss Dorothy Stevenson who was selected for the Bank from the Store and has been there since February, 1949. Thoroughly competent, dependable and knowledgeable, she is invaluable at the branch. The second cashier is Miss Ann Pawley who entered the Bank from school. She has been at the branch since August, 1954. Then comes Miss Valerie Archer who hails from Surrey.  She has been at the branch since 1958.  A few months after coming into the Bank she entered for two subjects of Part 1 of the Institute of Bankers' examinations and passed both. At the time of our visit she was awaiting the results of her examinations in the remaining subjects. The junior girl is Miss Jean A. Ward who entered the Bank in February. She lives in Market Harborough and worked there before applying for a job in the Bank. The branch is really under strength, there being a vacancy for another girl, but so far it has not been possible to get one. This is a problem of a city of over-full employment, working largely on a five-day week. The only other male is Mr. Martin Clarke who has been on the staff for three years. Banking is his careful choice of a career and it is quite obvious that he will make a success of it. Leicester is the first place in which Lewis's Bank has no children's counter, but, nevertheless, there are hundreds of children's accounts on the books, and the business follows the usual pattern of the other branches of Lewis's Bank, busy and extremely flourishing. As our photograph shows we have an extremely attractive staff at this branch and there is plenty of evidence to show that they are as efficient as they are personable.
<![if !vml]>

<![endif]>