<![if !vml]>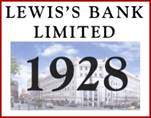 <![endif]>Lewis's Department Store Liverpool is the last of the Lewis's Stores in the UK to remain open into the Twenty-First Century, closure plans having been announced early in 2010.  It is also the oldest of the stores, having been opened one hundred and fifty-four years earlier in 1856.  The end of an era, the once mighty empire of the Lewis's Brand is consigned to history.  At the height of its success, Lewis's had an unrivalled buying power, making it possible to discount almost everything it sold, passing on significant and meaningful savings to its customers, at the same time giving them the ultimate shopping experience – an entire day out in one shop – which included being fed, and also pampered with hairdressing and beauty treatments. With a bank on hand to recharge your purse, you didn't need to go anywhere else…
<![if !vml]>

<![endif]>
<![if !vml]>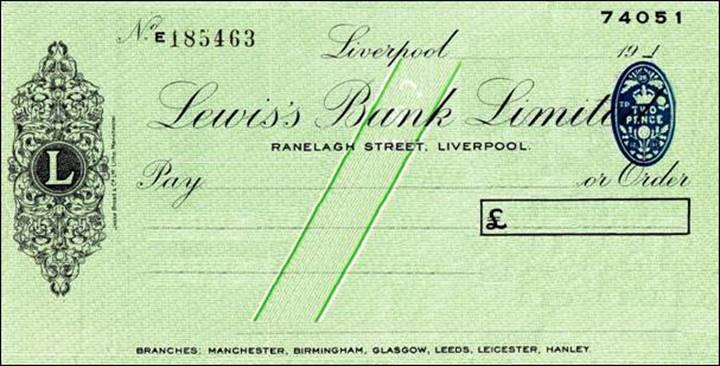 <![endif]>
Image © Martins Bank Archive Collections
Sadly, it is more than twenty years since the complete closure of Lewis's Bank, the accounts being absorbed into owners Lloyds Bank.  The pictures on this page are currently all we have of Lewis's Bank Liverpool in its heyday… 
<![if !vml]>

<![endif]>
<![if !vml]>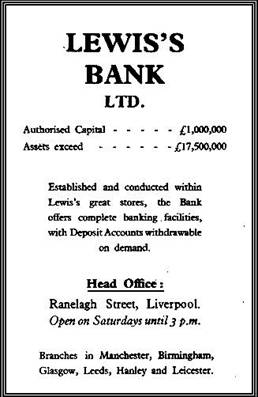 <![endif]>
Images © Martins Bank Archive Collections
<![if !vml]>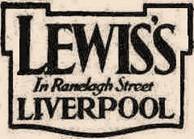 <![endif]>
To mark Lewis's Bank being welcomed into the fold, the entire staff of Liverpool Branch pose for the very first Lewis's Bank feature in Martins Bank Magazine's Winter 1958 Issue.   At the time that Martins acquires the bank, many of Lewis's staff members have distinguished service records - some up to thirty years - and Martins Bank Magazine includes the figures in the list of participants in this group photograph:
<![if !vml]>

<![endif]>
<![if !vml]>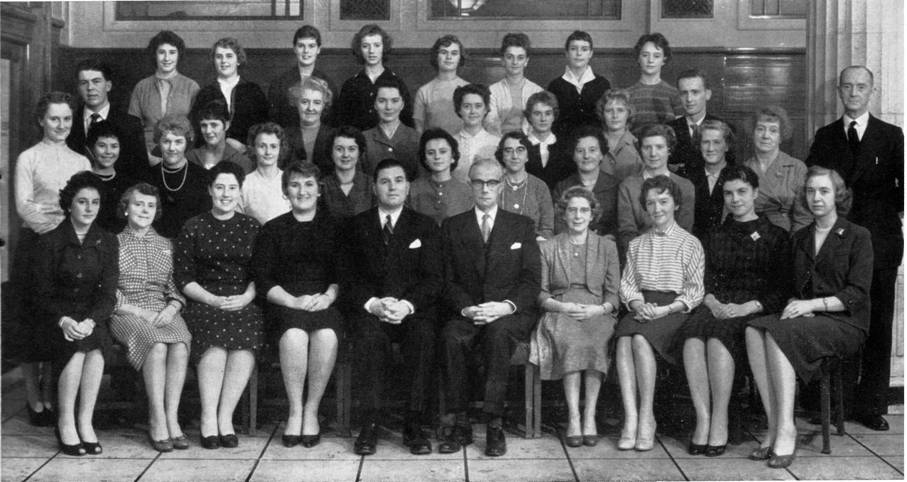 <![endif]>
Were you in this photograph?  Did you work at Lewis's Bank in Liverpool?  Perhaps you are related to someone who did – we'd love to hear your memories, and to receive copies of photos or other memorabilia from Lewis's Bank, to help us further build the Archive… 
You can get in touch with us by clicking HERE
<![if !vml]>
<![endif]>
Back Row

<![if !vml]><![endif]>

Third Row

<![if !vml]><![endif]>

Second Row

<![if !vml]><![endif]>

Front Row

<![if !vml]><![endif]>

A M Ferns

D A Dickie

B E Thomas

B Hughes

J Marshall

P M Howarth

M A Hamilton

J Barlow

J A James

S Mitchell

E Carr (10yrs)

M Hanlon (10 yrs)

E J Newland

J Roebuck

P Doyle

J D Millar

D Price

P M Jarvis

M N Lawton

A E Singleton (14 yrs)

E Foxcroft

R M Hynes

M Dillon (10 yrs)

F S Yates

F E Reynard (29 yrs)

W O'Dwyer (29 yrs)

D Evans (15 yrs)

A Lambert (30 yrs)

G M Dickinson

N M George (30 yrs)

J Stephens

P B Corica

Mr J A Baigent

Mr F W Hall

M G McDougall (30 yrs)

W Bean (10 yrs)

S M Littler

D J Wright

<![if !supportMisalignedColumns]>
<![endif]>
<![if !vml]>

<![endif]>
<![if !vml]><![endif]>

<![if !vml]><![endif]>

<![if !vml]><![endif]>

<![if !vml]><![endif]>

With an amazing NINE floors, above and below the ground, the Ranelagh Street Store is shown here a year or so before its closure, ending 154 years of service to the people of Liverpool.  The once mighty buying power of Lewis's, the ability to sell at discount prices whilst offering every possible service under one roof, all has sadly gone forever.  So too has the once extremely popular and very profitable Lewis's Bank.  What both organisations once provided, is now available online… This 1962 display in the window of Lewis's Department store in Liverpool demonstrates to customers the good sense of being able to bank and shop in the same place!

The busy children's counter is popular with parents too, as it enables the whole family to do their banking together on a Saturday afternoon.
<![if !vml]>

<![endif]>
<![if !vml]><![endif]>

<![if !vml]><![endif]>

Lewis's Department Store in Ranelagh Street was used as a bomb shelter in 1941, and there was a lot of bomb damage to parts of the City then, including the complete destruction of Martins Bank's South John Street Branch, and also of their branch at Strand Road Bootle.

Apart from the reference "until suitable accommodation provided in additional space that will shortly be available" mentioned in this advertisement, we currently have no further information as to why Lewis's Bank Liverpool needed to be moved to temporary premises in the Basnett Gallery of the City's BON MARCHE store in 1941.

<![if !vml]><![endif]>

1927

1933

1941
<![if !vml]>

<![endif]>