<![if !vml]>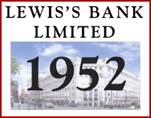 <![endif]>If you are wondering why Lewis's Bank should have a branch in the prestigious SELFRIDGES department store, the answer is simple, if a little surprising.  This fabulous fixture at 400 Oxford Street, made famous in the twenty-first Century by a television drama about its founder, is actually owned for a brief time by Lewis's Ltd!  Selfridges is effectively a Lewis's Department Store, and therefore qualifies for a Branch of Lewis's Bank.  As you will see below however, at the time of the visit by Martins Bank Magazine in 1961, the bank is tucked away from view on the fourth floor, and its accounts are held mainly by store and bank staff and their children…
<![if !vml]>

<![endif]>
<![if !vml]>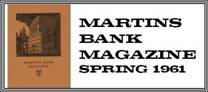 <![endif]>WITH the visit on 13 February to the branch of Lewis's Bank in Selfridges, Oxford Street, every one of the nine branches of this bank has been visited and featured in our pages. What of this, the ninth and last to be visited? Is there anything fresh to say, anything that has not already been said? The answer is, of course, yes. In fact, this branch is in some ways quite unlike any of the others. For one thing, it isn't exactly accessible, being on the fourth floor. For another, it isn't signposted at any of the entrances to the store though its situation appears on various departmental location boards. There is also some reason for supposing that the bank was opened in the first place more for the convenience of the store personnel than of the shopping public. This is reflected both in the siting of the bank and in the overwhelming proportion of accounts of store employees. There is no Children's Counter, but there are quite a number of children's accounts, the parents being store employees who themselves operate the accounts.
<![if !vml]>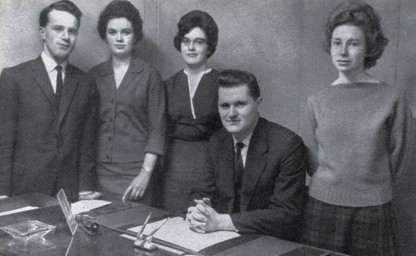 <![endif]>The bank itself is a partitioned-off section of flooring in close proximity to the store ac­countant's department, the least impressive arrangement of any we have seen. However, all that is to be altered in the near future when the branch comes down to ground level, to be housed more adequately and much more attractively. The general public will see it more readily and its business should expand correspondingly. It must be said in passing, however, that considering the handicaps under which it has operated, great credit is due to the Manager and staff for the substantial amount of business they have already gathered since the branch was opened in 1952, enough to necessitate mechanisation of a portion of the current accounts, the operation of which, being concerned with one grade of personnel, presents rather an out-of-the-ordinary and specialised problem.
The main contact with Martins Bank up to now has been through our Wigmore Street branch, who used to clear all cheques paid in and who still issue Travellers' Cheques and currency for Lewis's Bank. Among their distinguished visitors they can claim our own Chairman, Sir A. Harold Bibby, who has visited them twice, and their new Chairman, Mr. J. H. Keswick. The staff is an interesting one. The Manager, Mr. R. France, started his business career with the National Coal Board. He was with them for six years, which included two years' National Service with the R.A.F., 1952-54, and it was during this service that he met another bank official and made the decision to change his job. As he was already studying for the Certificate of the Corporation of Secretaries he decided to complete this and he must be the only branch manager to hold a National Certificate of Commerce, and an A.C.C.S., without having started on his Institute of Bankers' examinations. A native of the Manchester District, he entered Lewis's Bank in Manchester in 1956. There followed a short spell in Liverpool in 1958 and in June of that year he went to London.
Miss S. M. Steadman, the senior girl, came from Barclays Bank in 1958. A capable and responsible girl, she attends to the statements and signs internal forms.  The cashier is Miss S. Elliott. She worked in Barclays Bank D.C.O. for a time. Then she decided to go to Paris for two years to study and on her return last year she fancied a change though she could have taken up her old job. Miss P. A. Waghorne attends to the mechanised posting and has been with the bank since 1959. Mr. J. E. Stack, who also entered in 1959, posts the current accounts and acts as relief cashier. He sits for his first Institute of Bankers' examinations next month. Mr. France is fortunate in his staff and he has obviously welded them into a happy team despite the handicaps already mentioned. We shall follow the progress of this branch with particular interest.
<![if !vml]>

<![endif]><![if !vml]>

<![endif]>