<![if !vml]>

<![endif]>
Are you being served?
<![if !vml]>

<![endif]>
<![if !vml]>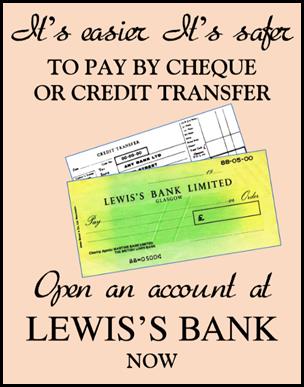 <![endif]><![if !vml]>

<![endif]>Welcome to Lewis's Bank Limited, an undoubtedly British phenomenon, and a clever idea, too – when you are shopping in the department store, what better way to get your hands on more cash for your purchases than by visiting the in-store bank!   With a branch in Glasgow, Lewis's Bank gives Martins a foothold in Scotland, and Lewis's founding principle of making banking available to all, sits well with Martins own ideals.  The novelty of a children's counter appeals to families, who are able to shop and bank together on a Saturday afternoon, making the savings habit even easier to pick up. In this section, we bring together articles and images that help tell the story of Lewis's brief but productive time with Martins Bank.  Lewis's Bank was sold to Lloyds Bank in 1967, and continued to trade well into the 1980s  
<![if !vml]>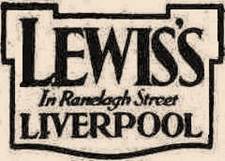 <![endif]>In an attempt to make Lewis's staff feel as welcome as possible, and to continue the tradition of visiting and reporting on branches throughout the country, Martins Bank Magazine was to feature Lewis's Branches and staff in its pages over the nine year period of Lewis's ownership by Martins.  Thanks to this action, a small number of precious photographs remain today and provide a rare glimpse into the world of Lewis's Bank between 1958 and 1967. It seems to have been a very happy world both for staff and for customers.  Sadly, the only branch of Lewis's Department Store to remain open into the twenty-first century - the magnificent Liverpool store – announced closure plans early in 2010.  Although run by a different company for a number of years, the name Lewis's was retained, to indicate the distinguished history of one of Liverpool's most loved shops.  It would seem however that with competition, not least from online stores, Lewis's is no longer strong enough to survive.
<![if !vml]>

<![endif]><![if !vml]>

<![endif]>
<![if !vml]>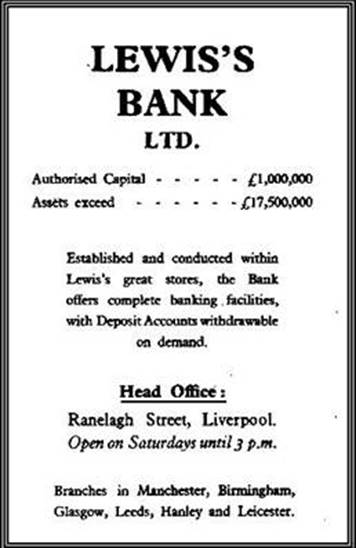 <![endif]>"The People's Bank"…
Special thanks to Barclays Group Archive and Lloyds Banking Group Archive.
Some text is abridged from FOUR CENTURIES OF BANKING
© Martins Bank Limited 1964
<![if !vml]>

<![endif]>
In July 1958, Martins acquired the full share capital of Lewis's Bank Limited, which was a notable step forward, quantitatively the largest since 1928. Lewis's Bank became a wholly owned subsidiary of Martins Bank, but retained its name and its services and facilities to its customers. Lewis's Bank was started in 1928 as a department of Lewis's store, which had been founded almost a century earlier in Liverpool.  In 1934 it was formed into a private limited company as a subsidiary of Lewis's Limited, and branch banks were opened in all Lewis's stores—at Liverpool, Manchester, Birmingham, Glasgow, Leeds, Hanley, Leicester, Bristol and London (Selfridges). Its convenient banking hours, including Saturday afternoon opening, and its family services attracted over 130,000 depositors, with total deposits of over £12 million.  An advertisement in the Daily Dispatch of 2 December 1928 explained the popular aim of Lewis's Bank: 'During the past seventy-five years Lewis's has grown from a tiny shop in Ranelagh Street to be the largest departmental store organisation outside London. Lewis's Bank will be the People's Bank, and it will be conducted in the same spirit of catering for and service to the public that characterises all the other departments of their business. Lewis's Bank will accept any amount from one shilling upwards and will pay out withdrawals at any time without previous notice.    . . . Lewis's Bank will issue Home Safes to encourage children to save.    . . . There will be nothing stiff and formal about Lewis's Bank.'
Thrift is the key
<![if !vml]>

<![endif]>
<![if !vml]>

<![endif]>In 1964, the latest Lewis's Store and Bank open at Blackpool, in a building that will go  on to be the home of Woolworths in the town.  At this point, roughly in the middle of its ownership by Martins, Lewis's Bank issues a home safe in the style of a small book.  We are delighted to have acquired an example which is shown here, alongside an example of a Lewis's Bank metal home safe which we also recently acquired.  The latter is interesting in that it does not follow the same design as that used by almost every other bank and building society in the country. The lewis's version is bigger, more solid, and significantly heavier. The ten branches of Lewis's Bank are for the first time listed together on the cover of the "book" moneybox – nine branches are at the Lewis's Department stores at Birmingham,  Blackpool, Bristol, Glasgow,  Hanley,  Leeds,  Leicester,  Liverpool, and Manchester. The tenth branch of the Bank is to be found inside the prestigious Selfridges Store at 400 Oxford Street, London.
<![if !vml]>

<![endif]>
<![if !vml]>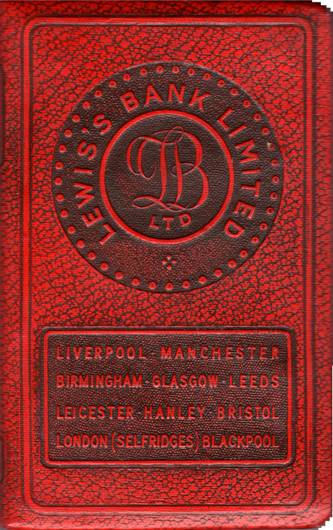 <![endif]>
Images © Martins Bank Archive
<![if !vml]>

<![endif]>
The book shaped money box is identical in shape and size to Martins' own version, which by the early 1960s has replaced the older oval shaped metal boxes that have been around since 1921. The spine of the book reads: "Thrift by Lewis's", a similar declaration to "First Aid to Thrift", which is the motto used on Martins' home safes at this time. Whilst thrift might be the key to savings, the only actual key to your savings is that which is held at all times by the bank, to prevent you from dipping in and frittering away…
<![if !vml]>

<![endif]>
<![if !vml]>

<![endif]>M
<![if !vml]>

<![endif]>
M