London District  Office…
<![if !vml]>

<![endif]>
<![if !vml]>

<![endif]>The London District of Martins Bank comes formally into being in 1954 with the appointment of the first London District General Manager, Mr Edward Norman-Butler.  Although banking has been transacted at "the Grasshopper" since 1563, even the London Telephone Directory, (see below) reminds us, that however steeped in history, however important in the City of London, 68 Lombard Street is still only Martins' "Principal London Office".  There is of course no shame in this, and London's role in Martins' success increases towards the end of the Bank's life, particularly in the field of computer operations.
<![if !vml]>

<![endif]>
<![if !vml]>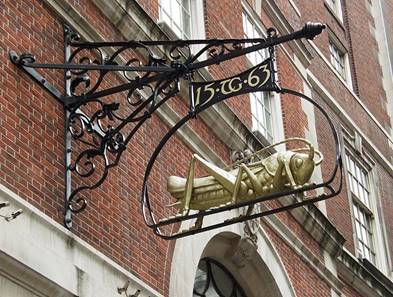 <![endif]>
Image – Martins Bank Archive Collections
<![if !vml]>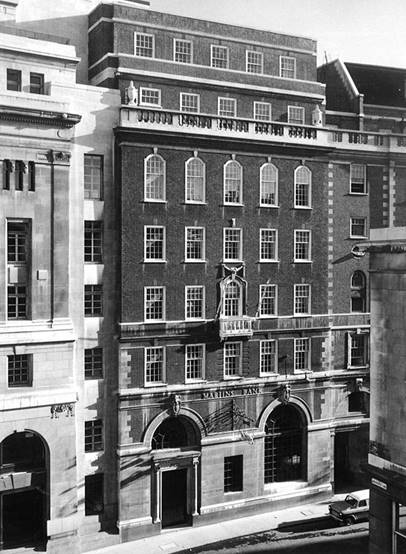 <![endif]>
Image © Barclays
<![if !vml]>

<![endif]>
<![if !vml]>

<![endif]>There is already lengthy history, and a number of images of 68 LOMBARD STREET in our Branch Network section and elsewhere within the Online Archive  This includes those members of staff that we can identify as having worked in London City Office.  You can also read about 68 Lombard's role as Clearing Department by clicking HERE.  Below is a gallery of currently available images of the staff of the various London District Office Departments.  Where is has not yet been possible to prove otherwise, some departments and staff might be listed here, instead of under a different London address.  Corrections are always welcome to the usual address: martinsbankarchive@btinternet.com . The London Computer Centre Staff can now be found in our technology section at  LONDON COMPUTER CENTRE .
<![if !vml]>

<![endif]>
<![if !vml]>

<![endif]>
<![if !vml]>

<![endif]>
<![if !vml]>

<![endif]>
<![if !vml]>

<![endif]>
<![if !vml]>

<![endif]>
<![if !vml]><![endif]>

<![if !vml]><![endif]>

<![if !vml]><![endif]>

<![if !vml]><![endif]>

<![if !vml]><![endif]>

<![if !vml]><![endif]>

<![if !vml]><![endif]>

Mr E R Bowring

Chairman of the Board

1953

Mr J H Keswick CMG

Board Member 1956

Deputy Chair 1963

Mr P G Walkerr FCA

Board Member

1958

Rt Hon M A R Cayzer

Board Member

1958

Lt Col C P Dawnay CBE

Board Member

1962

Mr Harry Taylor

Local Director

1966

<![if !vml]><![endif]>

<![if !vml]><![endif]>

<![if !vml]><![endif]>

<![if !vml]><![endif]>

<![if !vml]><![endif]>

<![if !vml]><![endif]>

<![if !vml]><![endif]>

<![if !vml]><![endif]>

Mr L J Walton

Director

1966
<![if !vml]>

<![endif]>
<![if !vml]>

<![endif]>
<![if !vml]>

<![endif]>
DISTRICT OFFICE – GENERAL STAFF
<![if !vml]><![endif]>

<![if !vml]><![endif]>

<![if !vml]><![endif]>

<![if !vml]><![endif]>

<![if !vml]><![endif]>

<![if !vml]><![endif]>

<![if !vml]><![endif]>

Mr D O Maxwell

Pro Manager 1937-40

Manager 1940-44

Mr A V Langton

Joined the Bank Here

1945

Mr E M Farrell

Joined the Bank Here

1947 to 1948

Mr R L Peters

LDO Relief Staff

1952

Mr S E Davidson

LDO Relief Staff

1952

Mr F E Gilham

LDO Assistant Staff

1959

<![if !vml]><![endif]>

<![if !vml]><![endif]>

<![if !vml]><![endif]>

<![if !vml]><![endif]>

<![if !vml]><![endif]>

<![if !vml]><![endif]>

<![if !vml]><![endif]>

<![if !vml]><![endif]>

Miss R A Dudman

DO Staff

1969
<![if !vml]>

<![endif]>
DISTRICT GENERAL MANAGER'S DEPARTMENT
<![if !vml]><![endif]>

<![if !vml]><![endif]>

<![if !vml]><![endif]>

<![if !vml]><![endif]>

<![if !vml]><![endif]>

<![if !vml]><![endif]>

<![if !vml]><![endif]>

Miss Stella Brown

Private Secretary to Mr Norman-Butler

1950 to 1960

Mr J A Naisbett

District General Manager

1954

Mr Edward Norman-Butler

District General Manager

1955

Mr L J Tunnah

District General Manager

1955

Mr D C Bardsley

District General Manager

1961

Mr F C Hardman

London Assistant

District General Manager

1961 to 1965

<![if !vml]><![endif]>

<![if !vml]><![endif]>

<![if !vml]><![endif]>

<![if !vml]><![endif]>

<![if !vml]><![endif]>

<![if !vml]><![endif]>

<![if !vml]><![endif]>

<![if !vml]><![endif]>

Mr H Ryder

District General Manager

1963

Mr S W P Barter

District General Manager

1965

Mr R D Beaumont

London Assistant Disrtict Manager  1968

Mr H Taylor

Joint General Manager

1968

Mr W E Turnbull

Dist General Manager

1968

Miss M B Evans

Secretary to Mr Beaumont

1969
<![if !vml]>

<![endif]>
<![if !vml]>

<![endif]>
AGENCY SECTION
<![if !vml]><![endif]>

<![if !vml]><![endif]>

<![if !vml]><![endif]>

<![if !vml]><![endif]>

<![if !vml]><![endif]>

<![if !vml]><![endif]>

<![if !vml]><![endif]>

Mr W J Stevens

Head Clearer

1949

Mr B H Thrift

Clearng Manager

1949 to 1961

Mr A G Tyerman

On the Staff

1951 to 1969

Mr GTC Standfast

Assistant Clearing

Manager 1964

Mr J F Clark

Pro Chief Accountant

1965

Mr M C Pettit

Assistant Clearing Manager

1966

<![if !vml]><![endif]>

<![if !vml]><![endif]>

<![if !vml]><![endif]>

<![if !vml]><![endif]>

<![if !vml]><![endif]>

<![if !vml]><![endif]>

<![if !vml]><![endif]>

<![if !vml]><![endif]><![if !vml]><![endif]>

Mr D E Lowery

Pro Manager

1968

Mr B Harbour

Pro Clearing Manager

1969
<![if !vml]>

<![endif]>
AUTOMATION
<![if !vml]><![endif]>

<![if !vml]><![endif]>

<![if !vml]><![endif]>

<![if !vml]><![endif]>

<![if !vml]><![endif]>

<![if !vml]><![endif]>

<![if !vml]><![endif]>

Mr D A Pearce

Manager

1964

Mr N K Gibson

Accountant

1967

Mr P A Cave

Pro Manager

1967

Mr R A Peters

Assistant Manager

1968

Ann Waud

On the staff

1968

Peter Baddams

On the staff

1968
<![if !vml]>

<![endif]>
BRANCH SECURITIES
<![if !vml]>

<![endif]>
<![if !vml]><![endif]>

<![if !vml]><![endif]>

<![if !vml]><![endif]>

<![if !vml]><![endif]>

<![if !vml]><![endif]>

<![if !vml]><![endif]>

<![if !vml]><![endif]>

Mr J Lee

On the Staff

1948 to 1968

Mr P B Pace

Manager

1949 to 1961

Mr E Webster

Manager

1961

Mr D G P West

Pro Manager1968

Mr E J A Salmon

Manager

1966
<![if !vml]>

<![endif]>
CHIEF ACCOUNTANT'S DEPARTMENT
<![if !vml]>

<![endif]>
<![if !vml]><![endif]>

<![if !vml]><![endif]>

<![if !vml]><![endif]><![if !vml]><![endif]>

<![if !vml]><![endif]>

<![if !vml]><![endif]>

<![if !vml]><![endif]>

<![if !vml]><![endif]>

Mr D D Lynch

Assistant Chief Accountant

1953

Mr F T Fitt

Chief Accountant

1957 to 1967
<![if !vml]>

<![endif]>
<![if !vml]>

<![endif]>
COUPON DEPARTMENT
<![if !vml]><![endif]>

<![if !vml]><![endif]>

<![if !vml]><![endif]>

<![if !vml]><![endif]>

<![if !vml]><![endif]>

<![if !vml]><![endif]>

<![if !vml]><![endif]>

Mr G Day

Various roles up to Manager of Country Dept 1919 to 1951

Mr James Wagland

Manager

1944 to 1949

Mr J A Howell

Manager

1949 to 1960

Mr C E Crossland

Pro Manager1949 to 1961

Mr W T P Edwards

Staff Member

1953 to 1968

Mr J P Costigan

Pro Manager 1964

Manager 1968

<![if !vml]><![endif]>

<![if !vml]><![endif]>

<![if !vml]><![endif]>

<![if !vml]><![endif]>

<![if !vml]><![endif]>

<![if !vml]><![endif]>

<![if !vml]><![endif]>

<![if !vml]><![endif]>

Mr A Irwen

Pro Manager

1968
<![if !vml]>

<![endif]>
<![if !vml]>

<![endif]>
INSPECTORS
<![if !vml]><![endif]>

<![if !vml]><![endif]>

<![if !vml]><![endif]>

<![if !vml]><![endif]>

<![if !vml]><![endif]>

<![if !vml]><![endif]>

<![if !vml]><![endif]>

Mr R D Beaumont

Inspector

1961

Mr G C Denton

Inspector

1962

Mr P J Hore

Inspector

1963

Mr D C Bourne

Inspector

1964

Mr A T Fosten

Inspector

1965

Mr R T Insell

Inspector

1965

<![if !vml]><![endif]>

<![if !vml]><![endif]>

<![if !vml]><![endif]>

<![if !vml]><![endif]>

<![if !vml]><![endif]>

<![if !vml]><![endif]>

<![if !vml]><![endif]>

<![if !vml]><![endif]>

Mr C A Bamford

Inspector

1966

Mr N R Graves

Inspector

1966

Mr D B Kethero

Inspector

1968

Mr B W Mayo

Inspector

1968
<![if !vml]>

<![endif]>
LONDON SWITCHBOARD
<![if !vml]><![endif]>

<![if !vml]><![endif]>

<![if !vml]><![endif]>

<![if !vml]><![endif]>

<![if !vml]><![endif]>

<![if !vml]><![endif]>

<![if !vml]><![endif]>

Miss A M Wilson

Telephonist

1947

Miss Babs Widdowson

Head Telephonist

1947

Miss E P McIlwraith

telephonist

1947

Miss M H Bullock

Telephonist

1947

Miss Daphne Mills

Switchboard Operator

1948

Mrs Marie Lucas

Switchboard Operator

1948

<![if !vml]><![endif]>

SHOW AND EXHIBITION BRANCHES

<![if !vml]><![endif]>

<![if !vml]><![endif]>

PREMISES DEPARTMENT

<![if !vml]><![endif]>

<![if !vml]><![endif]>

<![if !vml]><![endif]>

<![if !vml]><![endif]>

<![if !vml]><![endif]>

<![if !vml]><![endif]>

<![if !vml]><![endif]>

<![if !vml]><![endif]>

Mr Tom Blossom

Clerk in Charge

1964

Mr B H E Clarkson

Asst Premises Manager

1966
<![if !vml]>

<![endif]>
STAFF DEPARTMENT
<![if !vml]>

<![endif]>
<![if !vml]><![endif]>

<![if !vml]><![endif]>

<![if !vml]><![endif]>

<![if !vml]><![endif]>

<![if !vml]><![endif]>

<![if !vml]><![endif]>

<![if !vml]><![endif]>

Mr J A Croxford

Staff Department

1951 to 1958

Miss M S Morgan

London Lady Supervisor

1954 to 1960

Mr A B Stevens

Staff Department

1954

Mr A F Sharpe

Staff Department

1954

Miss Babs Widdowson

London Lady Supervisor

1960 to 1964

Mr F E Gilham

Assistant Staff Manager

1964

<![if !vml]><![endif]>

<![if !vml]><![endif]>

<![if !vml]><![endif]>

<![if !vml]><![endif]>

<![if !vml]><![endif]>

<![if !vml]><![endif]>

<![if !vml]><![endif]>

<![if !vml]><![endif]>

Mr F T Belcher

Assistant Staff Manager

1964

Miss B J White

London Lady Supervisor 1968

Mr J L Pearson

Pro Staff Manager

1969
<![if !vml]>

<![endif]>
STANDING ORDERS
<![if !vml]><![endif]>

<![if !vml]><![endif]>

<![if !vml]><![endif]>

<![if !vml]><![endif]>

<![if !vml]><![endif]>

<![if !vml]><![endif]>

<![if !vml]><![endif]>

Mr C A S Damant

Head of Department

1955
<![if !vml]>

<![endif]>
SUPERINTENDENT OF BRANCHES
<![if !vml]><![endif]>

<![if !vml]><![endif]>

<![if !vml]><![endif]>

<![if !vml]><![endif]>

<![if !vml]><![endif]>

<![if !vml]><![endif]>

<![if !vml]><![endif]>

Mr G R Tarn

London District Superintendent 1937-45

Mr F L Flanaghan

District Superintendent

1951

Mr D E Stevens OBE

District Superintendent

1953

Mr F C Hardman

District Superintendent

1955

Mr R W Clark

London Assistant  District Superintendent 1957-65

Mr A E Milburn

Assistant then District Superintendent 1961/64

<![if !vml]><![endif]>

<![if !vml]><![endif]>

<![if !vml]><![endif]>

<![if !vml]><![endif]>

<![if !vml]><![endif]>

<![if !vml]><![endif]>

<![if !vml]><![endif]>

<![if !vml]><![endif]>

Mr F M Walker

District Superintendent

1964

Mr G C Denton

London Assistant  District Superintendent 1965

Mr J C Winckles

London Assistant  District Superintendent 1967

Mr K F Osborn

District Superintendent

1967

Mr K O Wells

District Superintendent

1967

Mr D E Chalkley

District Superintendent

1967
<![if !vml]>

<![endif]>
<![if !vml]>

<![endif]>
Title:

Address:

Index Number and District:

Telephone:

District General Manager:

Assistant District General Manager:

Martins Bank London District Office

68 Lombard street London EC3

401 London

MANsion House 6568

Mr W E Turnbull  (1968)

Mr R D Beaumont (1968)
<![if !vml]>

<![endif]>
<![if !vml]>

<![endif]>
1563

pre 1918

18 December 1918

3 January 1928

1930

15 December 1969

3 April 1981

The site of "The Grasshopper"

Head office of Martin's Private Bank

Bank of Liverpool and Martins

Martins Bank Limited

Demolished and rebuilt by Martins Bank

Barclays Bank Limited

Closed
<![if !vml]>

<![endif]>
<![if !vml]>

<![endif]>M
<![if !vml]>

<![endif]>
W