<![if !vml]>

<![endif]><![if !vml]>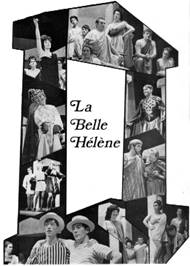 <![endif]>Martins Bank Operatic Society has a much longer shelf-life than Martins Bank itself, with costumes being hung up for the last time in 1980, some eleven years beyond the merger of Martins and Barclays.  Special thanks go to James McLaren, whose late father Malcolm was Chairman of the re-titled "Martins Operatic Society" in 1978.   James came across the official programme for the 1978 Production of The Merry widow, by Franz Lehar, which like so many of the Society's productions was staged at Liverpool's Neptune Theatre.  The programme contains a list of the many operas, operettas and other light musical productions staged by the society since its inception as MARTINS BANK SOCIETY OF THE ARTS – MUSIC SECTION in 1946.  This list forms the basis of our menu below, from which you will be able to choose to explore the wide range of nearly all of the productions that were staged. 
<![if !vml]>

<![endif]>
Award Winners…
<![if !vml]>

<![endif]>
<![if !vml]>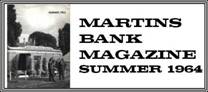 <![endif]>THE SOCIETY RETAINS 'LEONARD OSBORN' TROPHY
The Operatic Society followed its pro­duction with another success which calls for our congratulations. For the fourth successive year the Society won the Leonard Osborn Trophy in the annual competition organised by the Liverpool Branch of the Gilbert and Sullivan Society at the Liver­pool Y.M.C.A. on May 9th. Entries take the form of extracts from any of the Savoy operas, performed in modern dress and without scenery. Piano accompaniment only is allowed and each excerpt is limited to 15 minutes' duration. This year there were ten entries, three from our Society, six from Bentley Operatic Society and one from Rock Ferry Operatic Society, thus providing the most formidable opposition our Society has faced in the four years it has competed. Nevertheless, the Gavotte scene from 'The Gondoliers', was considered by the three judges from Birmingham, Leeds and Manchester to be the best entry.
<![if !vml]>

<![endif]>
The menu on this page covers the productions performed under the name of Martins Bank Operatic Society, which begin in 1957.  For performances from 1946 to 1956, please visit MARTINS BANK SOCIETY OF THE ARTS.  Whilst have also listed the performances of the society under Barclays, most will not be available as individual pages of information and photographs for some time. We are working hard to add details for the productions of the renamed "Martins Operatic Society" which ran from 1970 until 1980. You can currently choose from the first six of these shown from 1970 to 1975 below. To help us add this extra decade of performances, in as much detail as possible, we would really welcome your memories, and photos, scans of tickets, programmes, etc..  We hold the official printed programmes for all but one of them - "Die Fledermaus" (1979).
<![if !vml]>

<![endif]>
<![if !vml]>

<![endif]>
<![if !vml]>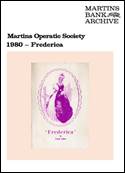 <![endif]>
<![if !vml]>

<![endif]>
<![if !vml]>

<![endif]>M
<![if !vml]>

<![endif]>