<![if !vml]>

<![endif]>
MIDLAND DISTRICT OFFICE MACHINE SCHOOL
<![if !vml]>

<![endif]>
<![if !vml]>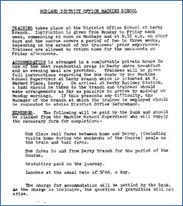 <![endif]><![if !vml]>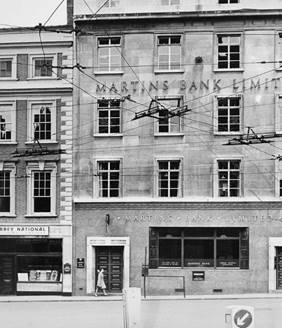 <![endif]>TRAINING takes place at the District Office School at Derby Branch. Instruction is given from Monday to Friday each week, commencing at noon on Mondays and at 9.15 a.m. on other days and the course covers a period of two to three weeks, depending on the extent of the trainees' prior experience. Trainees are allowed to return home for the weekends on Friday afternoons.
ACCOMMODATION is arranged in a comfortable private house in one of the best residential areas in Derby where breakfast and an evening meal are provided.  Trainees will be given full instructions regarding the bus route by the Machine School Supervisor at Derby Branch which is situated at 5, Market Place, Derby. 
ON ARRIVAL at Derby Railway Station, a taxi should be taken to the Branch and trainees should make arrangements as far as possible to arrive by mid-day on Monday mornings.  If this presents any difficulty, the Manager of the Branch at which the trainee is employed should be requested to advise District Office beforehand.
<![if !vml]>

<![endif]>
EXPENSES.
The following will be paid by the Bank and should be claimed from the Machine School Supervisor who will supply the necessary form for completion:-
<![if !supportLists]>· <![endif]>2nd Class rail fares between home and Derby, (including visits home during the weekends of the Course)
<![if !supportLists]>· <![endif]>Meals, on the train and taxi fares.
<![if !supportLists]>· <![endif]>Bus fares to and from Derby Branch for the period of the Course.
<![if !supportLists]>· <![endif]>Gratuities paid on the journey.
<![if !supportLists]>· <![endif]>Lunches at the usual rate of 3/6d. a day*.
<![if !supportLists]>· <![endif]>The charge for accommodation will be settled by the Bank. As the charge is inclusive, the question of gratuities will not arise.
*(Lunch at three shillings and sixpence per day is equivalent to 17½p or US$0.28!
With inflation that amounts to a "generous" £3.22 or $4.22 in 2018)  
<![if !vml]>

<![endif]><![if !vml]>

<![endif]>
<![if !vml]>

<![endif]>M
<![if !vml]>

<![endif]>