<![if !vml]>

<![endif]>
<![if !vml]>

<![endif]><![if !vml]>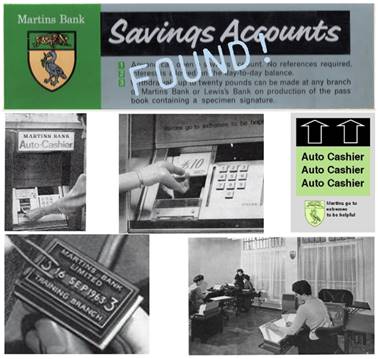 <![endif]>WELCOME to our Most Wanted page.  This is where we need YOUR help, to locate or at least to find out what happened to some important Martins Bank items that haven't been seen for a long time. So, if you fancy turning detective, have a look at the items on this page to see if you can help. If you can help, please contact us at the usual address martinsbankarchive@btinternet.com. We want as many people as possible to be able to access Martins Bank Archive.  Whether it's a query from former staff about somewhere they worked, or those of you wanting to see a particular picture or maybe you have one to share with us, please do contact us. We run regular features and share news about the items in the Archive on our Facebook® page, which is also the place to add your own comments, get in touch with former colleagues, etc.. 
<![if !vml]>

<![endif]>
The items detailed here on this page represent our "most wanted" images and artifacts.  If you can help by providing a scan or photo, or if you know the whereabouts of a particular item,  please get in touch by clicking on contact us at the bottom of this page.  Any items donated or lent to Martins Bank Archive are catalogued and stored in a cool environment in appropriate protective storage containers. (Items on loan to us can be requested back from us at any time.)  Otherwise we will be delighted to receive photos and scans (if possible between 600 and 900 dpi please). Time and again, we have found that photos scanned at 600dpi or higher will yield information that is not normally visible to the naked eye.  It enables us to zoom in on particular aspects of a picture, and to show an item at its best.  Although all our images are protected from theft by distorting if enlarged, the results as seen on this site speak for themselves.
<![if !vml]>

<![endif]>
FOUND! Perspex Counter plaques…
Almost ten years after first trying to find the iconic Martins Bank Counter Plaques, we have at last located two of them and they are both now safely in the archive. It was a case of playing the long game with eBay, knowing that eventually, someone, somewhere, would come up with the goods(!) The final plaque in the series – which advertises Executor and Trustee Service – will,  we are sure, be out there somewhere waiting to be reunited with the other two…
<![if !vml]>

<![endif]>
<![if !vml]>

<![endif]>      <![if !vml]>

<![endif]>
<![if !vml]>

<![endif]>
Where is the Grasshopper?
<![if !vml]>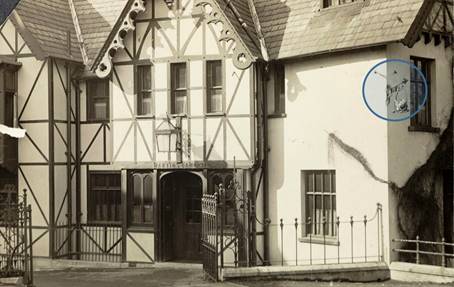 <![endif]>This is Chislehurst Water Tower Branch, a fantastic looking building, and one ideally suited to displaying the Golden Grasshopper of the south in all its glory.  We have been contacted on several occasions about the fate of this lovely metal sculpture, and it does seem to have simply vanished following the merger with Barclays in 1969.  Many of the artworks commissioned by the bank have been turning up in dusty garages and lofts over the years, but it is a VERY rare occasion on which a Grasshopper is revealed. 
<![if !vml]>

<![endif]>
We were contacted in September 2017 by the Chislehurst Society's History Group who are researching parts of the town's history, and amongst the items on their list is to establish either the whereabouts, or indeed what happened to the Grasshopper.  If you can help, please please do get in touch with us at the usual address – martinsbankarchive@btinternet.com.
<![if !vml]>

<![endif]><![if !vml]>

<![endif]>
Tapestry and Mystery…
<![if !vml]>

<![endif]>
<![if !vml]>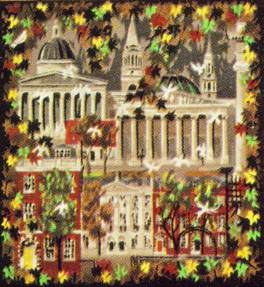 <![endif]>We were contacted in June 2012 by Kevan Shaw, whose father made this wonderful tapestry for display in London Tottenham Court Road Branch in the mid-1950s.   Kevan was hoping to find the tapestry for a forthcoming exhibition, but our colleagues at Barclays have not been able to trace what happened to it.  Although Tottenham Court Road Branch survives the 1969 merger, it is closed by Barclays 1990, and the building is now a pub.  Have you seen this tapestry somewhere, or is it perhaps in your possession?  If you can help use trace what happened to it, please do get in touch at the usual address – martinsbankarchive@btinternet.com.
<![if !vml]>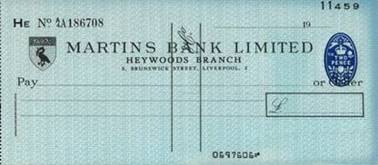 <![endif]>
We have also been contacted by Martins Colleague John Russell who worked at Birmingham City Office, Colmore Row, both for Martins and Barclays.  He told us the following story about the threatened demise of the building, and the appearance AND disappearance of a Martins artwork…
<![if !vml]>

<![endif]>
<![if !vml]>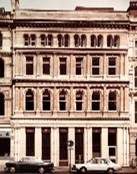 <![endif]>The ground floor of 98 was occupied by the branch, the first floor by Midland District office. The second floor by the United Dominions Trust, the third by a (one man?) firm of loss adjusters. Trust Company occupied the fourth floor along with the Martins bank canteen. When I joined Trust Company in 1965 there were plans afoot to demolish the buildings on the south side of Colmore Row which was to be turned into a dual carriageway.  Consequently, coincidence or not Martins bought the building on the other side of the street next to Barclays. (This is 71-73 Colmore Row and is shown here, left). Obviously the demolition plans were abandoned, nor with the merger then pending did Martins get to move across the street. However as a consequence of the purchase there used to be five plaster carvings on the building one of which was a grasshopper. Presumably therefore erected by Martins in anticipation of the move. I cannot remember what the other carvings represented but they were probably Martins related. Perhaps someone can solve the mystery. I believe Barclays expanded into the building. I think the carvings were only removed after Barclays moved down the street to new premises and the building was taken over by the Church of England The building still has the smooth blank facias where the carvings used to be. I remembered I have a copy of the special edition of Birmingham Post 7 April 1971 to mark the opening of the Inner Ring Road. I quote.. "Lately the idea of opening out Colmore Row has been halted on financial grounds linked with pressure from those who wanted to retain something of the Georgian and Victorian era."
<![if !vml]>

<![endif]>
<![if !vml]>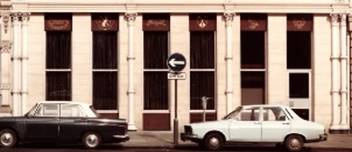 <![endif]>Mystery solved (well, almost)…
<![if !vml]>

<![endif]>
We are indebted to Martins Colleague and friend of the Archive Keith Mason for donning his detective hat and magnifying glass, to answer the mystery of the plaques at 71-73 Colmore Row. In this image from 1976, six plaques are still visible on the building.  We have tried to zoom in on them a little better below.  Keith contacted Barclays, who looked into their Archives and not only produced a picture, but also an explanation of the meanings of each of the plaques.
<![if !vml]>

<![endif]>
<![if !vml]>

<![endif]>
<![if !vml]>

<![endif]>
The first plaque represents the Dudley and West Bromwich Banking Company.  The second is The Birmingham Town and District Banking Company.  Then comes Martins Grasshopper, followed by the The Wolverhampton and Staffordshire Bank.  Fifth is the Liver Bird, and last but not least we have The Barclays Spread Eagle.  One mystery still surrounds these plaques – when 71-73 Colmore row was demolished, no-one seems to know what happened to these little pieces of history.  The search continues!
<![if !vml]>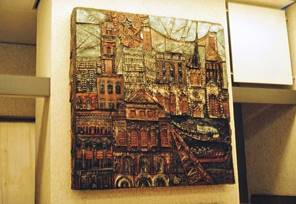 <![endif]>More Missing Masterpieces…
Many of Martins' finest buildings remain intact, although many are no longer used by Barclays.  In a way it is quite satisfying to think that some of the places that once saw smart suited mods, rebellious rockers, girls in pvc dresses and all manner of 60s people doing their banking, are now host to theme pubs where the young people watch football on satellite TV and wear out their thumbs on mobile phone keypads. One thing is for sure - if Martins was still around it would certainly capitalise on all that disposable income…  What happened to some of the items that used to decorate Martins Branches?  Having taken care to represent the local area of a branch with themed tapestries, or mosaics, or carvings, what has become of some of these special items that Martins commissioned?  For example, in a dusty attic, basement or shed somewhere, do YOU have one of these "trade" themed wooden panels from Newbury branch?
<![if !vml]>

<![endif]>
Martins Account Numbers
<![if !vml]>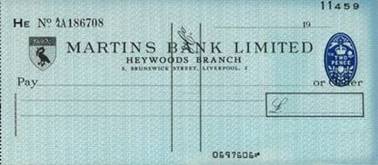 <![endif]>From early 1961 Martins is ready to issue customers with account numbers and for these to be printed on cheques in magnetic ink.  At the moment we are unable to trace a copy of the account number allocation book, or any leaflets issued to customers advising them that automation is on the way.  Thanks to several visitors to this site, we do now have more information about account numbers, and details of the London Automation Exercise from 1966, but can YOU help?  Did you take part in the automation exercise?  Were you given a Martins (SEVEN digit) account number?
<![if !vml]>

<![endif]>
Ceramic Treasures
In the mid 1960s, when opening a new branch, branches, it is customary for Martins to commission a piece of art work that reflected the local area.  Three such works were created by Philippa Threlfall for the branches at Bristol Clifton, Cheltenham High Street, and Gloucester.  Philippa has kindly supplied us with the images below, and we would like your help in finding out what happened to these beautiful works of art.  Philippa told us:  "The trouble for working - as we did - for corporate bodies like Martins was that so many of them became subsumed by other companies. Then it becomes tricky to trace the works, and sadly they have often become missing presumed destroyed"… If you know the whereabouts of these pieces, please do get in touch at the usual address: martinsbankarchive@btinternet.com
<![if !vml]>

<![endif]>
<![if !vml]><![endif]>

Bristol, Clifton

FEATURING SOME OF THE BUILDINGS AND LANDMARKS OF BRISTOL

<![if !vml]><![endif]>

Cheltenham High Street

AN INTERESTING TAKE ON THE GRASSHOPPER LOGO

<![if !vml]><![endif]>

Gloucester Southgate Street

DELICATE FRETTED CERAMIC WORK SHOWS GLOUCESTER CATHEDRAL

<![if !vml]><![endif]>

Images © Philippa Threfall 1966 to date www.philippathrelfall.com