<![if !vml]>

<![endif]>
To this equation add a partner and children, and the expectation that you will be on the doorstep of the new branch at the appointed time, and a job for life is suddenly endowed with some major headaches. There are no surprise tactics here, banks have required staff to sign a mobility clause in their contract for decades, but in practice it doesn't do to put down roots and then become successful in your job – these roots will often have to be quickly pulled up and re-planted elsewhere.  This is exactly what happened to our Martins Colleague Chris Barker, who started his career in 1954 at West Kirby Branch.  From Merseyside, via Nigeria to Colchester in Essex, Chris's banking service unfolded, and here, with the help of some of the faces and the places he describes, is his story in his own words…
<![if !vml]>

<![endif]>
West Kirby…
<![if !vml]>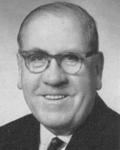 <![endif]>When I started in the bank in 1954 at West Kirby, Eric Wylie was my first boss and one of the most delightful men I have ever known, a real boon for a wet-behind the-ears 16 year old starting work. As well being a member of the Argosy  Players he was a stalwart of the Operatic Society and it was quite  usual for him to stand at the back of the office, (customers present or not),  and give us all a stirring rendition of whatever part he was playing including full vocals. There can have been no better place to start work. We were expected to get in by 8.30am and Eric and I used to catch the same bus from the village where we lived. Getting on at the stop before mine he always sat in the same seat and occasionally, if I was a bit on the drag and had to run to catch the bus, he would be waving his arms about encouraging me to get a move on. If I did miss the bus I would hear about it for days afterwards. Equally, he liked to catch the 4.10pm bus home and if I hadn't finished the remittances by 4.00pm there was hell to pay. Fortunately it didn't happen often. In the summer if we did miss that bus we used to walk the three miles home - he was nearly as wide round as he was tall and reckoned the exercise did him good. The customers loved him as much as his staff did.
<![if !vml]>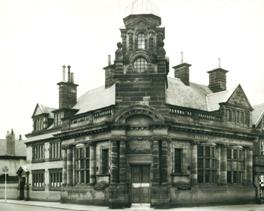 <![endif]>West Kirby in those days was an up-market residential area for Liverpool and it was quite usual for some customers to arrive in their chauffeur-driven cars to collect the housekeeping, usually on a Friday. There was one particular pair of widowed sisters who came and he would always greet them with some pithy comment whether there was anyone else in the banking hall or not. We never knew what he was going to come out with, but it was usually something along the lines of "what do you want you silly old bats? " They loved it.  Another customer had won £75000 - then the maximum - on the football pools and used to pay for all the staff to have dinner at the local pub on balance nights. Apart from the routine jobs like the local clearing and stoking the boiler, I did have other less usual duties to perform. We had an elderly widower who was an alcoholic and there was an arrangement with his family whereby I had to deliver to him one bottle of Johnny Walker every Wednesday afternoon. Needless to say I always received a warm welcome. I was a very keen cricketer in those days and was selected to go and play in a match in Wakefield which necessitated taking the Saturday morning off. The assistant manager was Paul Huddlestone and we used to have regular discussion about the game and I was explaining to him how I had had to turn down the opportunity because I was working and Eric must have overheard me. Half an hour or so later I was called into his office and told to go as long as it didn't become a regular practice.  As well a being kind, Eric was also strict and I learnt a lot from him. At one point I had bought a huge pipe and I was called into his office and told in no uncertain terms never to speak with it in my mouth. That was embarrassing enough, but how many other managers would have told me the same thing, but out in the general office? I was very sad when, after a couple of years, I had to leave West Kirby and go onto relief. But, again, I met some wonderful new characters and some not quite so wonderful…
<![if !vml]>

<![endif]>
<![if !vml]>

<![endif]>Wallasey New Brighton…
<![if !vml]>

<![endif]>
New Brighton was one of my first postings and the manager there, Basil Williams, used to moonlight playing the piano for the summer season shows at the Floral Pavilion. He lived in the flat above the bank and, when working elsewhere, would wander downstairs in his dressing gown just after nine to open the post before retiring upstairs again until a more civilised hour.
<![if !vml]>

<![endif]>
Ellesmere Port…
<![if !vml]>

<![endif]>
<![if !vml]>

<![endif]>Ellesmere Port, although difficult to get to from where I lived, was also popular. Gerry Vaughan was the manager and, apart from chain smoking, was out of the same mould as Eric Wylie. If not on the counter I was deployed on the remittances which included several hundred cheques brought in daily by a local chemical company. These used to arrive as late as possible and the doors were even shut at 3.30 one day before they turned up. They also had a habit of being wrong on the paying-in slip which made finishing and balancing the remittances a nightmare. Eventually, an arrangement was made where I went up to their offices and helped prepare the lists which made life a bit easier
<![if !vml]>

<![endif]>
<![if !vml]>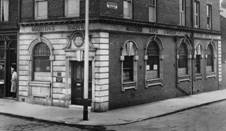 <![endif]>
Liverpool Toxteth…
<![if !vml]>

<![endif]>
The last of my favourite branches was Toxteth which served Liverpool University and the Liverpool Philharmonic. The customers there were a weird and wonderful mixture which I found fascinating. University staff mixed with Chinese and a dozen other nationalities' seamen.
<![if !vml]>

<![endif]>
<![if !vml]>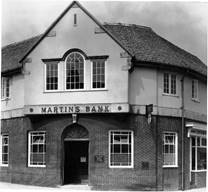 <![endif]>Little Sutton…
<![if !vml]>

<![endif]>
The least favourite relief destination for me, was Little Sutton, a three-man branch equally as difficult to reach. The manager was called "Mac" - I can't remember his proper name - and he must have had a particularly unhappy home life as he really disliked going home before 6.30.
This meant that I seldom got home much before 7.30 which meant, if I was going out somewhere, I didn't have a chance to have a meal. All the relief staff dreaded the call to Little Sutton and various strategies were devised to avoid this posting if possible. Eventually Little Sutton and the outer reaches of the Liverpool suburbs proved too much for me.
<![if !vml]>

<![endif]>
Birkenhead Borough Road…
<![if !vml]>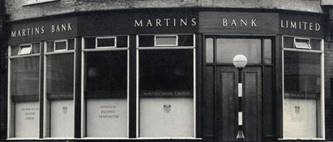 <![endif]><![if !vml]>

<![endif]>
When I was on relief at Borough Road, Birkenhead branch in the 50s one of my jobs on  a Saturday afternoon was to go to Prenton Park, the home of Tranmere Rovers FC, when they had a home game and collect the days takings in a shopping bag and put them in the night safe. It wasn't a vast amount of money! I can't remember whether I used to get bit of overtime for this. I wasn't there often and I don't suppose I did this more than to or three times. How long this ancient Spanish custom went on for I  have no idea.
<![if !vml]>

<![endif]>
<![if !vml]>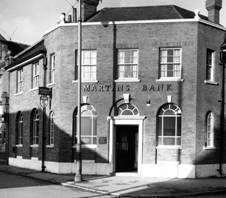 <![endif]>Upton…
<![if !vml]>

<![endif]>
<![if !vml]>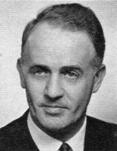 <![endif]>On another occasion I was on relief at Upton branch with Peter Randle who was No 2 at the time. I had been to cricket nets on a Monday night  and had been hit in the stomach by our demon fast bowler. I had an uncomfortable night and went to see the doctor first thing in the morning. He directed me to the hospital immediately for an urgent appendix operation, but there was a problem. I had the branch keys and no means of transport. I finished up putting the keys in an envelope and giving them to the bus conductor and fortunately was able to ring Peter and tell him what I had done. I did hear afterwards that they had arrived safely, but heaven knows what sort of formal warnings I might have had.
<![if !vml]>

<![endif]>
At this point, dear reader, it is fair to say that Chris's career reached something of a hiatus – a change being as good as a feast and all that, grass being greener on the other side of the fence and so on, he did the unthinkable, and jumped ship to work for Barclays DCO (Dominion Colonial and Overseas to you and I). After four more years, he also achieved the impossible, as he now explains…
<![if !vml]>

<![endif]>
<![if !vml]>

<![endif]><![if !vml]>

<![endif]>
<![if !vml]>

<![endif]>Barclays  advertised constantly for staff to join DCO and train for a couple of years before a foreign posting and, after three years on relief I resigned and joined DCO. I had decided that banking perhaps was not for me, but the prospect of earning 50% more pay for two years whilst looking for something more amenable was attractive. As it happens I did go to Nigeria, but that is another story. I did eventually return to Martins and am, therefore, probably the only person who worked twice for Martins and twice for Barclays. So, in December 1958 I resigned from Martins and joined Barclays DCO in Liverpool. I spent four years with DCO and at the end of this period, having by then acquired a wife and baby daughter, decided that a return to the UK was necessary.  From Nigeria I wrote to John Pickering, then Martins' Staff Manager in Head Office, expressing a wish to return. I imagine this must have presented him with something of a dilemma as he had told me in no uncertain terms when I resigned in 1958 that, under no circumstances, would I be allowed to return. I suppose that the bank, still expanding, had a shortage of suitably qualified staff, and he replied asking me to go and see him on our return to England.  In short, yes, they would take me back, but this could not be in the Liverpool district as, if it got about that a former rebel had been reinstated, this could cause unrest among the ranks.
<![if !vml]>

<![endif]>
Leicester Hotel Street…
<![if !vml]>

<![endif]>
<![if !vml]>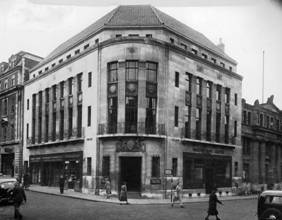 <![endif]><![if !vml]>

<![endif]>Accordingly I was sent to Hotel Street Leicester and I was told that I would have to complete a year there in lodgings while my wife and child stayed with my parents-in-law on the Wirral before we would be allowed to buy a house.  Fortunately I had an uncle and aunt in Loughborough who were happy to put me up and I reported to Hotel Street on 1ST January 1963.  Surprisingly I was on time as this was during the worst winter this country had experienced for many years with snow drifts feet high. The manager was an archetypal Yorkshireman called Ambler Tillotson, the pro-Manager was David Fielden, first cashier Dudley Gibson, Securities Ken Williams  and the only other member of staff whose name I can remember was Susan Cattermole. There were others. I was put on the counter and was also in charge of standing orders.  Life there was relatively uneventful  and the only major incident I can remember was paying a customer £50 too much one day. By a process of elimination we worked out who it was and Mr Tillotson came with me the following morning to see him in his shop. At first he tried to deny that he had had the money, but Mr T soon persuaded him that it would be in his best interests to confess and we returned to the branch with Errors in Cash none the worse. I found it a salutary lesson in concentrating on the job in hand rather than gossiping with the customers.  He was a good manager and encouraged me with his homespun wisdom on more than one occasion. At the end of 1963, just after JFK's assassination, we were allowed to buy a house and 1964 was remarkable only for the fact that we were settling in to normal UK family life. I had taken advantage of the forced separation from my family to concentrate on the Institute of Bankers exams and in April 1964 I was lucky enough to complete Part 2, thus becoming an AIB (Associate of the Institute of Bankers). The money received for passing came in very handy as we were furnishing our house.
<![if !vml]>

<![endif]>
Midland District Office…
<![if !vml]>

<![endif]>
<![if !vml]>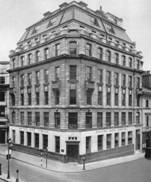 <![endif]>Having passed, it was shortly afterwards that I was given notice on a Thursday to report to Midland District Office the following Monday to work on the advances section.  Despite a certain amount of domestic panic I did get there on time and started work on Frank Morlidge's section with Warwick Isle. This was in January 1965. The DGM was Bill Turnbull, the ADM Peter Gordon and the Superintendent of Branches Gordon Parkinson.  We bought a house in the commuter suburb of Sutton Coldfield and I was back getting the train into work again.  This wasn't really a problem except that someone pinched my bike from the station one day.  I learnt a lot in DO and enjoyed the work and especially the liaison with the various managers round the district. Derek Dyson at Stratford-upon-Avon was a good friend with his assorted collection of luvvies including Roy Dotrice, now well into his 80s and still performing, Miles Tenneson at Spalding with his emphasis on agriculture and horticulture and a Mr Evans at Shrewsbury – can't remember his Christian name, he was known to us as Blodwen – who concentrated on cornering the lending market in eggs and poultry for the whole of the midlands.   Work was going well, but domestically it was very different. We had a nice house in Sutton Coldfield but I think every other person in our road worked for British Leyland and made it quite clear that they thought we were very inferior. Fortunately we were saved by our next door neighbours who were not BL and were kind to us as newcomers.
<![if !vml]>

<![endif]>
Colchester…
<![if !vml]>

<![endif]>
<![if !vml]>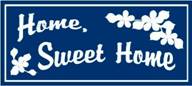 <![endif]>In October 1967, when the thought of a move was beginning to come into my head,  I was called into Bill Turnbull's office. He was on the phone and said to me did I want to go to Colchester as pro-Manager? I had heard of Colchester, but was far from sure where it was and after a quick look at the AA book I said yes. We were despatched – kindly we thought – for a long weekend to have a look at the town which we immediately took to. Within  a couple of weeks, after a short interview in London DO,  I started at Head Street, leaving my wife yet again to cope alone with two small children and no car. Living in local hotels whilst trying to get to grips with the job was difficult, particularly as the staff had been expecting an existing member of staff of the branch to get the appointment and I had to work at getting their confidence.  It was agreed by the bank that we could all move down to Colchester after Christmas and we stayed at the hotel I had been living in for just over a month while we agreed to have a house built in an outlying village. We then moved into rented accommodation for six months.
<![if !vml]>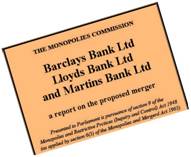 <![endif]>Within a matter of days of my starting the first announcement was made regarding a possible merger of Martins, Lloyds and Barclays and a freeze was put on all except urgent moves from district to district and it came to me that my escape from Birmingham had only just come in time.  The manager at Head Street was Paul Barwell and assistant manager Peter Blatch, both of whom were very supportive.  Apart from one awkward soul – there is always one – the staff soon got used to me as the work ethic was fully instilled in me. It is a comfort that I am still friends with at least five of the Head Street staff of those days in the local Pensioners' Club.  In the late 60s Colchester was an old fashioned market town although by the time I left it had turned into part of the London commuter belt. We had a number of interesting customers. One of the senior partners in Cazenoves, the stockbrokers, used to call regularly with his wife. He was well over six feet tall and she was about five feet. He would approach the counter and, regardless of who else might be present called out "Ah, Barker – the little woman needs her housekeeping, see to it for me, there's a good chap". Sometimes I tried hiding, but it didn't stop him. This amused us and didn't appear to faze any other customers. Then there was the old farmer from one of the villages who called in on Saturday mornings. He didn't want anything except a chat and, once he had satisfied himself on that front, used to stand in the busy road outside the branch and direct the traffic. His family always knew where he <![if !vml]>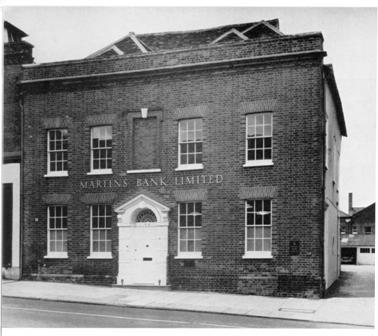 <![endif]>was and we had a telephone call from his wife one day asking us to go out and  tell him to go home as his cattle were out.  Every branch used to have its "character" customers in those days. Is it still the same – I doubt it.
Paul Barwell was a very good manager and, when I had settled in, kindly let me loose on some of the safer lending which was good experience. He had worked tremendously hard to build up the business. The first cashier, Alan Mansfield was a retired army major and thus not over enthusiastic about hard work, but his social contacts were valuable. He lived on Mersea Island and invited my wife and I to dinner one night where we started with oysters – a novelty for both of us. He was eventually replaced by a local boy called Derek Firman who transferred from one of the London branches and brought a few of his metropolitan habits which sharpened us all up a bit.  He lasted about two years before he left the bank to go and be an estate agent and was replaced by Jim Lay who came to us from the Post Office over the road.
The branch was growing fast helped by the fact that we had a car park at the rear of the branch approached via a passage along the side of the building. Our burglar alarm was  situated on the wall to this passage and was well known for going off at regular intervals.  After a particularly fraught interview with the local police and the neighbours after yet another false alarm, sure enough within 48 hours it went off again. By this time Paul Barwell had had enough and came in with his shotgun and blew the whole thing off the wall. Then DO finally agreed to have a new alarm fitted which meant that peace finally descended.
<![if !vml]>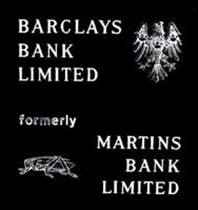 <![endif]>Life continued uneventfully for a year or so and then it was finally announced that Martins and Barclays were to merge. East Anglia is Barclays' heartland and they had a large branch just round the corner from us in High Street and two other branches in other parts of the town. Our first contact with Barclays was in the form of John Thornton, the senior local director in Ipswich who came on a flag-waving exercise. We were somewhat bemused when he left as we had hardly been able to understand  a word he said although his goodwill was evident. We convinced ourselves that Barclays had taken on the job because they could see how good our staff were compared with a lot of what they had got and we just got on with absorbing the new systems. I later became John Thornton's aide-de-camp, as he called it, otherwise Assistant District Manager in Ipswich LHO, and, again, he was a delightful man to work for (I was so lucky with my various bosses) but that was a long way ahead. In the meantime two of High Street's staff came to "integrate" us and that was the end of Martins.
<![if !vml]>

<![endif]>
Our thanks to Chris Barker for his memories of a whirlwind career.
Main Text © C J Barker and Martins Bank Archive 2011.
Images © Barclays Group Archive and Martins Bank Archive.
<![if !vml]>

<![endif]>
<![if !vml]>

<![endif]>M
<![if !vml]>

<![endif]>
M