<![if !vml]>

<![endif]>We were delighted to be contacted by Alan Prime, who has contributed the story of how he came to work for Martins, an achievement which, it must be said, cameabout against a number of odds.  Alan Prime's career with Martins Bank, starts and ends at our Chief Overseas Branch, 80 Gracechurch Street London.  Here, using some of his own pictures and letters from the time, he tells us about what he recalls as the most enjoyable years of his working life - learning the ropes and climbing the ladder at Martins Bank between 1957 and 1965…
<![if !vml]>

<![endif]>
<![if !vml]>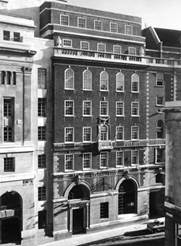 <![endif]>In the early summer of 1957, the Evening News carried a "Junior Section" in their Situations Vacant columns and Martins Bank Limited invited students of GCE standard to apply for a position.  This I did, and in late June / early July 1957 travelled to 68, Lombard Street for an interview.  I can recall during the meeting some written numeric testing.  I was not optimistic.  My education during the previous five years had been at Chingford County Secondary School, Wellington Avenue, and although in the immediate past week I had taken seven GCE examinations, my standard, according to my archived school report book, was a modest 'satisfactory' accompanied by lots of 'could do better'.  
However the conclusion in my Leaving Report dated 26th July 1957, by my Headmaster, Mr. Prothero, , declared that "Alan should do well when he has settled into the post he obtains". I was therefore, surprised to receive a letter dated 12th July 1957 from the London District Superintendent of Martins Bank Limited, Mr F C Harding, advising me that my application to join the staff of the Bank had been accepted. Starting salary was £265 per annum plus a London allowance of £60(!) and a six month's probation period would apply.
<![if !vml]>

<![endif]>
<![if !vml]>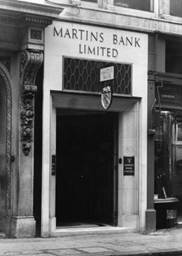 <![endif]><![if !vml]>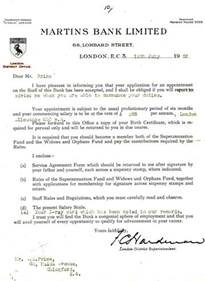 <![endif]>The Bank asked when I could commence my duties and following further communication, I was directed to attend Chief Overseas Branch, and began my duties in the Travel Department in the main Banking Hall. The Travel desk was under the supervision of Mr Geoffrey Raby and the whole of the Hall area under the watchful eye of Mr Melvin, the Staff Manager. This ground floor area also incorporated the Gracechurch Street Branch, which was additional to the Chief Overseas Branch. 
I suspect that most people have a feeling of where they see themselves starting out in the world. When at school I always had an image of myself sitting behind a desk!! For some weeks after starting in Martins Bank I recall logging cleared Travellers Cheques or issuing new batches to the various branches of the Bank. I should at this point refer to my GCE results which I received in September 1957, and which I was obliged to declare to Mr Melvin. The results of seven (7) GCE failures resulted in a presumption that my probation would end and that I would be shown the door.  I clearly recall my meeting with the Staff Manager and I remember my fears and anxiety at announcing to him my results. He looked at me and said, 'Don't worry Prime, carry on'.  And so began my University of Life. I promised myself that I would prove that I was worthy of being a member of Martins Bank Limited.
<![if !vml]>

<![endif]>
<![if !vml]>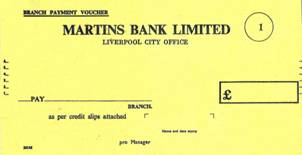 <![endif]>After a few weeks on the Travel Department, I was transferred to the Post Room on the Mezzanine floor. There I remained for a few years starting out life as the most junior of juniors to eventually becoming Head Post Boy!! In addition to the collection and delivery / dispatch of post, I was involved with the clearing house in Lombard Street, both receiving and sending various sets of clearing. I can recall it was forever an exciting yet rushed job, carried out twice daily. Other boys in the Post Room I recall at the time were, Norman Penty (in 1964 my Best Man), Terry Fitzgerald, Mike Kellard, Vincent White, Bob Little and George Maidment.
<![if !vml]>

<![endif]>
<![if !vml]>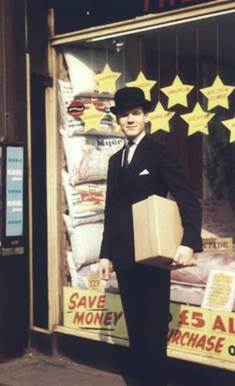 <![endif]>George and I became good friends, particularly as we lived close by in Leyton. Both Terry Fitzgerald and Norman Penty strongly influenced my journey which followed in the branch. In the Post Room, the frames that held the pigeon holes became worn and splintered and the name tags also needed replacing. When I became Head Post Boy, I suggested to Mr Melvin of the need to replace the frames and the name tags and that I would be happy to be involved and contribute to the work and come into the branch over weekends. Mr Melvin's response was positive and I happily came in at weekends to type out and affix the new labels.
On the social side, I became a member of Martins Bank Chess Club and I played for the Bank in the London Interbank Chess League. I also played in the Branches, men's Table Tennis Team.    Adjacent to the Post Room was an area for three shorthand typist desks and some ladies names recalled during my time there were: Helen Machin, June Francis (who I later married in 1964) and June Snowden?
Following my time in the Post Room, I was transferred to Collections Department on the first floor. Here, Mr Lionel Jowett was the supervisor of the department with Mr Donald Snowden. This department (among other functions) dealt with the delivery of proceeds from cheques drawn in overseas currency. I think at this time I may have been aged 19 or 20 (1960 / 1961). In addition to Mr Melvin, the Staff Manager, Mr Lionel Jowett became extremely helpful and from both these gentlemen I learned much of manners and the man. Indeed on my 21st Birthday 25th February 1962, Lionel Jowett gifted to me my first bowler hat which had been specifically measured for me by his Hatters.). These two officers of the Bank had a dramatic influence on my journey.
<![if !vml]>

<![endif]>
Upon joining the Bank in 1957 I confess that I had no appetite for studying for the AIB examinations, possibly as a result of my dismal failures in the GCE some years earlier. But then, with the help of The Rapid Results College and attendance at the Institute OB at 10 Lombard Street, between September 1962 and April 1963, I passed Part 1 of the Institute Examinations for which I recall I received a cheque for £30. My records show that I passed Monetary Theory and Practice in April 1964; Accountancy (Distinction) in September 1965 and Finance of Foreign Trade September 1967.
<![if !vml]>

<![endif]>
<![if !vml]>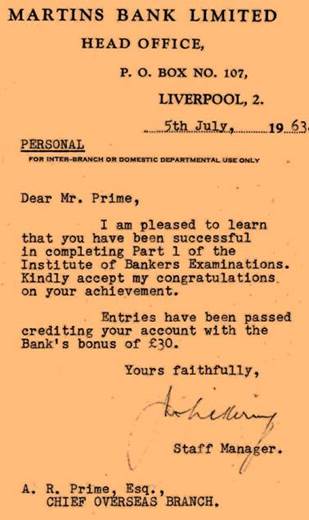 <![endif]>The dramatic success it seems for Part 1 in 1962 / 1963 followed my time in the Foreign Exchange Department to where I had been transferred from Collections Department. I remember showing an interest in the FE department during 1961 /1962. Mr Clarke was Pro Manager with Mr Sidney Stockwell as his assistant. Other senior people on the section I recall were Miss Marjorie Prevett and Joan ?, Alan Williams and Derek Bean.  I had additionally mentioned to some Management members my interest in the Foreign Exchange Dealing Room. Any move possible to the Dealing Room however could only be found by achieving an AIB status or the positive attempt for it. At that time the Dealer in charge was Mr Bruckin, with David Wilson and John (Dixie) Dean. I showed a very strong interest in exchange rates and the function of the Dealing Room while working within the Foreign Exchange Department where we dealt with requests from branches of customer's payments to overseas beneficiaries. The department itself was adjacent to the Dealing Room.
Mr Bruckin retired shortly after and Mr Wilson was promoted to Management. Mr Dean and Mr Squirrell then led the Dealing Department and my friend Norman Penty then also joined from within Chief Overseas. I became a member of the Dealing Room in 1963. Dixie Dean left and I believe went back to Liverpool Overseas and Stuart Squirrell then became Chief Dealer. Norman left the department in 1964 and I became Assistant Chief Dealer to Mr Squirrell. Neville Fobister came down from the Liverpool Dealing Room and Tony Allwright also became the fourth member. Dealing room activity involved control of the Bank's overseas Currency accounts together with the Sterling accounts of overseas banks with Martins Bank. We applied rates of exchange to the various payment forms coming in from the Foreign Exchange Department and also responded to requests from Corporate Customers calling in for quotations. We dealt with incoming currency payments; and also traded in the Interbank Market in Foreign Exchange. This last activity was conducted directly with overseas banks via a telex or by telephone and also with the London banks via Foreign Exchange Brokers of the Day with which the Dealing Room had direct telephone lines and immediate contact via a Dealing Board with 36 direct lines. These lines were in addition to the 8 telephones which sat on a shelf above the Dealers Table which provided internal and external access to / by the Dealers.
<![if !vml]>

<![endif]>