<![if !vml]>

<![endif]>
<![if !vml]>

<![endif]>
<![if !vml]>

<![endif]>
The first large amalgamation undertaken by the  Lancashire and Yorkshire Bank is in 1888 when it takes over the Branches of the Bury Banking Company Limited. Previously a full Branch, Tottington is one of two offices of the Bury Bank to become a sub Branch under its new owners, and this seems to have remained its fate under Martins Bank and Barclays.  The doors are closed for the final time in August 1996 making Tottington one of the oldest and longest serving Branches in Martins' portfolio. Together, the three sub-Branches at Elton The Rock, and Tottington provide a counter service to  outlying areas of Bury throughout the lifetime of the modern day Martins Bank, 1928 to 1969.
<![if !vml]>

<![endif]>
<![if !vml]>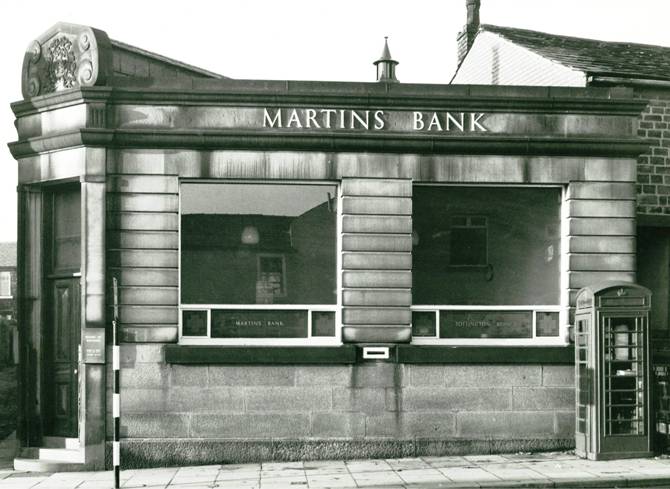 <![endif]>
Images © Barclays Ref: 30/2962
<![if !vml]>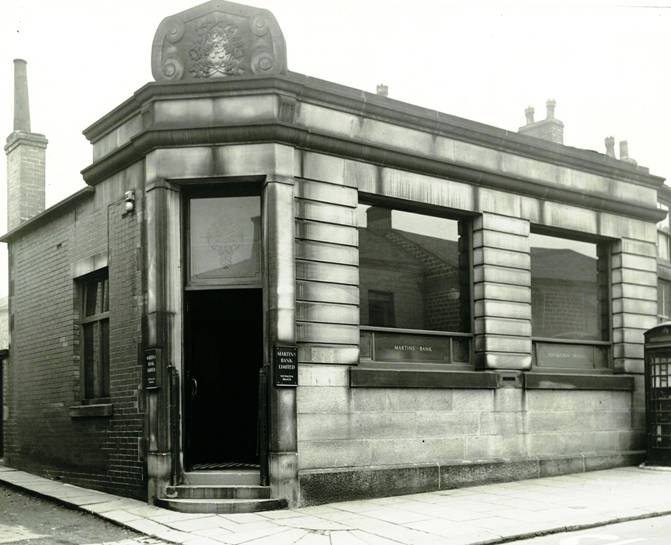 <![endif]>
<![if !vml]>

<![endif]>
In this extract from Four Centuries of Banking, we learn something of the deal that took place when the Lancashire and Yorkshire Bank took over the Bury Banking Company.
<![if !vml]>

<![endif]>
Under new ownership…
{The agreement for the amalgamation of the Bury Banking Compnay Limited with the Lancashire and Yorkshire Bank Limited was dated 12 January 1888. The Bury Bank agreed to sell to the Lancashire and Yorkshire Bank all its lands, buildings, furniture, goods, chattels, books, book debts, bills notes and things. The L and Y Bank was to pay £400,000 for the Bury Bank – just over £100,000 in cash and the remainder by 13,333 £20 shares in the L and Y.}  { The Heywood Radcliffe and Ramsbottom Branches of the Bury Bank were to become full branches of the Lancashire and Yorkshire Bank, whilst Whitefield and Tottington became sub-branches to Bury…}
ABRIDGED AND ADAPTED FROM "FOUR CENTURIES OF BANKING VOL II" © MARTINS BANK LIMITED 1968
Title:
Type:
Address:
Indeex Number and District:
Hours:
Telephone:
Services:
Manager:
11-39-20 Tottington
Sub to 11-39-20 Bury
26 Market Street Tottington Lancashire
717 Manchester
Mon to Fri 1000-1315 and 1345-1500
Saturday 0930-1130
Tottington 2805
No Nightsafe
Mr H M Isherwood Manager (Bury)
Pre 1888
12 January 1888
3 January 1928
15 December 1969
24 August 1996
Currently
Opened by the Bury Banking Company
Lancashire and Yorkshire Bank
Martins Bank Limited
Barclays Bank Limited 20-16-08 Bury 26 Silver Street
Closed
Insurance Broker