<![if !vml]>

<![endif]>
<![if !vml]>

<![endif]>
<![if !vml]>

<![endif]>
The Carlisle and Cumberland Banking Company opens in Carlisle in 1836, and the Branch that will become part of Martins Bank has been serving customers ever since. We are delighted to be able to bring you several images of Carlisle Branch, as Martins took a large number of photographs of this office from the 1940s to the 1960s. 
<![if !vml]>

<![endif]>
<![if !vml]>

<![endif]>
<![if !vml]>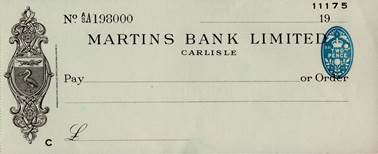 <![endif]>
<![if !vml]>

<![endif]>
This lovely shot of the branch was taken in the late 1940s. 
<![if !vml]>

<![endif]>
In Service: 1836 until present day, still open as Barclays
<![if !vml]>

<![endif]>
<![if !vml]>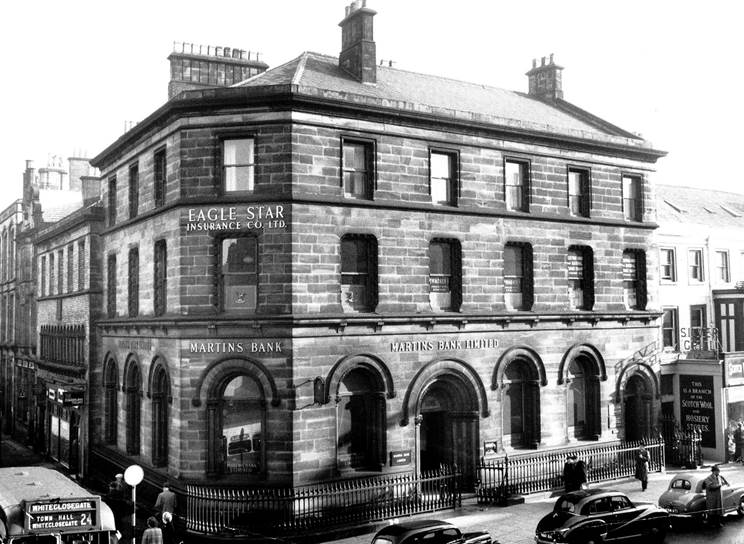 <![endif]>
 Branch Images © Barclays Ref 0030-0563
<![if !vml]>

<![endif]>
Look out, as further down this page, the building becomes cleaner - and undergoes a few more subtle changes.  Our main feature is the visit to Carlisle by Martins Bank Magazine in 1951, which begins with a look back to the staff of the Branch in service in the year 1903…
<![if !vml]>

<![endif]>
<![if !vml]>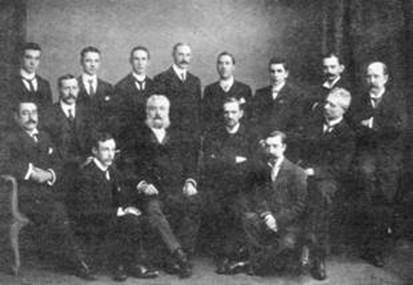 <![endif]>Carlisle - now, and then…
<![if !vml]>

<![endif]>
<![if !vml]>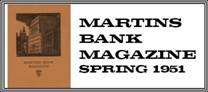 <![endif]>Comparing the photo­graph of the staff of Carlisle taken in 1903 with those taken in 1951 one is struck by more than the fashion details. Gone are the side whiskers and the high collars and it was with a keen sense of disappointment that one looks at the older photo­graphs and realises that the com­parison is purely a male one. If only they had employed girls in those days what fun we would have had comparing the fashions of the lady members of the staff in 1903 with those of today. As it is, the fun may be had in years to come by a generation yet unborn!
<![if !vml]>

<![endif]>
<![if !vml]>

<![endif]>Readers will admit that the photograph of Mr. Rushforth with his girls is an attractive one. He asks us to make it clear that they aren't his own girls but he would be very proud of them if they were! He has three of his own, one in the Bank at Botchergate, one married to a Scottish bank clerk, and one still at school but determined to go to Cambridge to study Pure Mathematics, following a brilliant school career.We had the pleasure of lunch with Mr. and Mrs. Rushforth on the occasion of our visit on February 5th. Mr. Rushforth, recently a grandfather, has been at Carlisle since 1933, first as Pro Manager, and as Manager since 1942. Prior to that he served at Barrow where he commenced his career in 1912,  Millom, Alston, Kendal, Inspec­tion Department, Head Office; and Securities Department, Liver­pool City Office. He also had a spell with H.M. Forces in the First World War. He is Chair­man of the Carlisle Centre of the Institute of Bankers and was Treasurer of the Cumberland Infirmary and Home for Incur­ables until the State took over. On the formation of the National Health Service he was appointed Chairman of the East Cumber­land Hospital Management Committee, which controls the administration and day-to-day management of fourteen separate hospitals in Cumberland and North Westmorland, having a bed complement of 926. This is an exacting job, necessitating attendance at many meetings and constant consultation, but Mr. Rushforth seems tireless and even manages a little golf occasionally.
<![if !vml]>

<![endif]>
<![if !vml]>

<![endif]>S. Rigg is a First World War veteran, being wounded at Passchendaele. His previous service has been spent at Skipton, Settle, Botchergate, Penrith and Wigton. He went to Carlisle in 1948. J. E. Russell is a keen Territorial Army Officer, holding the rank of Captain in the Royal Artillery. During the war his service took him to Egypt, the Western Desert, Palestine, Italy, Greece, Yugoslavia, Austria, France, Germany and Belgium. He went round the Cape, calling in at South Africa, so he certainly got around. G. P. Way is a Liverpool man who went to Carlisle last year. He was in the Dunkirk retreat and later in the Second Front with the R.A.S.C., finishing up at Hamburg. J. S. Ritchie is really a Head Office Relief man who moves about the district. He has spent most of his time since 1946 at Carlisle. W. J. Hutton is one of those lucky young men who was sent to America under the Empire Air Training Scheme but training was called off at the end of hostilities just before he could get his wings.
He has to assist him at the branch Mr. T. H. London as Assistant Manager and Mr. S. E. Blacklock as Pro Manager. Mr. London became Pro Mana­ger in 1935 and Assistant Manager last year. Mr. Black-lock was appointed in 1946.  G. H. Hetherington commenced his service at Carlisle in 1917 and after First World War service with the 5th Manchester Regiment and a spell at Longtown and Penrith returned to Carlisle in 1924. J. A. P. Johnstone entered the Bank at Water Street in 1924 and after a spell at New Brighton went north in 1926, serving at Kendal, Carlisle, Longtown and Carlisle again since 1942. E. M. Thompson spent the first ten years of his service at Kirkby Stephen, going to Carlisle in 1932. During the war he served first with the R.A.O.C. and then with Intelligence in India. G. F. H. Forsyth is another R.A.O.C. man. He commenced his career at Kirkby Lonsdale in 1920.

<![if !vml]><![endif]>

<![if !vml]><![endif]>

Branch Images © Barclays Ref 0030-0563
<![if !vml]>

<![endif]>
After ten years at Alston he went to Carlisle in 1935.All his bank service has been at Carlisle. A. E. Whiteside is the Junior. He is trying to take the first part of his Institute of Bankers' examinations before his call-up this June. We had met one or two of the girls at the Northern Dinner. There was Miss J. E. Jopson who waited a whole year to reply to Mr. T. A. Johnson's "Humbugs" speech, which she did most effectively at the 1950 dinner. Then there was Miss E. M. Todhunter whose singing has entertained us at the Northern Dinner for three successive years. Miss V. Matthews was called up for National Service in 1944 but came back eighteen months later. Miss M. Edgar entered the service at Longtown in 1944, going to Carlisle in 1949. Miss M. J. G. Wake entered the Bank in 1943 at Carlisle: she is known to some of us in Liverpool, having been on a machine course there.  Miss O. Railton entered the Bank in 1944 at Botchergate and has been at Carlisle since 1948. Carlisle is an interesting town and the interest begins from the moment one leaves the station dominated by the red sandstone citadel.  The Roman wall passes near here and fragments may still be seen in Carlisle itself, a recognisable specimen being visible a short distance from Mr. Rushforth's home. There is a cathedral six centuries old and in numerous indefinable ways the town has all the air of a frontier post, which indeed it is.As a great railway centre its station has a thrill for the least imaginative person. Long distance trains with famous names draw alongside its platforms and there is a cosmopolitan flavour and an air of busyness quite out of proportion to the size of the place. Carlisle was important in the days of the Picts and Scots, and though the Picts may have gone the Scots are still there, which is a sufficient reason for its continuing importance!

<![if !vml]><![endif]>

Thoroughly Modern Branch…

<![if !vml]><![endif]>

<![if !vml]><![endif]>Carlisle Branch also features in another of Martins Bank's publications. A major, and useful source of colour images of Martins Branches, is the Annual Report and Accounts. Between the late 1950s and early 1960s, several issues of this financial publication feature a selection of colour images, designed to show the Bank at its modernising best. The drive in branch, and the futuristic Pegasus computer are also given the colour treatment. In the report for 1961, is this precious (and only) colour internal image of Martins Bank's newly refurbished Branch at 33 English Street:

<![if !vml]><![endif]>

<![if !vml]><![endif]>

<![if !vml]><![endif]>

"The Bank is modernising many of its older Branches and the interior of

Carlisle Branch is shown here after recent renovations".

Image © Martins Bank Archive Collections
<![if !vml]>

<![endif]>
Student Banking…

<![if !vml]><![endif]>

In the Autumn of 1965, Martins Bank places advertising within Universities and Colleges where the Bank does not have its own outlet, in the hope of attracting custom to a nearby Branch. The availability of Student banking at 33 English Street Carlisle is marketed by this strapline at the bottom of a university information board.

<![if !vml]><![endif]>

<![if !vml]><![endif]>

<![if !vml]><![endif]>

There is much more information about the Bank's services for students on our STUDENT BANKING page, and an in depth look at the advertising of the period in the 1960s section of our feature on Martins' Advertising.
<![if !vml]>

<![endif]>