<![if !vml]>

<![endif]>
<![if !vml]>

<![endif]>
<![if !vml]>

<![endif]><![if !vml]>

<![endif]>
Messrs Wakefield Crewdson's Kendal Bank opens a Branch in Carnforth in 1887 at 30 Market Street. There seems to have been a period of itchy feet, and a change of owner, before the Bank of Liverpool finally settles on No 3 Market Street in 1907.
<![if !vml]>

<![endif]>
<![if !vml]>
<![endif]>
<![if !vml]>

<![endif]>
<![if !vml]>

<![endif]>
Carnforth's enduring claim to fame is the starring role played by its railway station in the 1945 classic film, 'Brief Encounter'.  Since then the station itself has gone through several different phases, including a post-Beeching ugly stage, and thankfully a twenty-first century handsome stage, whereby period features have been restored, and you can even take afternoon tea in the very café seen in the film.  Some things have, however, changed forever.  Nowadays if wanting to travel North from Carnforth to Kendal by electric train, you must first go south to Lancaster by diesel, change trains and go back the way you came to pass through Carnforth and head North to Oxenholme where you change again to go to Kendal!  No doubt modern PR would hail this as a great service to customers…  Just like MORECAMBE, Martins Bank's Branch at Carnforth bears a similar, but smaller scale, resemblance to an eastern European palace.  It would appear that Messrs Wakefield Crewdson went in for a certain amount of grandeur in their bank branch buildings.  
<![if !vml]>

<![endif]>
"From the North"…
<![if !vml]>

<![endif]>
<![if !vml]>

<![endif]>In this scene from a 1968 Granada TV documentary about life in the town, we see Carnforth Branch captured in the background of an interview at the nearby Royal Station Hotel.  Here, the bank has a pleasant corner aspect, which faces the War Memorial in one direction and in the other towards the Royal Station Hotel and the Carnforth Co-Operative Society and railway station beyond. It is also worth noting that even in the smaller towns such as Carnforth, Martins Bank's customers enjoy Saturday morning banking.  Just the thing when you need money for your train ticket.  The Midland Bank next door is decorated with new branding that will last until the 1980s. 
<![if !vml]>

<![endif]>
<![if !vml]>

<![endif]> 
<![if !vml]>

<![endif]>
Image © Barclays Ref 0030/0565
<![if !vml]>

<![endif]>
<
<![if !vml]>

<![endif]>
<![if !vml]>

<![endif]>
Image © ITV Studios 1968 to date
<![if !vml]>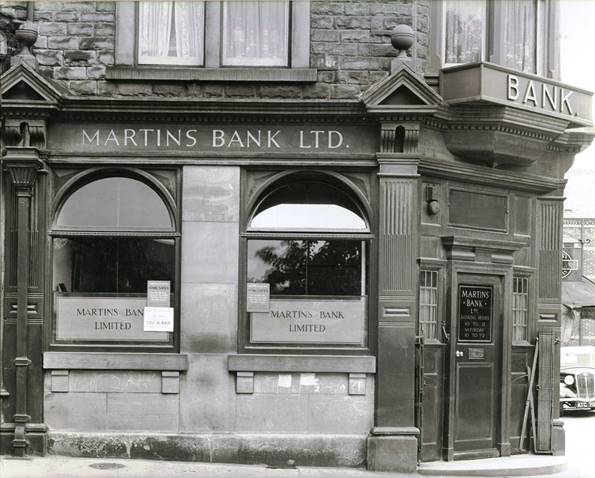 <![endif]>Banking on horseback…
<![if !vml]>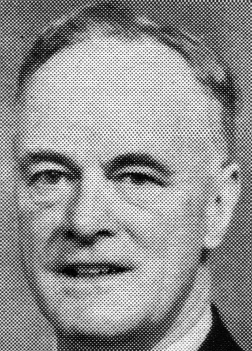 <![endif]><![if !vml]>

<![endif]>
John Mashiter Began his career with the Bank in Manchester in 1925, worked throughout the Northern District of the Bank and retired in 1969. In 1963 he was a member of the History of Martins Bank Committee, whose remit was to collect the history of Martins Bank together for Publication.  He recalls his own time at Carnforth Branch in Volume I of "Four Centuries of Banking"…
<![if !vml]>

<![endif]>
{There were only two of us at Carnforth. The Manager Edmund Herd was an old friend and life there was very good.  I cycled the eight miles from Milnthorpe and with practice could do the daily stint of sixteen miles in remarkable time.  This was the main A6 road but in those days traffic was light and I did the journey for two years without mishap.   The Reynolds family from Leighton Hall were customers;  one of them was a director of the Bank and they frequently came to the Branch on horseback.  On these occasions I had to go out and hold their horses.  The sight of me being towed up and down the street by two restive horses always amused our shopkeeper customers, who came out to watch the fun and urge on the horses.}
ABRIDGED FROM FOUR CENTURIES OF BANKING VOL I © MARTINS BANK LIMITED 1963
<![if !vml]>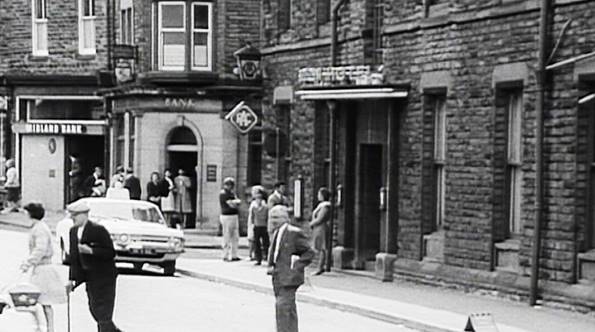 <![endif]>
<![if !vml]>

<![endif]>This is not exactly then and NOW, but it is a good example of how the Barclays Branding interfered only minimally with the look of Carnforth Branch…
<![if !vml]>

<![endif]>
Mr E Herd
Manager
1929 to 1935
Mr John Mashiter
On the Staff
1930 to 1932 approx
Mr J G Young
Clerk in Charge
1935 to 1937
Mr C H Exley
Joined the bank here
1937
Mr A Martin
Manager
1937 to 1952
Mr R Thornton
On the Staff
1964 to 1967
1887
27 June 1893
1899
11 December 1907
18 December 1918
3 January 1928
1938
1938
15 December 1969
opened at 30 Market Street by
Messrs Wakefield Crewdson, the Kendal Bank
Bank of Livepool
Moved to Lancaster Road
Moved to 3 Market Street
Bank of Liverpool and Martins
Martins Bank Limited
Moved temporarily to 2 Scotland Road
Moved back to 3 Market Street
Barclays Bank Limited 20-18-56 Carnforth