<![if !vml]>

<![endif]>
Mechanisation
x
In 1932 conventional mechanisation was just beginning to spread and consequently forms an interesting basic year for comparison purposes. Since then postings to customers' accounts have increased by 160%. The increase up to 1947,  just after the war, was only 50%. Note that these figures represent the increase in numbers of postings, not of the sterling value of the entries. So it appears that since the end of the war the Bank has added to its routine load more than its total commitments in 1932.
There is no reason to think that this expansion of normal banking services is at an end. Indeed, new factors are appearing which are likely to increase the expansion rate. For instance, the credit transfer development has just been extended to include "third party" credits and one estimate puts the figure for credit transfers likely to be handled by the clearings in a few years' time at 400 million per year. This compares with the present cheque load of around 900 million per year. The possibility of extension of the principle of paying wages by credit into a banking account will bring more people into the banking circle.
Mechanisation has helped the Bank to cope with increases and conventional mechanisation continues to be extended. The effect of mechanisation has been twofold. Firstly, it has introduced to the Bank a section of staff with a high natural wastage rate, members who are not likely to compete for the more responsible jobs. Secondly, it has increased the capacity per member of staff to deal with routine work so that numbers of staff do not have to increase in proportion to work increase.
<![if !vml]>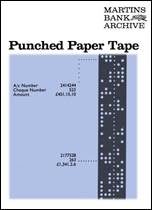 <![endif]>
<![if !vml]>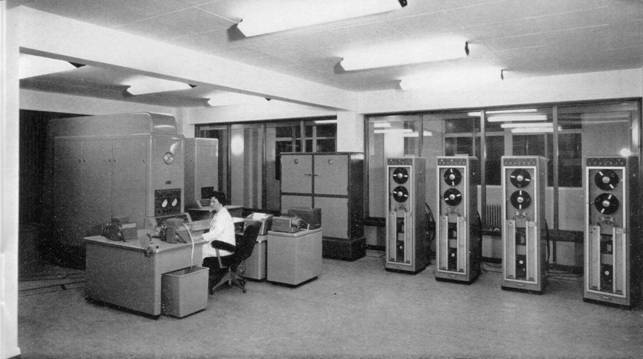 <![endif]>
Fitted and working, Pegasus II takes on the work that until that
point had cost hundreds of man hours in manual procedure.
<![if !vml]>

<![endif]>
Use Of Computer
x
A computer has quite a different effect. It is not merely an aid to production, a tool in the hands of a human being: it can take over from human beings complete routine tasks and requires only a very modest degree of human supervision. Before it can start on such a task, however, it must be provided with human guidance in intricate detail. Such guidance is called a programme and as a result of the need to produce such programmes important and responsible new posts are created. First, "Systems Analysts" study the purpose of the operations to be carried out in great detail and decide how best the computer can tackle the job. They build into their system techniques which were quite impracticable by conventional methods but which will be of great assistance in managing the affairs of the Bank. The shorthand of the Systems Analysts' trade is the flow chart which represents their thoughts in pictorial form. The flow charts then pass to the Programmer or coder, who reduces the charts to apparently meaningless lists of numerals which represent, in fact, the way in which instructions can be given to the computer. The people who are performing these new duties are all drawn from the ranks of our own staff. A new department has been set up to deal with "Organisation, Research and Development," including the task of programming the computer, but the purpose of this Department is not solely related to electronics. Its personnel must approach each problem with an open mind, and must weigh up the virtues of different methods, electronic and otherwise, before deciding how a job should be tackled.
Progress Report
x
And now a progress report on the exercise to introduce Pegasus. Premises adjacent to our Head Office building in Liverpool have been obtained and have been modified for this purpose. The computer is expected to be installed and commissioned by the time this Magazine appears. A complete current account programme was written by our staff in co-operation with Ferranti, the manufacturers, during 1959. The task took nine months and in January, 1960 was given an exhaustive test. Our South Audley Street branch proved to be a very willing guinea pig; their accounts were applied to the computer and each day the branch produced a punched paper tape bearing details of entries passing through their books. The exercise was then closed down and the programme has since been completely re-written in the light of the experiences during the exercise. A larger team has spent ten months on the re-writing of the programme though this period includes the training of new members of the team. There is no one correct programme for a computer operation; a programme is in fact a growing thing reflecting the personalities of those working on it and it will continue to develop as time goes on until optimum results are achieved. In the early stages the programmers will operate the equipment, for they must ensure the successful application of their work, but meanwhile a team of operators will be trained to take over. The need for programmers will continue after installation for re-programming work and also they will have to turn their attention continually to new applications as the scope of the computer extends, perhaps, to travellers' cheques reconciliations, to Trustee, Registrar's, Overseas and other depart­mental accounting problems, and to a whole range of statistical work. In the first place the computer will work on current accounts, for which operation it has a capacity of 40/50,000 accounts. Clearly this requires the centralisation of the routine of a number of branches and this involves problems of communication. The Bank has experimented already with a system of data transmission over G.P.O. telegraphic circuits and is now studying methods of higher speed communication over the ordinary telephone line network. The first objective, however, is to centralise branches in a compact area around the location of the computer providing about half the total capacity of the computer. Under these circumstances communication can be handled quite satisfactorily by means of porters who can physically transport data through the streets.
<![if !vml]>

<![endif]>
<![if !vml]>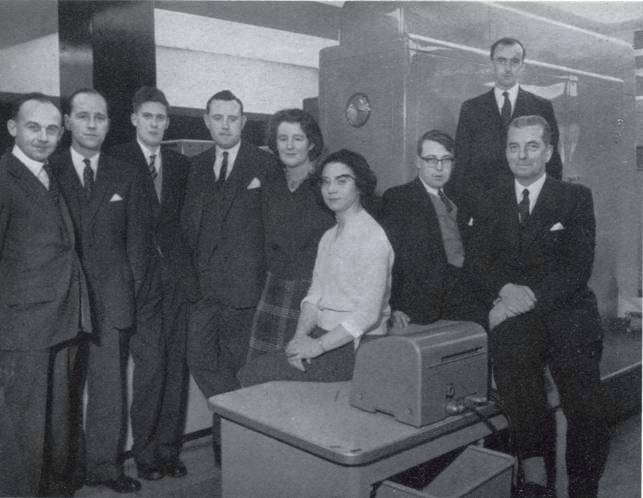 <![endif]>
The Pegasus Programming Team
(Left to Right): KE Buxton, TA Bacon, PRF Jones, IEK Jones, Miss M Owens,
Mrs R Leach (of Ferranti Ltd, London), D Bissett (of Ferranti Ltd, London) K Whalley
(Chief Programmer in charge of the project) and Mr R Hindle.
<![if !vml]>

<![endif]>
What Pegasus Can Do
x
The computer will be programmed to deal with all aspects of current account book-keeping, including:— (1) Posting of normal debit and credit entries, e.g., details from cheques, credit notes, etc. (2) Incorporation of corrections to normal entries. (3) Alteration of account information. (4) Addition of new accounts. (5) Removal of closed accounts. (6) Accumulation of statistics for management information, interest charges, etc. (7) A check of each debit entry against a list of stops. Any stop so found is rejected by the computer. (8) Comparison of the closing balance of each individual account or group of set-off accounts against overdraft limits. Any excess of these limits causes control information to be printed out, drawing attention to the excess. (9) Printing of customers' Statements. Most of these are produced on a period basis agreed with the customer but provision is made for Statements to be obtained outside this standard requirement by special request. (10) The accumulation through the day of the following branch statistics which will be printed out and returned to the branch—(a) A daily list of balances, debit and credit, of all accounts, (b) A daily audit sheet providing details of any items rejected by the computer, balancing figures and any other item requiring further attention by the branch.
Method
x
Two main files, called the Balance and History Files, form the basis of the system. Both files are stored on magnetic tape in account number order and contain the following information in respect of each account:—
x
(1)     Balance File
            (a) Account number;
            (b) name;
            (c) balance;
            (d) report limit;
            (e) overdraft limit;      
            (f) details of stopped cheques;
            (g) accumulated statistics for management Information and the computation of charges.
(2)     History File
            (a) Account number;
            (b) name;
            (c) periodicity of statement issue;
            (d) amount of balance and date from last statement;
            (e) date, description and amount of each posting awaiting print out on the next statement.
Both these files need to be updated each day in respect of the vouchers passing through the branch and it is therefore necessary to transcribe the relevant details from the vouchers on to a suitable medium for the computer. Paper tape is used for this input medium.
Preparing for Pegasus
x
Preparations have already been made at one Liverpool branch, and others are following. This involves the numbering of accounts for purposes of internal identity. Cheques are already being "personalised," i.e., printed with account name and number, before books are issued to customers.
The traditional ledger posting machine has a threefold purpose, i.e., (1) Arithmetic processes have to be carried out to produce new balances and adjust statistics. (2) Historic purposes require the assembly of entries in chronological order. (3) A visible record of (1) and (2) has to be produced.
A fourth process, the production of statements, exists in conventional systems generally as a separate operation but the three purposes above are combined in a single process. For electronic operation, however, the above three purposes are dealt with in separate processes.
The complete daily sequence of events is as follows: - All vouchers entering the branch must pass through one of two listing operations - the In-clearing or the Waste. By adding a paper tape punch to a conventional adding machine the paper tape input for the computer is being prepared as a direct by-product of the normal listing function with little additional effort. Details (account number, simple description and amount) from each voucher relating to an account in the branch, are keyed into the machine and, on depression of the motor bar, are printed on the machine list and simultan­eously punched on to paper tape.
<![if !vml]>

<![endif]>
<![if !vml]>

<![endif]>