<![if !vml]>

<![endif]><![if !vml]>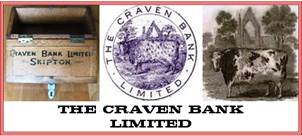 <![endif]>
<![if !vml]>

<![endif]>
Revel for a moment if you will,  in the sheer nostalgia of Haworth - the branch at the heart of Brontë Country, and with its own history written on the front window, and the romance of the gasometer to the rear – what's not to adore?! To those who have begged for images of Haworth, DENHOLME and OXENHOPE, we're sure it has been worth the wait.  The Branch image includes a rare glimpse of Haworth's gasometer, approved by the Urban District Council in 1935, and seen here not long after it was erected. In our feature, you can read how manning and running three separate sub branches is a neatly dovetailed affair (mostly), and in the case of Haworth sub branch, we hear the tale of an un-trained cashier, a Gladstone bag and a shoe repairer.  The story is told by our good friend, Julian Taylor…
<![if !vml]>

<![endif]>
Keep the change…
"The sub branch clerk based at Keighley was responsible for running Haworth Branch on Monday & Saturday mornings. Returning to the parent branch in Keighley at lunchtime he then had to complete balancing his cash and replenish it ready for the following morning. His responsibility was then to sort, list and balance the remittances for both the parent & the sub-Branch.
<![if !vml]>

<![endif]>
In Service: Pre 1927 until (closing date not recorded)
<![if !vml]>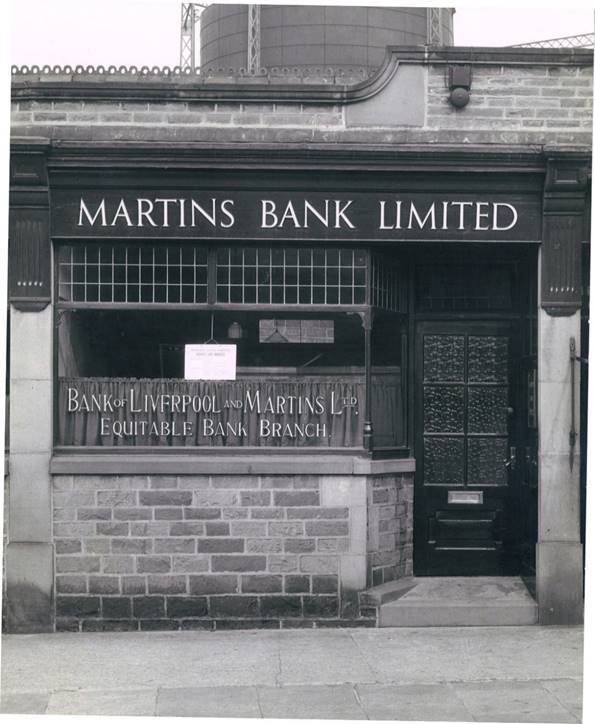 <![endif]>
Image © 1937 Barclays Ref 0030/1233
<![if !vml]>

<![endif]>
Haworth Branch was also open on Thursday morning so, on that day, another cashier had to be dispatched. Travel to Haworth was by public service bus. The clerk carried the cash in a Gladstone Bag unaccompanied! A guard was employed at the sub branch and in the 1950' & 60's that was a local shoe repairer, George Peacock. He was a lovely man who ran his business from his home in Haworth main street, (of Bronte fame). Three times a week he walked down to the Martins Branch armed with some of his wife's cookies to sit in the office with the clerk and provide welcome tea & cakes.  My first cashiering experience came after I'd been in the bank for about four months. Staff shortage that week created a problem for supplying the clerk for Haworth on the Thursday morning. The Manager, Eric Earnshaw, decided there was no alternative but to throw me in at the deep end. Most weeks that wouldn't be too great a risk, as the Branch was usually quiet on a Thursday. However once a month Keighley Corporation paid all its staff, including all teachers in the borough, by cheque. Few people had bank accounts in those days & most employees cashed their cheques at Martins. On that Thursday Haworth Branch paid out substantial amounts. I survived and on returning to the parent branch was greeted by Mr. Earnshaw. "How did you get on lad" he asked, clearly quite concerned. In trepidation I replied "I'm sorry sir I'm five pence ha'penny short" – pause, then – "Well done lad here's a tanner (sixpence) that will square things up for you – keep the change!" That memory has stayed with me for over 50 years".
D.J.T.
<![if !vml]><![endif]>Today, Haworth seems to have a certain theme going on – HAIR. First of all as "The Grooming Room", captured (below, middle) in March 2016 by the Secretary of the Grasshopper Pensioners' Club Dave Baldwin. At this stage we could see that our Bank's ethics of good service and a "walk right in" approach were very much an integral part of the business being undertaken!  the front door has been changed from Martins' time, but is, nevertheless, of an acceptable vintage to retain a good deal of character about the place.  Three years on, (below, right) and yes, having your hair cut is still on offer, albeit this time via "New Waves Hairlines"  The pretty roofing tiles have been pointed and spruced, and the front door is the same. The somewhat friendlier attitude to walking in without an appointment seem to have been replaced with an exhortation NOT to park outside the building – a very twenty-first century problem that – high street are dying, yet all attempts to use them seems to throw any number of boulders in the way…

<![if !vml]><![endif]>

3<![if !vml]><![endif]>

<![if !vml]><![endif]>

<![if !vml]><![endif]>

Image © 1937 Barclays Ref 0030/1233

Image © Dave Baldwin – March 2016

Image © Dave Baldwin – May 2019

<![if !vml]><![endif]>

In September 2022, Dave Baldwin also took the following image, from which we are able to envisage the THREE banks that occupied these buildings in the 1960s. In the twenty-first century, when branches are closing in even the largest of towns and cities, it is incredible to think that there were once actually FOUR banks in the village of Haworth…

<![if !vml]><![endif]>

<![if !vml]><![endif]>

<![if !vml]><![endif]>

NATIONAL PROVINCIAL BANK

<![if !vml]><![endif]>

MARTINS BANK LIMITED

RAMBOTTOMS ELECTRICAL STORE

<![if !vml]><![endif]>

MIDLAND BANK LIMITED

<![if !supportMisalignedColumns]>
<![endif]>
<![if !vml]>

<![endif]>