<![if !vml]>

<![endif]>
<![if !vml]>

<![endif]>
<![if !vml]>

<![endif]>
Alston is just about the furthest outpost of the Carlisle and Cumberland Banking Company Limited, and although it lies far enough North and East to be within Martins Bank's North Eastern District, it is actually part of the Bank's NORTHERN District until the 1960s when it finally comes under the control of Newcastle District Office.  At the time of the merger with Barclays, this "annexing" of Alston continues, when it remains excluded from the new Preston District and finds its home as one of the branches under the jurisdiction of Barclays Newcastle upon Tyne Local Head Office (LHO).  Alston Branch is also one of only a few in our records for which there is an unbroken run of Managers -  covering the period 1916-69. 
<![if !vml]>

<![endif]>
In Service: 1869 until Friday 4 December 2015
<![if !vml]>

<![endif]><![if !vml]>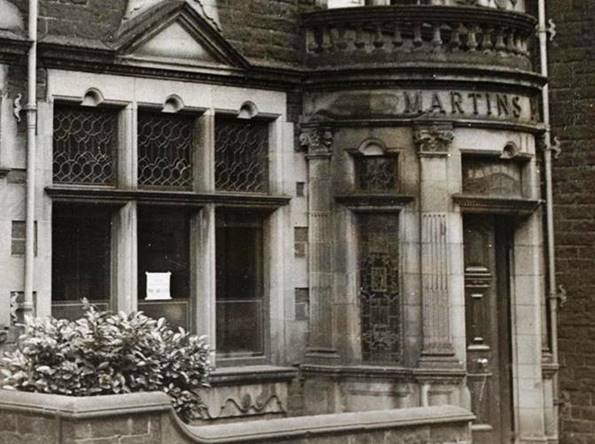 <![endif]>
Image © Barclays Ref 0030-0036
<![if !vml]>

<![endif]>
<![if !vml]>

<![endif]>
We travelled north with Mr. Frost, who was bound for the Lakes, and with Mr. Kindle who was superintending the installation of new machines at Penrith and we called in at Penrith branch for a few words with Mr. Ritchie before taking to the hills. When the North-Eastern District General Manager nominated Alston for a visit towards the end of last year our friends in Inspection Department said:—"You want to reserve that for the summer: if you go in winter you may get snowed up there for weeks". 
<![if !vml]>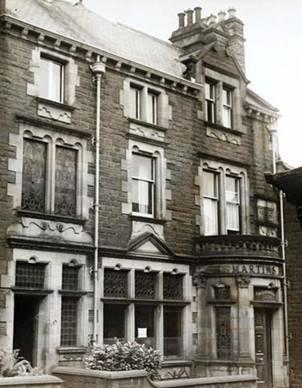 <![endif]>When it snows in Alston the drifts often rise to the height of the telegraph poles and as all traffic in and out comes to a standstill the steep main street is converted by the youth of the village into a glorious Cresta run, with no interference from stupid grown-ups.  The street is so steep that one obliging shopkeeper has thoughtfully provided a metal contrivance fastened to the wall outside his shop which says!  "Hook your pram on here".  Without it a brakeless pram could not be left outside a shop unattended.  It was in this street that, about two years ago, one tragic afternoon, a car drew up outside our branch, but the street being narrow and there being an impatient driver behind it was forced to move on and clear the road. It stopped again at the Midland Bank, and then followed the hold-up which resulted in the killing of the Midland manager by the crazy driver who subsequently shot himself. 
Mr. Farndale was a lucky man that day.  Alston is the highest market town in England and a mark on a building not very far from the Youth Hostel records the 1,000-foot level. Although one would not think so to look at it from the outside the Bank House at Alston contains 23 rooms, many of them big ones, but the ground floor has been abandoned by the family and a very attractive home made upstairs. As a gardener, we envy Mr. Farndale his garden, for although it is only of the traditional postage stamp dimensions it commands a magnificent view of the fells and the intervening. Valley. He enjoys the amenities of a perfect landscape garden and all he has to do is to mow a triangle of grass and tidy a small border. It must be one of the most attractive Bank Houses we have. At Mr. Farndale's suggestion we all went down to the river and a photograph was taken of the staff on the rocks. These days it is a well-known position to be in and we thought our readers might like to see what it looks like from a photographic point of view! 
<![if !vml]>

<![endif]>
<![if !vml]>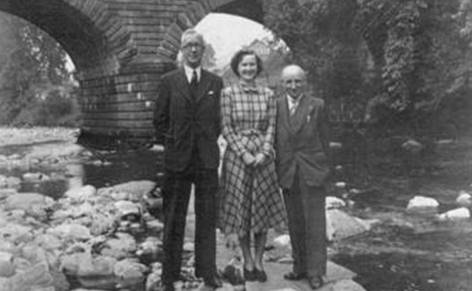 <![endif]>After dinner at which Mrs. Farndale and their daughter Julia joined us we went for a walk with Mr. Farndale up the fields to help him shut up his hens for the night. The field is part of the land belonging to the house where Mr. Harold Dixon, the new Manager of Middleton-in-Teesdale branch, at present lives and, of course, we called to see him. Having just emerged from underneath his car the real nature of his profession was effectively obscured from the gaze of a casual observer, but we promised to call on him the following morning and play fair by inspecting him in his  "working" clothes.
Incidentally, Mr. Farndale was Manager of Middleton-in-Teesdale branch from 1928 until he went to Alston in 1946. His daughter Julia is a lively member of our Haltwhistle staff. On our way up the main street we had the great pleasure of meeting Mr. G. T. Elliot, the former Manager at Alston, who retired in 1946. A distinguished-looking man, with philosophical, literary and cultural tastes, he is one of the well-known characters of Alston and he appears to be getting every ounce of enjoyment from his retirement. Alston is old and picturesque, with time-weathered walls and roofs, twisting streets and jumbled houses, but the people seem to lead a full and contented life, free from the nervous strain of great cities, and the peace which broods over the surrounding fells seems to enter into their souls.
<![if !vml]>

<![endif]>
<![if !vml]>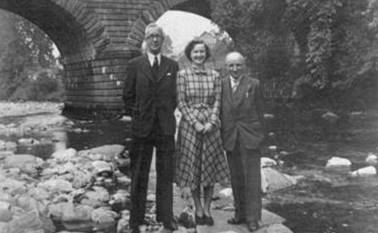 <![endif]><![if !vml]>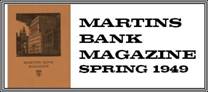 <![endif]>This is one of the more unusual members of the staff at Martins Bank Alston, whose exploits are also shown within our feature  IN THE LIMELIGHT.  Pictured here in 1949, the cat waits outside the branch for opening time, and then comes quietly in to use the typewriter!  He (or she) presses a firm paw onto the space bar until the carriage travels all the way to the left and the bell rings. A helpful member of the Alston staff then returns the carriage so that the cat may continue its self-imposed secretarial duties…<![if !vml]>
<![endif]>

<![if !supportMisalignedColumns]>