<![if !vml]>

<![endif]>
<![if !vml]>

<![endif]>
<![if !vml]>

<![endif]>
The imposing building at 9/11 Railway Street Altrincham, comes to Martins Bank through the merger in 1928 of the Lancashire and Yorkshire bank and the Bank of Liverpool and Martins.  This is one of only a few  branches to display its own date of birth – 1883 - in Roman numerals, the original "bar code" if you like! 
<![if !vml]>

<![endif]>
<![if !vml]>

<![endif]>
<![if !vml]>

<![endif]>
In 1922 the branch is known as "Altrincham and Bowdon" under the management of the Lancashire and Yorkshire Bank's Mr A H M Gow.  Altrincham (pronounced "Altringham" as if you have shortened the words "altering them")  along with its neighbours at Broadheath, Hale, Timperley, Sale and Sale Moor receives little or no mention in Martins Bank Magazine.  This part of Cheshire is largely swallowed up by the growth of "Greater Manchester" from the late 1960s onwards, and we therefore need more information and your memories of working at or using these branches. If you can help, please get in touch with us at the usual address: martinsbankarchive@btinternet.com.
<![if !vml]>

<![endif]>
In service: 1883 – 25 November 2011
<![if !vml]>

<![endif]>
<![if !vml]>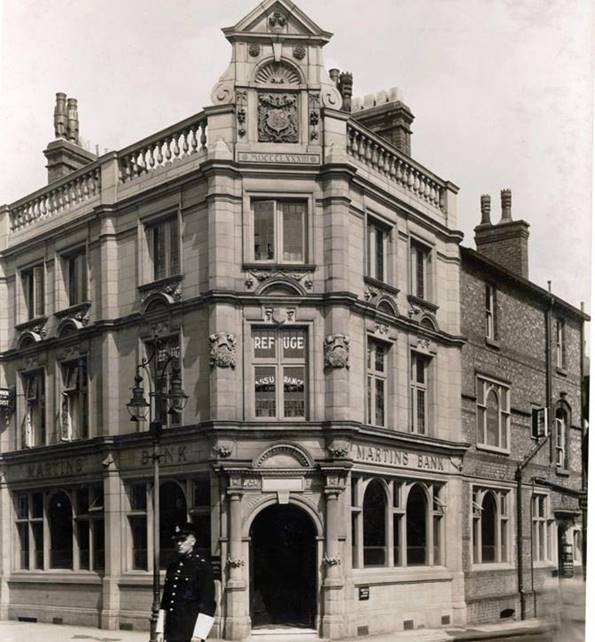 <![endif]> 
Image © Barclays Ref: 0030/0039
<![if !vml]>

<![endif]>
It was with huge sadness that we learned of the demise of Altrincham branch in November 2011.  Whilst Barclays did not move out of Altrincham altogether, they relocated from this magnificent building to somewhere "a little more up to date". For me personally, another piece of childhood has been lost.
Editor, EASTER 2011
<![if !vml]>

<![endif]>
<![if !vml]><![endif]>We are indebted to the Grasshopper Pensioners' Club for spotting and facilitating the display, and to our friends at Francis Frith – www.francisfrith.com - for the wonderfully atmospheric image (below, left) of Altrincham Branch as it looked in 1907, when it belonged to the Lancashire and Yorkshire Bank.  The middle image is from our own collection, and features the Branch in 1922, and with Barclays' 1940s image on the right, we can see how relatively unchanged this lovely building was through the passing of the years…

<![if !vml]><![endif]>

<![if !vml]><![endif]>

<![if !vml]><![endif]>

<![if !vml]><![endif]>

Image © The Francis Frith Collection – Ref 58605

Under licence to Martins Bank Archive

Image © Martins Bank Archive Collections – W N Townson Bequest

Image © Barclays Ref: 0030/0039
<![if !vml]>

<![endif]>