<![if !vml]>
<![endif]>
<![if !vml]>

<![endif]>
<![if !vml]>
<![endif]>
In 1906 The Lancashire and Yorkshire Bank opens a branch at Ansdell as a sub branch to St Annes on the Sea.  In 1922 the Manager of both outlets is listed as Mr F G Harrop. Many of Martins Bank's Branches along the Flyde Coast and in Blackpool have come from the amalgamation of the Lancashire and Yorkshire Bank and the Bank of Liverpool and Martins Limited in 1928. 
<![if !vml]>
<![endif]>
The image we see here is taken after a 1960s refurbishment and the addition of a new frontage with bay window and recessed doorways. This is typical of the cheerful brightening-up of many of the Bank's older Branches at this time, and is of course much cheaper than knock-down and re-build. Martins does however use the latter method in many parts of the North to bring Branches into the twentieth century.
<![if !vml]>
<![endif]>
In the Autumn of 1957 Mr A E Smith Retires from Ansdell after a career of forty-four years. These days we would be open mouthed with amazement at someone working so long for the same employer, but "a job for life" really did used to exist!  As ever, Martins Bank Magazine is there to record the details of the gathering which takes place in his honour, but it is not made exactly clear where he and his colleagues have actually assembled…
<![if !vml]>

<![endif]>
<![if !vml]>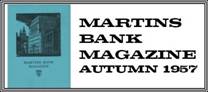 <![endif]>
<![if !vml]>
<![endif]>
At the end of June, Mr. A. E Smith retired after 43 years' service which com­menced in 1913, at Bacup branch.
<![if !vml]>
<![endif]>
In Service: 1906 until 8 January 1993
<![if !vml]>
<![endif]>
<![if !vml]>
<![endif]>
Images © Barclays Ref 0030/0054
<![if !vml]>
<![endif]>
<![if !vml]>

<![endif]>In 1915 he joined the Second Fourth East Lancs Regiment, returning from military service to Rawtenstall, and subsequently served at Haslingden, Ramsbottom and Waterfoot before joining St Annes-on-the-Sea branch in 1938. In 1946, he was appointed Clerk-in-Charge at Ansdell Sub-Branch. At a gathering of colleagues, past and present, on 28 June, he was presented with a golf caddy-car by Mr. R. B. Tillotson, a former manager of the branch who made the presentation at the invitation of Mr. C. Spencer, the present Manager.  Mr. Tillotson made reference to the courage of Mr. Smith in maintaining his cheerful attitude to both the customers and staff, although he still suffered from the effects of the injuries he had received during the First World War. Mr. Spencer then thanked Mr. Smith for his assistance and willingness and also commended him for his courage. In reply, Mr. Smith thanked his friends and colleagues for their kind wishes.
<![if !vml]>

<![endif]>