<![if !vml]>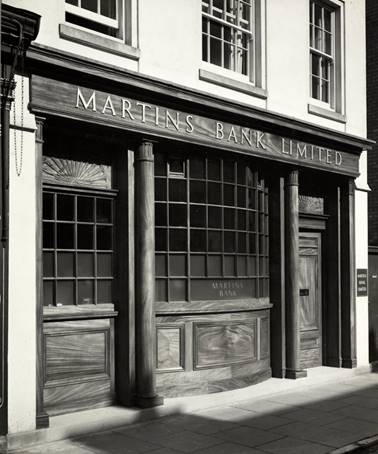 <![endif]>To the right are the canal basins, the 'cut' which linked the Black Country with the Bristol Channel ports via the Severn and made Stourport a staging post for cargoes (and also a good pull-in for smugglers). Industrially the canal is dead but the basin now provides a haven for people who mess about in boats. Stourport is, in fact, a popular week-end resort with its attractive riverside promenade, pleasure boats and amusement arcades.  With the unfortunate exception of the power station Stourport's industries are cunningly concealed and Mr Alexander reeled off a surprising list: chains, porcelain, carpets, vinegar and wooden toys. Certainly there is more nere than meets the eye.
He pointed out the fine new buildings of the Civic Centre and the Workmen's Club. Next door to the branch we found irrefutable evidence of the town's prosperity—a site is being developed for Woolworth's. Coming from Barrow-in-Furness twenty years ago Mr Alexander went first to Walsall then to Burton upon Trent and Derby before arriving in Stourport in 1965. Here he has found many interests and has taken the town to his heart. He is vice-president of the Chamber of Trade and is a founder member and treasurer of the Civic Society.
<![if !vml]>

<![endif]>
<![if !vml]>

<![endif]>He explained a Rotary project aimed at establishing a day centre for Stourport's elderly folk where they can meet, get advice and even have chiro­pody treatment. Their target is £12,000 and when they hit it he'll be first to know—he's the treasurer. But in spite of his many honorary duties Mr Alexander still finds time for a game of golf at the Kidderminster Golf Club. Until recently he was captain of the Midland District Golfing Society.
<![if !vml]>

<![endif]>
Another man who likes to get around is Chris Dash. A west-countryman from Bath, he joined the Bank at Hoylake in the Wirral in 1956 and then for a time was at Liverpool Overseas. His career continued through the Midland District to his native South West and for eighteen months he was with the mobile branches Cricket and hockey are his main off-duty interests and he is a captain in the Royal Army Pay Corps Reserve. While not letting the grass grow under his feet he nevertheless regards Stourport as a happy stopping-off place. Wendy Pearson, who spends her time between the counter and her mighty machine, came to the branch in 1963 by way of Wednesbury and Kidderminster. She and her husband are members of the Stourport Boat Club where she is cox for the ladies crew. Fencing is another of her leisure activities, but in more peaceful mood she is currently attending pottery classes, her ambition being to make a set of dinner plates.
<![if !vml]>

<![endif]>
Stuart Thackaberry comes from Gloucester and joined the staff here as trainee in 1966. He has gradu­ated to the counter but insists that his main duty is to keep Chris Dash's car on the road. Motoring and tinkering with cars is his main pursuit but he is also something of an authority on jazz and folk music. Behind a pile of remittances we found Delia Hunt who has been with us for eighteen months and is, inevitably, Stourport's maid-of-all-work. Delia lives at Bewdley and her interest is riding. Before we left we had to find out the name of the intriguing plant in the banking hall: it is a Mexican breadfruit which grew almost from floor to ceiling before obligingly veering off to the left and thus avoiding horticultural and architectural complications. That evening the branch had arranged their belated Christmas party and we hoped our visit hadn't held them back too much. Nevertheless we were sure that they were going to enjoy themselves.