<![if !vml]>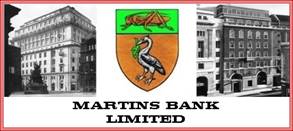 <![endif]>
<![if !vml]>

<![endif]>
<![if !vml]>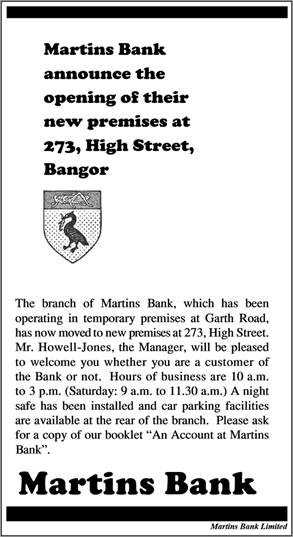 <![endif]>
<![if !vml]>

<![endif]>
<![if !vml]>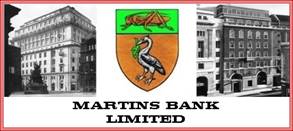 <![endif]>
In Service: 25 May 1964 until present day – still open as a branch of Barclays
<![if !vml]>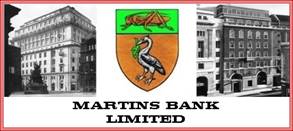 <![endif]>
<![if !vml]>

<![endif]>
Branch Images © Barclays Ref 0030-0089
<![if !vml]>

<![endif]>
<![if !vml]>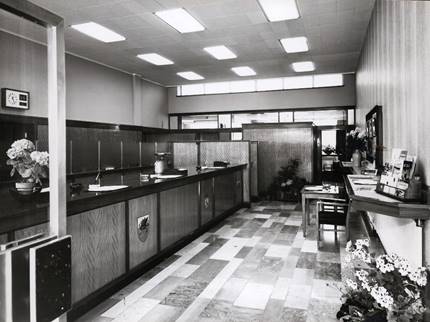 <![endif]><![if !vml]>

<![endif]>Martins Bank opens a branch  at Bangor on 6 June 1963, in temporary premises in Garth Road. Just under one year later these handsome premises at No 273 High Street have been completed and fitted out, and are opened on 25 May 1964.  This is taking place at a time when Martins' expansion into the South, East and West of England and into North and South Wales is gathering pace.  Between now and 1969 some of the most up to date bank branches will be opened, offering new standards in comfort for both staff and customers.  Bangor is one of a select few from this period that survives to the present day, celebrating on 6 June 2013, fifty years of service to the customers of Martins and Barclays. 
<![if !vml]>

<![endif]>
Image © Barclays Ref 0030-0089
<![if !vml]>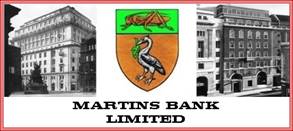 <![endif]>
Unusually, Martins Bank Magazine chooses the TEMPORARY branch for a branch visit, not long after it opens. Therefore the article, which introduces us to Mr Howell-Jones and his staff can be found on our page for BANGOR GARTH ROAD.
<![if !vml]>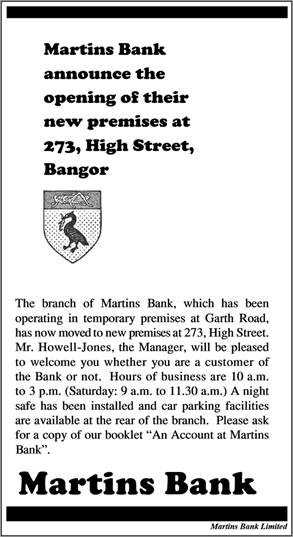 <![endif]>