<![if !vml]>

<![endif]>
<![if !vml]>

<![endif]>
<![if !vml]>

<![endif]>
The Manx Bank opens its branches for business in 1882. Some eighteen years later, the Bank is taken over by the Mercantile Bank of Lancashire, which in turns is subsumed by the Lancashire and Yorkshire Bank in 1904.  Thus, the Isle of Man branches find their way into the ownership of Martins Bank.  In the Autumn of 1950, as part of a feature called "our Manx Family", Martins Bank Magazine visits staff and branches on the Isle of Man…
<![if !vml]>

<![endif]>
<![if !vml]>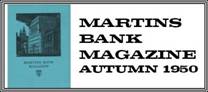 <![endif]>
<![if !vml]>

<![endif]>
We visited Douglas first of all and were delighted to see Mr. J. F. W. Kermode, the Manager, who had been a mutual colleague at Heywoods branch for a number of years. He has been at Douglas since 1934, first as Pro Manager, then as Assistant Manager, and, since 1946 as Manager. The branch he looks after is unique in several respects; first because the note issue of the Bank, the rights of which were acquired when the amalgamation with the Lancashire and Yorkshire Bank took place, is managed from there and every note has to be recorded from the time of its issue until it is destroyed.   Secondly, owing to the existence of Manx laws which are not recognised in England, and vice versa, all the Bank's Trustee business in the Island has to be administered through the manager of the branch instead of direct with the Trustee Department, and for the same reason and resulting transfer difficulties, the branch issues its own Trust Certificates in exchange for 3½% War Stock and keeps its own Trust Register, virtually maintaining in this and the Note Department two departments like Bank of England departments on a tiny scale, adding considerably to the normal work of the branch.  In addition to these particular jobs the three branches—Peel, Port Erin and Castletown come under the management of Douglas, making four cash counts a month, and four trials, apart from general supervision. Mr. Kermode has been in the Bank since 1909. He was at Head Office first of all, going to Heywoods in 1910. During the First World War he served with the Royal Navy in various types of ship from minesweepers to battleships and did his share of the lonely North Sea patrol.
<![if !vml]>

<![endif]>
In Service: 1882 until 1982
<![if !vml]>

<![endif]>
<![if !vml]>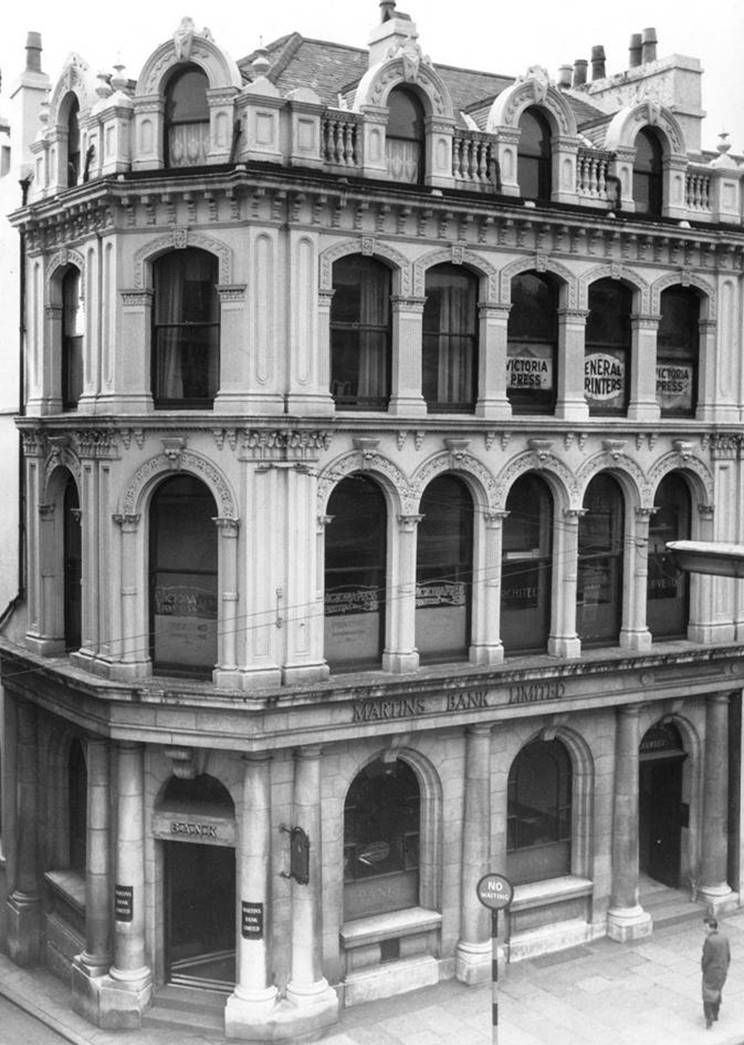 <![endif]>
<![if !vml]>

<![endif]>
Branch Images © Barclays Ref 0030-0481
<![if !vml]>

<![endif]><![if !vml]>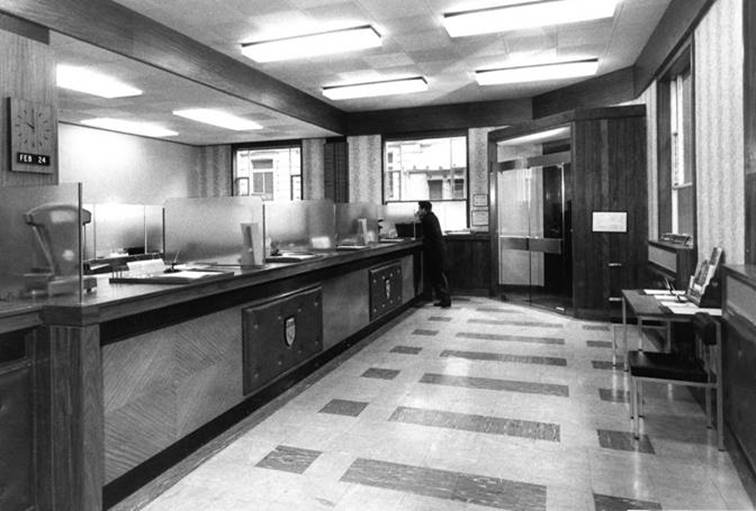 <![endif]>
Back to Heywoods in 1919 he remained there until 1928 when he went to Liverpool City Office Securities Department, remaining there until 1934.During the recent war he took charge of the Sea Cadet Corps in the Island, having his old rank of Lieutenant, R.N.V.R., restored. The Assistant Manager is A. E. Costain, who entered the service of the Lancashire and Yorkshire Bank in 1920 and served at Peel, Douglas and in Inspection Department, Head Office, before the war, being appointed Assistant Manager at Douglas in 1946. His war service took him to Ceylon and India. Married, with a boy and a girl of school age, he finds time to act as Secretary of the local branch of the Institute of Bankers and is also local Secretary of Martins Bank Golfing Society. The first cashier, who also signs Pro Manager, is J. H. Woodfine. At first sight his job seems like that Of any Other cashier, but it isn't—far from it. It takes a man with special qualities to be Chief Cashier at Douglas for he attends to the circulation of our Bank notes in the Isle of Man and part of his job is to superintend the burning of soiled notes, a thousand at a time. Frankly, we couldn't bring ourselves to do it! Mr. Woodfine's previous service has been at Tue Brook, Smithdown, Water Street, Walton and Victoria Street. He also served with H.M. Forces from 1942 to 1944: he entered the Bank in 1918.
<![if !vml]>

<![endif]>
<![if !vml]><![endif]>

Image - Martins Bank Archive

<![if !vml]><![endif]>

Branch Images © Barclays Ref 0030-0481
<![if !vml]>

<![endif]>
A. V. Gatfield was on holiday and we didn't have the pleasure of meeting him. He entered the service of the L and Y Bank in 1922 and served at Castletown prior to being transferred to Douglas in 1925. He is second cashier. E. C. Chadderton is another L and Y man who entered that bank in 1925. He served throughout the war in Africa, Italy and India and whilst in Italy was blown up in a tank. His wife was formerly a member of the staff of our Cheetham Hill branch.  W. Forbes is the foreign exchange expert at Douglas. Entering the service in 1930 he served at Peel and Castletown before going to Douglas in 1937. During the war he served with the R.A.F., attached to the 8th Army. We also unfortunately missed seeing J. E. Crowe who was relieving at Port Erin the day we visited Douglas and was back at Douglas when we visited Port Erin. He entered the service in 1935 at Peel and served throughout the last war, attaining the rank of Major and gaining the Military Cross. He has only been at Douglas since last year.
<![if !vml]>

<![endif]><![if !vml]>

<![endif]>
Ready for the computer age:

<![if !vml]><![endif]>

<![if !vml]><![endif]>

<![if !vml]><![endif]>

Images © Martins Bank Archive Collections

These cheques (from Martins AND Barclays Douglas branches) are from the mid 1960s and 1970, from the Martins Bank Archive collection.  They both carry part of the magnetic encoded information (called the MICR line) that paves the way for the AUTOMATION of the clearing of all cheques.

<![if !vml]><![endif]>
<![if !vml]>

<![endif]>
W. T. Callow is another Manxman who has served in the Bank since 1930, at Ramsey, Peel and Douglas, the latter, apart from war service, since 1935. During the war he served in Africa, Eritrea and finally Germany. He is in charge at the Onchan sub-branch. J. W. Caine entered the Bank at Douglas in 1947 and has recently returned there after doing his military service with the Tank Corps. He is keen on photography, farming and shooting. Maybe some of his pictures will be in the Magazine one day. The junior is D. A. Killip who has only been in the Bank since last year. At the end of this year he goes on military service. The senior lady is Miss M. T. Wood, who acts as Manager's secretary in addition to other duties. She entered the Bank in 1931 after being in the Manx Government service. Miss N. Cain entered the Bank in 1937 at Douglas and during the war distinguished herself by being a most efficient cashier, as good as any man. Miss Audrey Kermode is the Manager's daughter and has been in the Bank since 1941. Although it was natural that no one should tell us so it was quite clear from our own observation that she is a very efficient girl, a daughter of whom anyone would be proud. The junior girl is Miss S. R. Reid who only entered the Bank this year. She is the sport-loving type, but appears to have settled down to an indoor job very happily.
<![if !vml]>

<![endif]>