<![if !vml]>

<![endif]>
<![if !vml]>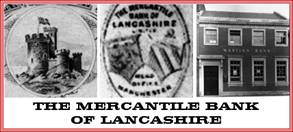 <![endif]>
<![if !vml]>

<![endif]>
At the time of the amalgamation of the Mercantile Bank of Lancashire and the Lancashire and Yorkshire Bank in 1904, Northenden is one of around forty Branches of the Mercantile Bank.  This is a useful acquistion for the Lancashire and Yorkshire Bank, as it includes not only key towns in parts of Cheshire that nowadays form part of Greater Manchester, but also six Isle of Man Branches and four cattle market agencies. We are always delighted to find extra period detail in the images of Martins Bank's many and varied branches, and at Northenden, we can zoom in on this Gents' Hairdressers, situated conveniently next to the branch! 
<![if !vml]>

<![endif]>
In service: 1892 until 8 August 2014
<![if !vml]>

<![endif]>
<![if !vml]>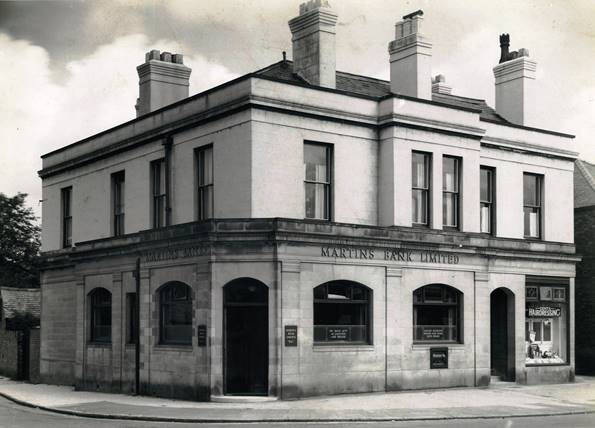 <![endif]>
Image © Barclays Ref 0030-2088
Northenden is another example of the corner aspect much favoured by the Lancashire and Yorkshire Bank, which puts the business in two streets at once. Information about Martins Bank Northenden is hard to find, and Martins Bank Magazine does not pay the branch a visit. We have details of around twenty staff, but images of only two of them. Fortunately, there is a retirement write-up for one of the two members of staff from our gallery - Mr Paersch retires early due to ill-health, but still manages a collosal thirty-nine years' service!
<![if !vml]>

<![endif]>
<![if !vml]>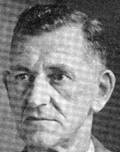 <![endif]><![if !vml]>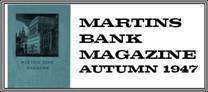 <![endif]>On 5th June, the staff of Northenden branch, together with many other colleagues, assembled to say farewell to Mr. H. A. Paersch, who was retiring from the bank for reasons of health. Mr. H. Clegg, who has succeeded Mr. Paersch, was in the chair, and Mr. L. Heyworth, senior member of the staff, made the presenta­tion.  In his speech, Mr. Heyworth remarked on the good feeling at the branch, and wished Mr. Paersch a long and happy retirement.
<![if !vml]>

<![endif]>
<![if !vml]>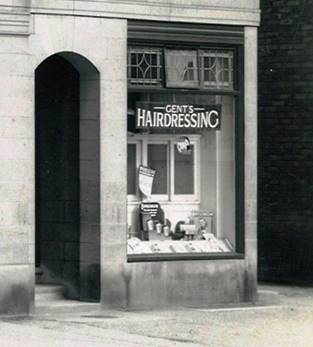 <![endif]>
He then handed a gift voucher to Mr. Paersch on behalf of the subscribers. Mr. Paersch commenced his career in 1908 as junior under Mr. Frank Voyce, who was at that time Manager of Fallowneld branch. After service at Brooks's Bar and Moss Side branches, he joined H.M. Forces in 1914 and served throughout the first world war until 1919. In 1921 he went to Shudehill branch, and the following year he was appointed Man­ager at Moss Side. He became Manager of Northenden branch in 1944.
<![if !vml]>

<![endif]>
<![if !vml]>

<![endif]>Northenden seen here in its heyday, and after its swansong, awaiting new owners.  Somtime between the 1960s and the present day the hairdresser's shop door and window have been reclaimed as part of the bank.  At the start of 2015 the windows might be papered over, but there is still a cash machine in the unseen wall at the far right end of the building…
<![if !vml]>

<![endif]>
<![if !vml]>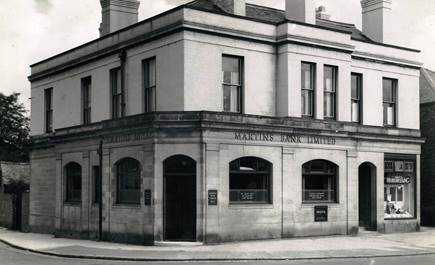 <![endif]>
1960s – Image © Barclays Ref 30-2088
<![if !vml]>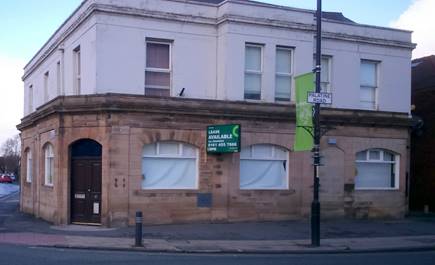 <![endif]>
2015 - Image © Martins Bank Archive Collections