<![if !vml]>

<![endif]>
<![if !vml]>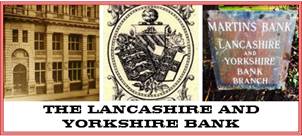 <![endif]>
<![if !vml]>

<![endif]>
This is Todmorden Branch, opened in 1875 by the Lancashire and Yorkshire Bank, surviving one hundred and twenty-five years until closure under Barclays in April 2000. Todmorden, despite being in Yorkshire, is one of those places that suffers under the dreaded "postal" address – a British phenomenon that sees children all over the country growing up believing they live in a different county.  In the twenty-first Century this plays havoc with satellite navigation, and wastes everyone's time.
<![if !vml]>

<![endif]>
In Service: 31 May 1875 until 7 April 2000
<![if !vml]>

<![endif]>
<![if !vml]>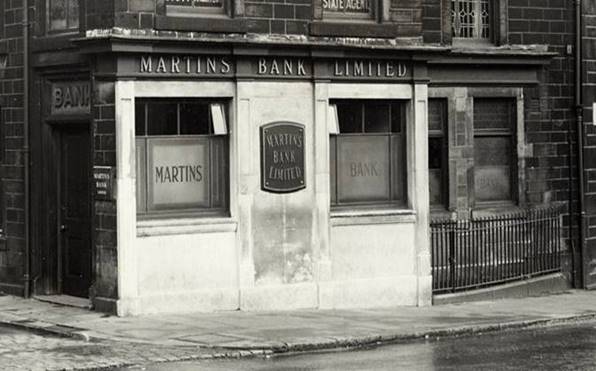 <![endif]>
Branch Images © Barclays Ref 0030-2398
<![if !vml]>

<![endif]>
It also seems to have been something of a thorny issue fifty years ago, when Martin Bank Magazine paid a visit to Todmorden Branch…
<![if !vml]>

<![endif]>
<![if !vml]>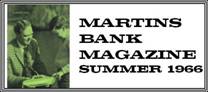 <![endif]>on the first Tuesday in April snow was still lying on the Pennines; in Todmorden, a grey township where the Calder becomes a river instead of a clough, the grey snow was slushy on grey pavements under a grey sky and the rain which had been with us from Liverpool, along with a chill wind, helped to give and impression of November.  Inside Todmorden branch things were much brighter; the staff were still a little surprised that we should pick on them, particularly Mr Halstead only recently back from the Senior Training Course at Southport, but a branch that has changed little since 1875 can meet most situations calmly.
<![if !vml]>
<![endif]>It still shows a healthy profit in a town still predominantly dependent on cotton, with a population down from 26,000 to 16,000 and a negligible number of unemployed. Todmorden is now wholly in Yorkshire but the days when the county boundary split the town hall so that councillors haran­gued each other across the line are still remembered.  The postal address remains Lancashire but that is just to fool you—like the roads. In Lancashire there is a neighbourly mateyness about the roads. Burnley, for example, has a Todmorden Road; Bacup has Rochdale, Burnley and Todmorden Roads, each one leading to the town named; Todmorden reciprocates with Rochdale, Bacup and Burnley Roads.Leading eastwards down the Calder Valley from Todmorden is Halifax Road, which seemed to hint that all might not be well.
<![if !vml]>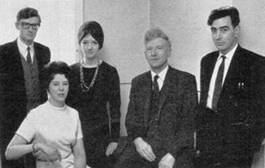 <![endif]>We followed it for four miles with the snowy hills beginning to crowd in on each side and arrived in Hebden Bridge where, sure enough, Halifax Road was now King Street: obviously Hebden Bridge at some time felt it had been done wrong by and reacted firmly. Nearby there are some enthralling place names—Slack Bottom, Slack Top, New Delight, Popples and even Horrodiddle—but no Todmorden Road. What is more, when the road emerges again to pass on down the valley it has become Burnley Road—Burnley being nearly 13 miles to the North West through Todmorden. That is rubbing it in!
<![if !vml]>

<![endif]>