<![if !vml]>

<![endif]>
<![if !vml]>

<![endif]>
<![if !vml]>

<![endif]>
Following the closure of Birkenhead Hamilton Square and Claughton Village branches in July 2013, the only Martins branch still open in Birkenhead is Higher Tranmere.
<![if !vml]>

<![endif]>
Opened by the Bank of Liverpool in 1911, the Branch enjoys a corner aspect – a typical choice for the Bank of Liverpool who see the value of having the entrance to their premises in two streets at once!   There are many retirement features in our Online Archive, paying tribute to the men and women who have made their mark in Martins, and who are now ready to wind down - usually after a career that spans forty years or more. 
<![if !vml]>

<![endif]>
Not all of the tributes and write-ups in Martins Bank Magazine are as long as this one, which sees Tom Thomas hanging up his bank tie for last time at the end of November 1955.  It seems that Mr Thomas is highly regarded and loved by his staff, colleagues and friends, many of whom gathered at a hotel in Birkenhead to wish him all the best for the future…
<![if !vml]>

<![endif]>
<![if !vml]>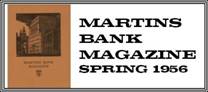 <![endif]>
<![if !vml]>

<![endif]>
The official record of the service of Tom Thomas gives no clue at all to the character and personality of the man who by his ceaseless and untiring efforts on behalf of his colleagues won their regard and affection in fullest measure.
<![if !vml]>

<![endif]>
In Service: 1911 until Friday 29 September 2017
<![if !vml]>

<![endif]>
<![if !vml]>

<![endif]>
Monochrome Branch Images © Barclays Ref: 0033-0060
<![if !vml]>

<![endif]>
<![if !vml]>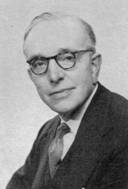 <![endif]>The customers of the branches at which he served looked upon him as a friend in the real sense of the word and his kindly and sympathetic personality bound his close associates and colleagues to him with ties of the closest loyalty. And so, when we gathered at the end of November at the Prenton Hotel to wish him well at the close of his business career it was no ordinary conventional gathering of col­leagues but a reunion of those kindred spirits of the Liverpool District around whose names anecdote and legend have been built up during a lifetime of association. Dan Thomas. George Harrison. Dick Eastwood. Frank Grant. Frank Bold and fifty others besides travelled from far and near to rekindle the fires of friendship. Mr. Corless presided and paid his own personal tribute to Tom, whom he described as a ' big' man, and he then called upon Mr. R. H. Price, Staff Manager, to make the presentation of a cheque on behalf of the subscribers. (The gift was subsequently used for the purchase of a portable typewriter). Mr. Price, referring to the fact that they had been at school together, said that he owed some of his love of Shakespeare to Mr. Thomas whose performances in school plays had made a deep impression on him. He had always regarded Mr. Thomas as one of the intellectuals and, as such, he was entering upon his retirement better equipped than many to enjoy it to the full. Mr. Thomas then replied. There are some who have the ability to speak, but have nothing to say; others who have the intel­lectual capacity but no gift of self-expression. Mr. Thomas's friends were treated to a display of gems from his fine mind only matched by his gift of oratory in a speech which delighted everybody.
<![if !vml]>

<![endif]>
<![if !vml]>

<![endif]>
A gift of flowers was presented to Mrs. Thomas by Mrs. Corless and an illuminated address was signed by everybody, after which tea was served. Mr. Thomas entered the Bank in 1912. served in the Middle East during the First World War and was appointed Manager at Higher Tranmere in 1946. His service in­cluded periods at Smithdown, Mossley Hill, West Derby, Central, H.O. Produce Loan. West Kirby and Heswall.
<![if !vml]>

<![endif]>
<![if !vml]><![endif]>

The contemporary bank branch photographs of Robert Montgomery feature in many of our "then and now" features, and here we catch Higher Tranmere still open in 2010…

<![if !vml]><![endif]>

<![if !vml]><![endif]>

Image © Barclays Ref: 0033-0060

Image © Martins Bank Archive Collections – Robert Montgomery

<![if !supportMisalignedColumns]>
<![endif]>