<![if !vml]>

<![endif]>
<![if !vml]>

<![endif]>
<![if !vml]>

<![endif]>
Opened in 1887 by the Bank of Liverpool, and closed on 26 July 2013 by Barclays, Martins Bank's main Birkenhead Branch at Hamilton Square is certainly palatial, the kind of building that would provide a really good backdrop for a royal visit perhaps – but is it really fit for a queen?  Well, yes, it is, as in 1957 our still nearly-new Queen and husband Prince Philip pay a visit to this part of Cheshire. A picture is taken of the couple which just so happens to have Birkenhead Branch in the background – this proves of course irresistible to Martins Bank Magazine…
<![if !vml]>

<![endif]>
A Royal wave…
<![if !vml]>

<![endif]>
<![if !vml]>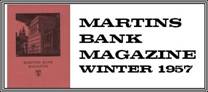 <![endif]>
<![if !vml]>

<![endif]>
Her Majesty the Queen and Prince Philip on the balcony of Birkenhead Town Hall on the occasion of the Royal Visit to Birkenhead earlier  this year. In the background is our Hamilton Square Branch.
<![if !vml]>

<![endif]>
In service: 1887 – 26 July 2013
<![if !vml]>

<![endif]>
<![if !vml]>

<![endif]> 
Branch Images © Barclays Ref: 0030-0197
<![if !vml]>

<![endif]>
<![if !vml]>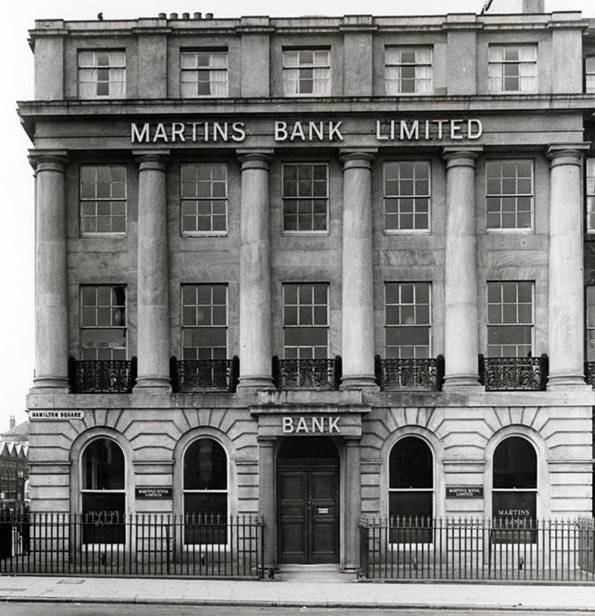 <![endif]>
<![if !vml]>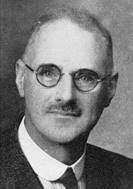 <![endif]><![if !vml]>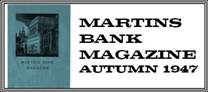 <![endif]>On the afternoon of June 25th, a large gathering of colleagues took place at Birkenhead branch to say farewell to Mr. T. A. Grimes, on the occasion of his retirement from the bank after 44 years' service. Among those present were Mr. R. H. Price, Mr. A. Tunnington, Mr. W. H. Home, Mr. G. Harrison, Mr. T. L. Thomas, Mr. S. N. Rimmer, Mr. G. G. Dobell, Mr. G. Beckett, Mr. G. H. Shepherd, Mr. A. Wall Jones, Mr. W. H. MacCormack, Mr. J. K. Washington, Mr. S. T. Rees and several retired colleagues. The presentation of a cheque was made by Mr. T. A. Johnson, Liverpool District General Manager, on behalf of subscribers. He paid a warm tribute to the qualities which have endeared Mr. Grimes to us all, not the least of which is his kindness to everyone. In his reply Mr. Grimes said that he intended to buy himself a standard reading lamp and a picture. He treated his listeners to some interesting reminiscences and concluded by referring to the value of a sense of humour in a profession such as ours. Mr. Grimes entered the service of the bank on January ist, 1903, at Kirkby Lonsdale. In 1908 he went to Keswick and in 1912 to East branch. From 1914 to 1919 he served with H.M. Forces, resuming his banking career at East branch, where he was appointed pro manager in 1922. In 1929 he became Manager of Wavertree branch, and received his appoint­ment as Manager at Birkenhead branch in 1935. In 1938 the branch at Neston also came under his managership. At the conclusion of the formal proceedings the company was entertained to tea. Apologies for absence were received from Mr. H. G. Herbert, Mr. A. Dan Thomas, Mr. John Currie and Mr. W. Roberts.
<![if !vml]>

<![endif]>
An unbroken chain of command…

<![if !vml]><![endif]>

We were delighted when former Martins Staff Member Ian Winkley got in touch and donated to the Archive this image of SIX Managers of Birkenhead Hamilton Square Branch. What makes the photo of great historical value, is that this is an unbroken chain of the Managers who served between them from 1935 to 1975. 

<![if !vml]><![endif]>

Both Ian and his wife Elizabeth worked for Martins in the 1960s, and Mr H G Campbell, the Manager on the far right of the photo, is Elizabeth's father.  The Managers are (from left to right):

<![if !vml]><![endif]>

Mr T A Grimes              (1935 to 1947)

Mr J K Washington         (1947 to 1949)

Mr J Edwards                 (1949 to 1959)

Mr A W J Roberts          (1959 to 1968)

Mr N E Leach                 (1968 to 1975)

Mr H G Campbell          (1975 to 1979)

<![if !vml]><![endif]>

Image © 1975 Martins Bank Archive Collections – Ian Winkley
<![if !vml]>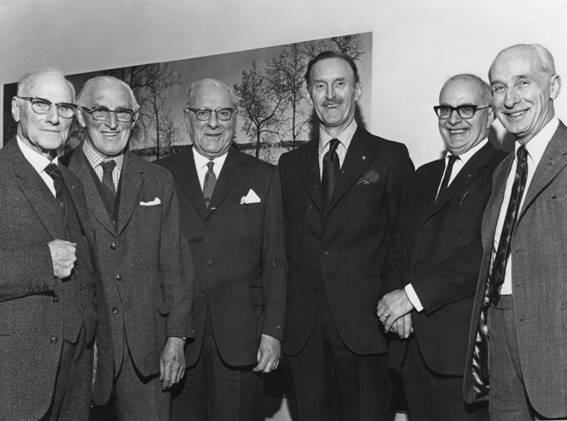 <![endif]>
<![if !vml]><![endif]>

Thanks to the amazing foresight of Robert Montgomery, who began taking photographs of Bank branches in 2009, we have access to a treasure trove of comparison images for Martins Bank outlets, as they were, and as they were again before permanent closure.

<![if !vml]><![endif]>

<![if !vml]><![endif]>

Image © Barclays Ref: 0030-0197

It looks like the building was already up for auction when Robert took this colour image of Birkenhead's Hamilton Square Branch, in June 2009 just four years before it was closed by Barclays.

<![if !vml]><![endif]>

<![if !vml]><![endif]>

Image © Martins Bank Archive Collections – Robert Montgomery

<![if !supportMisalignedColumns]>
<![endif]>
<![if !vml]>

<![endif]>