<![if !vml]>

<![endif]>
<![if !vml]>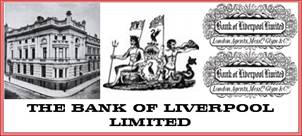 <![endif]>
<![if !vml]>

<![endif]>
The Bank of Liverpool has been in business for nearly sixty years when it opens a branch at 29 Allerton Road. This was certainly a good choice of location for a bank, as what became the Woolton branch of Martins Bank continued to serve customers of Barclays until June 2021, one hundred and thirty-three years later.   Nostalgia doesn't come much better than this lovely colour image from Barclays which was taken in the 1960s. We are also indebted to Robert montgomery, who since 2009 has been photographing former Martins Branches at time of permanent closure.
<![if !vml]>

<![endif]>
In Service: 2 July 1888 until 18 June 2021
<![if !vml]>

<![endif]>
<![if !vml]>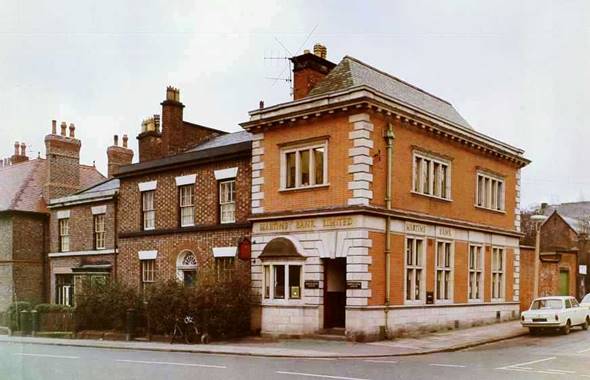 <![endif]>
Image © Barclays Ref 0030-1693
In our "then and now" feature further down this page, you can see how the Martins Bank branding was seen once more in June 2021, when the Barclays signs were taken down. In its Martins Bank days, Woolton operates as a full branch of Martins right up to the merger with Barclays in 1969, and of the many managers at the helm, we have images of no fewer than SIX in our staff gallery below!  At the end of August 1967, one of them, Mr A Hallam retires after 43 years with Martins, the last ten as manager of Woolton Branch.  As always on these occasions, Martins Bank Magazine is on hand to tell the story…
<![if !vml]>

<![endif]>
<![if !vml]>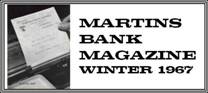 <![endif]><![if !vml]>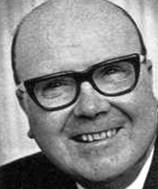 <![endif]>on August 31 after 43 years' service, all except the war years spent in the Liverpool District, Mr Hallam retired as Manager of Woolton branch. Over fifty past and present colleagues gathered at the branch for a buffet party which, considering it was the end of the quarter and also the holiday season, was a tribute to his popularity.  It was particularly pleasing to welcome the complete Hallam family, including his eight-months-old granddaughter who, it was suggested, might swell the quota of new savings account holders. After Mrs Hallam had received a bouquet from Miss Jacqueline Hilton, Mr Buchanan presented a cheque, to be used to buy a watch, and a list of over sixty subscribers.  He referred most warmly to the excellent progress of the business during the ten years of Mr Hallam's stewardship and made special mention of the high esteeem of the staff, whose welfare had always been Mr Hallam's prime consideration. In his response Arthur Hallam reflected on pleasant memories of his Bank service and thanked Mr Buchanan for his kind words. He also expressed appreciation of the gift, paying tribute to the support he had always received from his staff.
<![if !vml]>

<![endif]>
<![if !vml]><![endif]>A small but growing number of former Martins Bank Branches are revealing their identity by the removal of Barclays' signage at time of permanent closure.  Robert Montgomery has faithfully taken photographs of closed Martins Bank Branches since 2009, and his contemporary image of Woolton below, is a beautiful but haunting reminder of the name of Martins, briefly revealed once more in that part of the World…

<![if !vml]><![endif]>

<![if !vml]><![endif]>

Image © Barclays Ref 0030-1693

Image © Martins Bank Archive Collections – Robert Montgomery

<![if !vml]><![endif]>

The photograph below (right) was taken in July 2023 by the nephew of Martins Bank's former Advertising Manager Geoff Kelly. It is good to see not only that the name of Martins is so indelibly etched into the stonework above the door, but also that the building is "to let" rather than "for sale". We hope this means that for the time being at least, the building will remain in Barclays' portfolio!

<![if !vml]><![endif]>

<![if !vml]><![endif]>

Hanging on the telephone…

<![if !vml]><![endif]>A number of visitors to Martins Bank Archive have queried the way in which branch telephone numbers are represented in the Branch Information section at the bottom of each of our 1000+ Branch Network pages. The telephone number for a particular branch is shown as it was written in the 1950s and 60s. Even though Subscriber Trunk Dialling (know as STD) had been around since the late 1950s, it took more than ten years to convert all of the telephone exchanges situated in cities, towns and villages around the UK.  An intermediate way of making sure that changeover to dialling by numbers only would go smoothly, was to represent the name of the local exchange with letters. The system of having three letters on a phone dial or pad for each of the numbers 1-9 continued until smartphones arrived, with their own QWERTY keyboards for typing words. In the case of Liverpool Woolton branch, which was on the telephone exchange at nearby Gatacre, you dialled three numbers corresponding to the first three letters of the exchange name – that is to say GAT.

<![if !vml]><![endif]>

<![if !vml]><![endif]>Therefore, although the number was written as GATacre 1034, you actually dialled 317 1034. You would also give out your phone number to others as three letters followed by digits. Later on, dialling codes were introduced to prefix telephone numbers, so that to call Woolton Branch from outside Liverpool for example, you would dial: 051(for liverpool) 317(for the local exchange) and 1034 (for the person you were calling). Since that time of course as the demand for more and more connections has increased, phone numbers have changed beyond all recognition. In 1927, the telephone number for Kendal Branch was simply Kendal 8. Almost a century on, and that number would now consist of ELEVEN digits!

<![if !vml]><![endif]>

Image © Martins Bank Archive Collections – Geoff Kelly

<![if !supportMisalignedColumns]>
<![endif]>
<![if !vml]>

<![endif]>