<![if !vml]>

<![endif]>
<![if !vml]>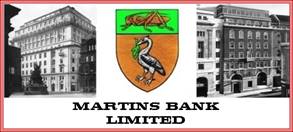 <![endif]>
<![if !vml]>

<![endif]>
<![if !vml]>

<![endif]>These rather grand "large town house" premises remained open as a Barclays' Branch at Chorlton cum Hardy until the end of September 2022.  They originally belonged to the County Bank, whose successors the District Bank came to the aid of Martins Bank in December 1940, when their own Branch at Chorlton was completely destroyed by enemy action. 
<![if !vml]>

<![endif]>
<![if !vml]>
<![endif]>
<![if !vml]>

<![endif]>
Martins rented the building until the end of the war, and then purchased it from the District Bank. The following is an extract from Martins Bank's Minute Book:
<![if !vml]>

<![endif]>
In Service: December 1940 until 28 September 2022
<![if !vml]>

<![endif]>
<![if !vml]>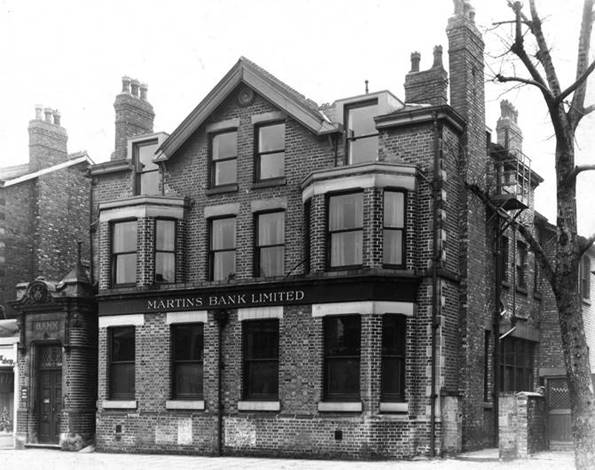 <![endif]>
Image © Barclays Ref 0030-0653
<![if !vml]>

<![endif]>
Acc 80/588 : 14.06.1945  "Chorlton-cum-Hardy branch destroyed by enemy action in December 1940, since which time we have rented the well-appointed County Bank branch premises belonging to the District Bank.  The District Bank now offers to sell them to us for £10,000.   The committee approved the purchase"
<![if !vml]>

<![endif]>
Some members of Martins Bank's staff manage to reach the end of their career before the 1969 merger with Barclays.  One such person is Mr Headey, who has clocked up a lengthy forty-four year stint with the bank, the last eight of which were spent as Manager of Chorlton-cum-Hardy Branch.  As ever, Martins Bank Magazine provides a verbal snapshot of the thankyous and goodbyes, which take place at the end of March, 1968…
<![if !vml]>

<![endif]>
<![if !vml]>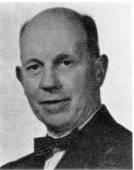 <![endif]><![if !vml]>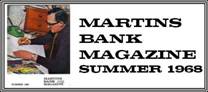 <![endif]>on March 29 Mr Headey, Manager at Chorlton-cum-Hardy, retired after 44 years' service and a gathering of some forty people, including Mr N. E. Foster and Mr W. P. Glover, attended at the office to commemorate the occasion. After Mr Foster had thanked Mr Headey for his service Mrs Swaisland presented a bouquet to Mrs Headey. Mr Ratcliffe, remarking that one of Mr Headey's greatest interests was music, gave him a gramophone motor and turntable, which will form the nucleus of a stereophonic record player he is assembling. Mr Cutler, on behalf of the Bank Club, thanked him for his past work in running the choir and the Bank Christmas parties. The assembled guests enjoyed an excellent buffet meal and a pleasant evening was spent by all. Beginning his career at Whalley Range, Mr Headey continued in the Manchester District until his retire­ment. He was appointed Clerk-in-Charge at Fallowfield in 1957 and Manager at Chorlton-cum-Hardy in 1960.
<![if !vml]>

<![endif]>
<![if !vml]><![endif]>

Our thanks go once more to Alan Thomond for the lovely contemporary image below of the Branch at Chorlton cum Hardy. A shame perhaps that the original windows now have a brick façade in front of them, but good to see the building still in use…

<![if !vml]><![endif]>

<![if !vml]><![endif]>

Image © Barclays Ref 0030-0653

<![if !vml]><![endif]>

Image © Martins Bank Archive Collections – Alan Thomond 2016

<![if !supportMisalignedColumns]>
<![endif]>
<![if !vml]>

<![endif]>