<![if !vml]>

<![endif]>
<![if !vml]>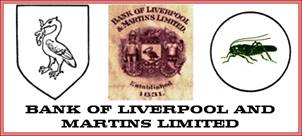 <![endif]>
<![if !vml]>

<![endif]>
This lovely branch is opened at Maidstone in 1927, by the Bank of Liverpool and Martins, just a year or less before the creation of the modern day Martins Bank.  The Golden Grasshopper of the South hangs proudly at right angles to the building, in contrast to the Coat of Arms signs of the North which include the Liver Bird as well as the Grasshopper.  Kent is known as the Garden of England, and it also has the most branches of Martins Bank of any of the southern counties.  Many of these came from the original Martin's Private Bank before 1918. 
<![if !vml]>

<![endif]>
In service: 5 December 1927 – 21 November 2014
<![if !vml]>

<![endif]>
<![if !vml]>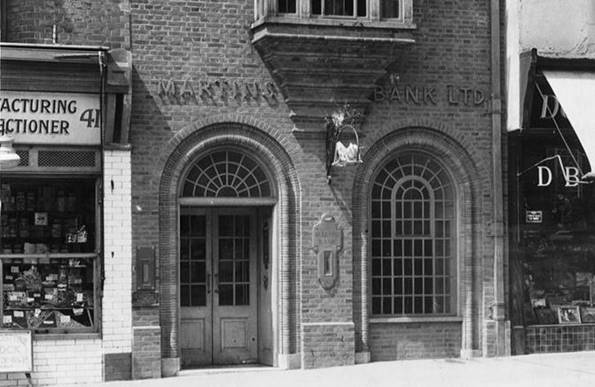 <![endif]>
Branch Images © Barclays Ref 0030-1783
<![if !vml]>

<![endif]>
Martins Bank Magazine pays its only visit to Maidstone at the end of 1950.  At this point Maidstone is a standalone branch, but in 1958 a sub branch is opened at Aylesford Paper Mills.
<![if !vml]>

<![endif]>
<![if !vml]>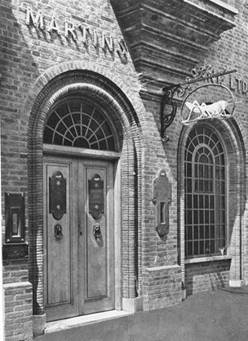 <![endif]><![if !vml]>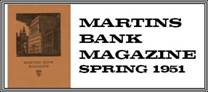 <![endif]>When one goes down into the Garden of England one has to be careful not to offend local susceptibilities and when we sought Mr. Norman-Butler's approval to our suggestion that we should pay our first visit to a Kentish branch he made it quite clear that Kentish men (and maids) live West of the Medway and the Men of Kent (an inferior tribe, according to Kentish Mr. Norman-Butler) live East. In our choice of Maidstone, then, we had to be particularly careful of our ground, because a few yards from our branch lies the river and the bridge which connects the two tribes.
All our branches in Kent are domiciled in the territory of the Kentish Men, except Maidstone, which is just over the border, Sittingbourne and Tunbridge Wells. Our branch has only a small frontage in High Street, but inside it is light and roomy, with a most attractive and spacious vestibule. The absence of a counter screen makes it a friendly place, as the entire staff is visible to the customers and mutual recognition is the rule. Mr. G. A. Jeffery has been at Maidstone since 1932, first as Pro Manager, and as Manager since 1934. Prior to that he was Pro Manager at Hanover Square, and his remaining service has been spread over Bromley, Swanley and Chislehurst, apart from a spell in the Honourable Artillery Company in the First World War. A. L. Nichols commenced his career at Lombard Street and reached Maidstone in 1949 via Southampton and Sittingbourne. During the last war he served as a sergeant-clerk with Mountbatten's army in India and Ceylon.  J. A. Port only entered the Bank in 1947 and has been at Maidstone all the time, apart from the months spent on National Service.
<![if !vml]>

<![endif]>
Image © Martins Bank Archive Collections
Branch Images © Barclays Ref 0030-1783
<![if !vml]>

<![endif]>
Miss J. M. Holding has been at Maidstone since the year of her entry, 1944, but will shortly be leaving to get married. We send her our good wishes for her future happiness. Last of all is Miss P. D. Walter, who entered the service in 1948, and has been at Maid-stone all the time. We were sorry that owing to illness Mrs. Jeffery could not join us for lunch and we hope to hear soon of her complete restoration to health. We were sorry also that the mist and drizzle which en­veloped the town prevented us from seeing it at its best, though we enjoyed the visit despite this drawback.
<![if !vml]>

<![endif]>