Opened originally in 1882, Port Erin Branch is situated on the South-East coast of the Island.   The spread of the Isle of Man Branches is such that wherever you are on the Island, you are never too far away from one.  Opening hours here, and in the Channel Islands, are broadly the same as for the mainland branches, with the exception of a slightly shortened Saturday service.  Staff members also enjoy the low income tax rates and other benefits of living effectively "abroad", on the Isle of Man. In 1950, Martins Bank Magazine pays a short visit to Port Erin, and also makes time to take in some of the spectacular sights in that part of Man…
<![if !vml]>

<![endif]>
<![if !vml]>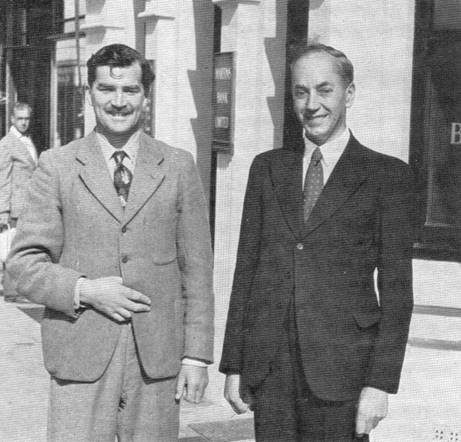 <![endif]><![if !vml]>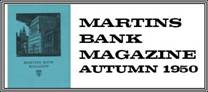 <![endif]>We paid our official visit to Port Erin branch, and as  Mr. Rushby had very kindly invited us to his home  on  the following day we did not stay long enough to hinder the work on the Saturday, the principal object of our visit being to meet G. R. Clucas, the other half of the staff.  Mr. Clucas entered the service in 1943 at Douglas, going to the mainland in 1947 for a spell at London Foreign branch. 
<![if !vml]>

<![endif]>
Two years later he went to Speke, returning to the Island this year.   He has finished his Institute of Bankers' exams and is now part way through those of the Chartered Institute of Secretaries. He was on holiday when our photographer called.  We received a very friendly welcome from Mr. and Mrs. Rushby and their daughter Heather and were on common ground immediately for both Mr. Rushby and his wife are keen gardeners and their garden is a picture.  
<![if !vml]>

<![endif]>
In the afternoon we defied the pour­ing rain and went to see the Calf of Man and afterwards walked over to the Chasms; a thoroughly enjoyable experience in spite of deplorable weather conditions: though it must be placed on record that Sunday was our only really wet day. Mr. Rushby and his wife are Londoners but Mr. Rushby came to the Island with his parents and entered the service of the L. and Y. Bank in 1916. He had a long spell at Douglas and was appointed Clerk-in-Charge at Port Erin in 1932. In the picture is Mr E Rushby (right) with Mr J E Crowe, M.C., who was on relief on the day our photographer called.
<![if !vml]>

<![endif]>