<![if !vml]>

<![endif]>
<![if !vml]>
<![endif]>
<![if !vml]>

<![endif]>
Martins Bank's branch at Ramsey is shown further down this page in 1922, during its days as a branch of the Lancashire and Yorkshire bank, alongside an image from the 1960s for comparison. 
<![if !vml]>

<![endif]>
Although obviously the same building, the configuration of ground floor windows and also the doorway to the bank are significantly changed when the name of Martins Bank is above them.
<![if !vml]>

<![endif]>
Before finding their themselves under the ownership of Martins Bank, the six Isle of Man Branches began life as part of the Manx Bank.
In Service: 1882 until present day
<![if !vml]>

<![endif]>
<![if !vml]>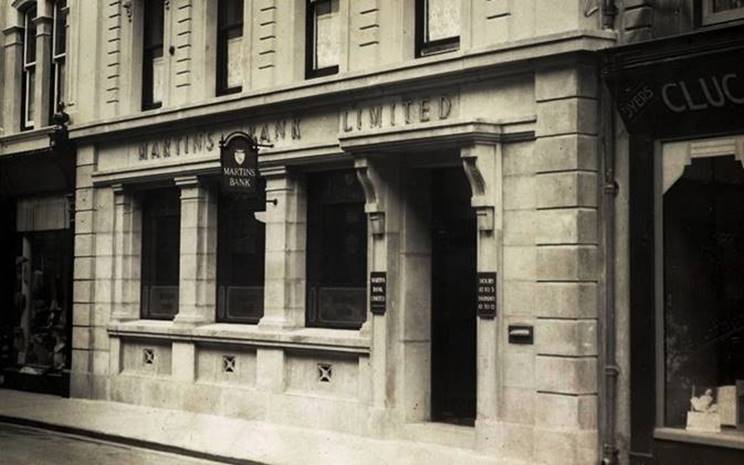 <![endif]>
Image © Barclays Ref 0030/2380
<![if !vml]>

<![endif]>
To learn more about this particular chain of ownership, please visit our ISLE OF MAN section.  In a feature entitled "Our Manx Family" in Autumn 1950, Martins Bank Magazine visits Ramsey, and meets the staff there. Although the Island is a Crown Dependency, it has its own government – the oldest in the World – and its own laws.  It is therefore interesting to read, that just like their counterparts on the Mainland (or "across" as the Manx have it) shops on the Isle of Man have an early closing day!
<![if !vml]>

<![endif]>
<![if !vml]>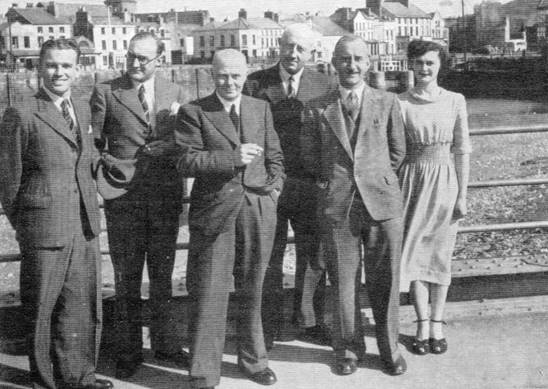 <![endif]><![if !vml]>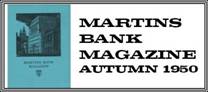 <![endif]>The day after visiting Douglas, we went to Ramsey. It was early closing day and so our visit was not a very long one. Also, Mr. Leonard Kermode, the new manager appointed after the death of Mr. Corkill had not yet taken over and Mr. Quilleash was in charge, though actually on holiday at the time of our visit. t. e. Sarginson had been holding the fort during Mr. Quilleash's holiday. He commenced his service in 1921 at Penrith. In 1929 he went to Kendal and to Douglas in 1932. Golf is his hobby. A. C. Christian entered the L and Y Bank in 1922 and served at Douglas before going to Ramsey in 1936. He served with the Forces from 1941 to 1946. J. B. Webster has been with us since 1930 and has served three spells at Ramsey and one at Douglas.  From 1940 to 1946 he served with the Forces, largely in the Middle East. He is another golfer. W. Martin commenced his career at Castletown in 1937 and went to Ramsey in 1941 just prior to five years' service with the Royal Navy from which he returned to Ramsey in 1946. There are two girls at Ramsey, Miss F. M. Caine whom we met and Miss M. Sayle who was on holiday at the time of our visit. Miss Caine entered the service at Ramsey in 1947 and Miss Sayle joined us last year. Mr. W. K. Quilleash, who has just been appointed Clerk-in-Charge at Castletown, entered the L and Y Bank in 1926. From 1941 to 1946 he served with the Forces, afterwards returning to Ramsey. As soon as we had seen the staff safely on their way, we called for Mrs. Quilleash and had the very great pleasure of entertaining them to lunch at the Ramsey Hydro. In the evening we improved our knowledge of the Island by visiting Port St. Mary and look­ing in at the famous Balqueen where so many people from Head Office seem to spend their holidays.
<![if !vml]>

<![endif]>
<![if !vml]><![endif]>

As Lancashire and Yorkshire Bank Ramsey…

Image © Martins Bank Archive Collections – W N Townson Bequest

<![if !vml]><![endif]>

… as Martins Bank Ramsey

Image © Barclays Ref 0030-2380

<![if !vml]><![endif]>

    Children WILL play…

<![if !vml]><![endif]>

<![if !vml]><![endif]>

<![if !vml]><![endif]>

Here's a slightly different "before and after" - actually the first one does have a certain charm!

Image © Martins Bank Archive Collections – with thanks to Dave Baldwin

<![if !supportMisalignedColumns]>
<![endif]>
<![if !vml]>

<![endif]>