<![if !vml]>

<![endif]>
<![if !vml]>

<![endif]>
<![if !vml]>

<![endif]>
Clitheroe is one of Martins Bank's oldest surviving branches, having been opened in 1837 by the Craven bank, it is still serving Barclays Customers today.  The images above from Barclays Group Archives show the difference a good clean can make – this may well have been the first proper attention to the stone work in more than one hundred years!   The last regular edition of Martins Bank Magazine, published in Autumn 1969, takes what it calls "a new look" at Clitheroe, meeting the staff, and cheerfully conducting a business as usual visit as if there was no merger about to happen. Look carefully futher down this page at what appear to be two identical shots of the interior of the Branch. They show life before and after the construction of the now ubiquitous "bandit screens".
<![if !vml]>

<![endif]>
Taking a new look
                 at Clitheroe…
<![if !vml]>

<![endif]>
<![if !vml]>

<![endif]>
<![if !vml]>

<![endif]>much of the Craven country is dominated by the enormous hogsback of Pendle Hill; seven miles long, 1,831 feet above sea level, and covering an area of twenty-five square miles. From ancient times it has been a centre of worship and witchcraft. Around here they say 'If tha can see Pendle then it's going to rain; if tha can't then it's raining'. By the time we had reached Whalley, Pendle had disappeared.
<![if !vml]>

<![endif]>
At the sub-branch here we met Roger Riley and Geoff Whitney; Roger joined the Bank at Burnley four years ago and after a spell at Padiham, his home town, came to Clitheroe where he has a mobile sort of existence working between the other two sub-branches at Chatburn and Gisburn. He is a member of the Padi­ham Photographic Club and is a keen artist. Although he had just passed his driving test he is not as enthus­iastic about motoring as his colleague.
<![if !vml]>

<![endif]>
In Service: 1837 until 21 September 2022
<![if !vml]>

<![endif]> 
<![if !vml]>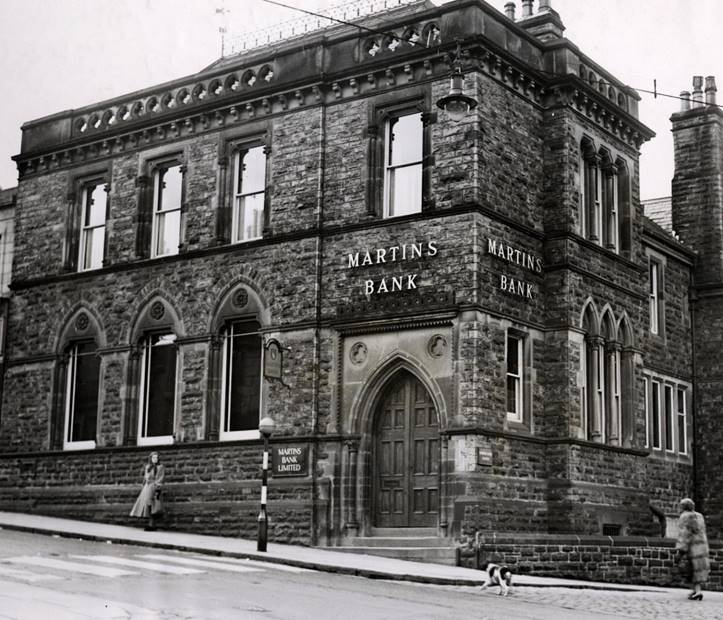 <![endif]>
 A "reet good clean" makes all the difference!
sp2<![if !vml]>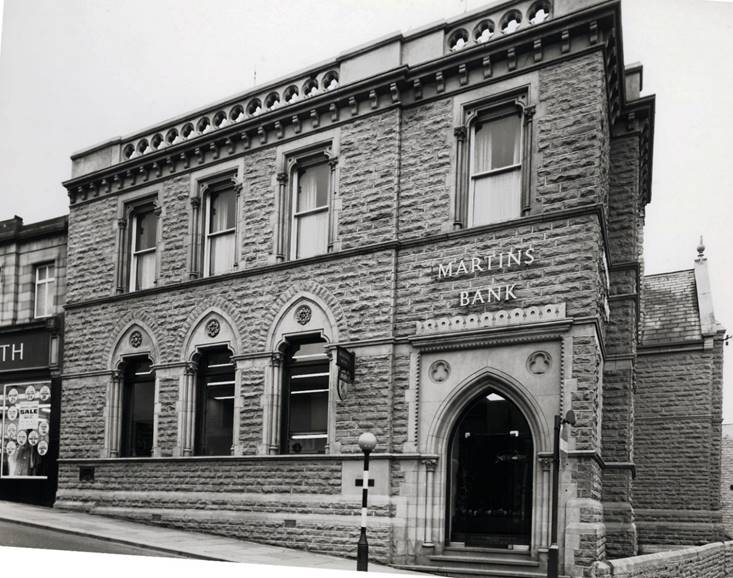 <![endif]>
Branch Images © Barclays Ref 0030-0679
<![if !vml]><![endif]>

Geoffrey Whit­ney travels in from Burnley each day and he too came to Clitheroe from Padiham. As well as a motorist he is a swimmer and a blue belt at judo. He hopes one day to work on computers. The rain had gone off as we drove to Clitheroe. 'Cliderhow' once belonged to Leofric, Earl of Mercia, but there is no record of his famed wife, Godiva, having done a repeat of her Coventry performance. The castle, built by the Normans to guard the route through the Ribble Valley, is now a public park and has been dedicated as a war memorial. Today, Clitheroe is an important market town at the centre of a large farming area. 

<![if !vml]><![endif]>

<![if !vml]><![endif]>

<![if !vml]><![endif]>

<![if !vml]><![endif]>

Our branch has recently undergone an extensive face-lift and remodelling so that it can rival any of its city counterparts. However, the farming periodicals on the counter leave no doubt about the Bank's main preoccupation.  Mr John Watson, our manager, came to Clitheroe a year ago but he is no stranger to farming and farmers. For the previous seven years he was manager at Garstang and nearly all his banking experience has been in the Craven and Northern Districts. 'I've picked up a lot moving around—I had two years in mobile branches, too—and it all comes in useful here,' he said. His terri­tory is a large one; from Whalley to Gisburn along the A59 is eleven miles and his four offices serve the area between Pendle and the Trough of Bowland which, by our estimate, is something like 100 square miles.

<![if !vml]><![endif]>

At home at Waddington, a picturesque village a mile or so out of Clitheroe, Mr Watson is busy making a new garden with the assistance of his two small boys. Also a keen golfer, he is the proud owner of a 'hole-in-one' tie. Second in command is Henry Leach who has been at the branch since 1933. Coming from a farming family he is a specialist in milk, mutton and sheep— and being able to 'talk the lingo' is a valuable asset. With some prodding from Mr Watson, we discovered that although his roots are firmly in the soil he also had his head in the clouds. A glider pilot before the war, he joined the R.A.F. in 1940 and was seconded to the Air Transport Auxiliary to ferry aircraft to air­fields all over the country. Jim Saul on No. 1 till came here from Padiham two years ago. Gardening is his hobby and he is chairman of the Finance Committee of St Stephen's Church. Another green-fingers is David Wilson. A sportsman, he plays cricket and football and he is treasurer of Whalley Football Club. With a year-old son he finds his spare time fully occupied. John Potter on No. 2 till came to Clitheroe two-and-a-half years ago from Settle. John, also a footballer, misses his music-making, for in his native Settle he was a member of the light opera company.

<![if !vml]><![endif]>

<![if !vml]><![endif]>

<![if !vml]><![endif]>

<![if !vml]><![endif]><![if !vml]><![endif]>

Mr Watson is very proud of his ladies, three of whom—Audrey Mclntyre, Christine Farnsworth and Maureen Turnbull—are married and have homes to run. Audrey, at Clitheroe for ten years, is occupied mainly with counter-work and turns to painting on pottery and in water colours for her relaxation.  Christine has a small son to limit her spare time, but at the moment she is learning to drive. Married for just a year, Maureen finds housework in the evening takes care of her leisure time.  Hazel Foulds, Mr Watson's secretary, will shortly be leaving to get married and to live in Accrington. Hazel is a speedway and motor-racing enthusiast, and if her liking for tennis is, unfortunately, not shared by her fiancé, we still hope the net result will be a love match.

<![if !vml]><![endif]>

<![if !vml]><![endif]>In the machine room we met Gillian Chadwick who is looking forward to starting counter work. A stock-car racing fan, she also likes folk music and is learning to play the guitar. Her interest in folk music is shared by Susan Altham, a talented folk-singer. Janice Hitchin is an animal-lover, walks for miles with her dog and keeps goldfish. She has plenty of variety at the branch between machining, typing and the counter. Newcomer Kay Moorhouse, six months with the Bank, is learning the tricks of the trade helping out round the office. Kay enjoys sport, swim­ming in particular, and a good book.  Clitheroe seems to be coping very well. The results of the rebuilding we had already seen but how about those pink circulars and the more subtle changes that were taking place? Naturally, as a Craven man, Mr Watson felt regret at the passing of the District, but he is a realist. 'We are gradually sorting things out,' he said, 'but the sooner we get the new systems working the better. The change is inevitable and we have to accept it. We have had very good relations with Barclays and I am optimistic about the future.' Before leaving the branch we had to take another look at their fascinating mosaic mural. It is an abstact design based on the castle and Clitheroe's coat of arms and is possibly the only mosaic in the area. It is made of natural stones of many colours and from all parts of the world, and whether you can appreciate modern art or not it certainly has a fascination, as many of the customers will testify. Out on the road we could see the top of Pendle again. It rained before we reached Whalley.

<![if !supportMisalignedColumns]>
<![endif]>
<![if !vml]>

<![endif]>