<![if !vml]>

<![endif]>
<![if !vml]>

<![endif]> The Manx Bank opens Branches across the Isle of Man in 1882.  They are run by that Bank for eighteen years before it is taken over by the Mercantile Bank of Lancashire in 1900. A subsequent change of owner sees the Lancashire and Yorkshire Bank taking over in 1904, and that is how the Isle of Man Branches find their way into the modern day Martins Bank. By the early 1920s the Lancashire and Yorkshire is responsible for six offices – Castletown Douglas, Onchan, Peel, Port Erin, and Ramsey.
<![if !vml]>

<![endif]>
The original Branch at Castletown is housed in this three story building in The Parade, just to the edge of the Market Square.  This image comes from the W N Townson Bequest to Martins Bank Archiv. It dates from around 1922, and is currently the only photograph we have available of this original branch of the Manx Bank.  
<![if !vml]>

<![endif]>
The building does manage to have the name of martins Bank above the door for about five years, but by 1933 it is clear that larger premises are necessary, and Martins moves the business to NO 1 MARKET SQUARE. There are no internal images of the original branch, but we do have the photographs of two members of staff who worked there, and these are shown in the gallery below.
In Service: 1882 until 1933
<![if !vml]>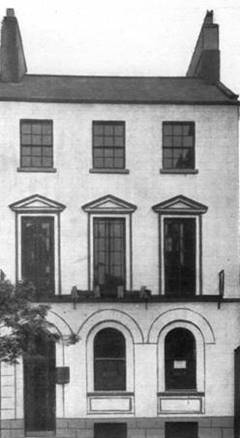 <![endif]>