<![if !vml]>

<![endif]>
<![if !vml]>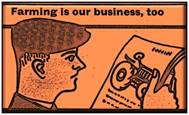 <![endif]>The drawings commissioned by Martins for use in advertising in the 1940s prove to be very popular, and regular monthly and seasonal advertisement slots in a number of publications continue to feature these outstanding artworks over many years.  The archive has a large number of 1950s advertisements which will be laid out below in order of year of publication. They begin with more commissioned artworks, and this time the bank uses the services of several different artists. We have seven examples from 1950 of drawings commissioned by Martins for use in its advertising.  This includes three different impressions of Head Office Building at 4 Water Street Liverpool.
<![if !vml]>

<![endif]>
1950 – Various Artists
<![if !vml]>

<![endif]>
<![if !vml]><![endif]>

<![if !vml]><![endif]>

4 Water Street by Graham Smith

4 Water Street by H A Crobsy

<![if !vml]><![endif]>

<![if !vml]><![endif]>

<![if !vml]><![endif]>

<![if !vml]><![endif]>

Above: Symbolising the link between

Canada and England by H A Crosby

Left: 4 Water St by J C Armstrong

Centre: 1745 Rebellion by Victor Furnivall

<![if !vml]><![endif]>

<![if !vml]><![endif]>

<![if !vml]><![endif]>

Peel addresses the House of Commons by Victor Furnivall

The Great Fire of London by James E McConnell

<![if !vml]><![endif]>

Images: Martins Bank Archive Collections © Artists as named 1950

<![if !supportMisalignedColumns]>
<![endif]>
1951 – The Stately Homes of England
<![if !vml]>

<![endif]>
<![if !vml]>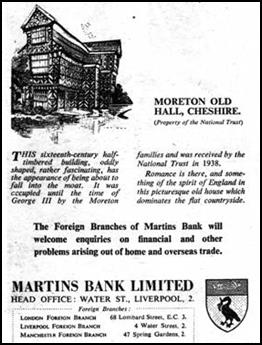 <![endif]><![if !vml]>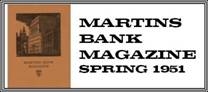 <![endif]>For our 1951 series of advertisements we have chosen the theme of England's stately homes. In many ways they epitomise all that is best in our English way of life:—breeding, tradition, dignity and service to the community, and so they form a suitable medium of linking up our own message to the public.   The set lends itself to pictorial illustration of high quality and the idea has the advantage of topicality following the publication last year of the report of the Commission appointed to investigate the problems facing the owners of these places as regards maintenance and preservation.
Three artists were chosen to execute the drawings, G. H. Wedgwood, J. C. Armitage and F. G. Lodge. Our readers are already familiar with the work of Geoffrey Wedgwood and Josh Armitage ('Ionicus'). F. Graham Lodge, however, is a newcomer to bank advertising. He is a black and white artist and his work has appeared in a large number of publications, including the Radio Times.
He was artist to 'Everyman' from 1929 to 1931 and to the " Observer " from 1929 to 1934. Samples of his work have been acquired by the Belfast Art Gallery, the Bank of Scotland, the Athenaeum Club, H.R.H. the Princess Royal, Colonel Lord Wigram and others. He has exhibited at the Royal Academy. Born in 1908, he was educated at King's School, Grantham and University College, London, also at London University. He served throughout the second World War, being invalided out of the Forces in 1945 and has since taught in London schools. His hobby is gardening.
<![if !vml]>
<![endif]>
<![if !vml]><![endif]>

<![if !vml]><![endif]>

<![if !vml]><![endif]>

<![if !vml]><![endif]>

<![if !vml]><![endif]>

<![if !vml]><![endif]>

Blickling Hall Norfolk

<![if !vml]><![endif]>

Cliveden Buckinghamshire

<![if !vml]><![endif]>

Montacute House Somerset

<![if !vml]><![endif]>

<![if !vml]><![endif]>

<![if !vml]><![endif]>

<![if !vml]><![endif]>

<![if !vml]><![endif]>

<![if !vml]><![endif]>

<![if !vml]><![endif]>

<![if !vml]><![endif]>

Speke Hall Near Liverpool

<![if !vml]><![endif]>

York The Treasurer's House

<![if !vml]><![endif]>

Moreton Old Hall Cheshire

<![if !vml]><![endif]>
Images: Martins Bank Archive Collections © Artists as named 1951
<![if !vml]>

<![endif]>
1952 – The Stagecoach Era
<![if !vml]>

<![endif]>