<![if !vml]>

<![endif]>
<![if !vml]>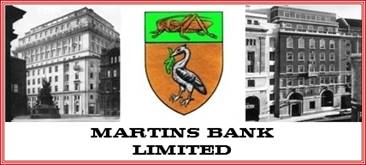 <![endif]>
<![if !vml]>

<![endif]>
<![if !vml]>

<![endif]>Martins Bank is well represented at Agricultural sites, with a large number of sub branches being situated at Cattle Markets in towns and cities up and down the land. In the north of England these are known as Auction Marts.
<![if !vml]>

<![endif]>
MARTINS BANK'S MOBILE BRANCHES tour the major agricultural shows, each year and there is a permanent agricultural branch at the famous GREAT YORKSHIRE SHOWGROUND.  At the end of 1960 comes the opening of a Sub-Branch at Kendal Auction Mart.
<![if !vml]>

<![endif]>
In service: 28 November 1960 – 24 February 2011
<![if !vml]>

<![endif]>
<![if !vml]>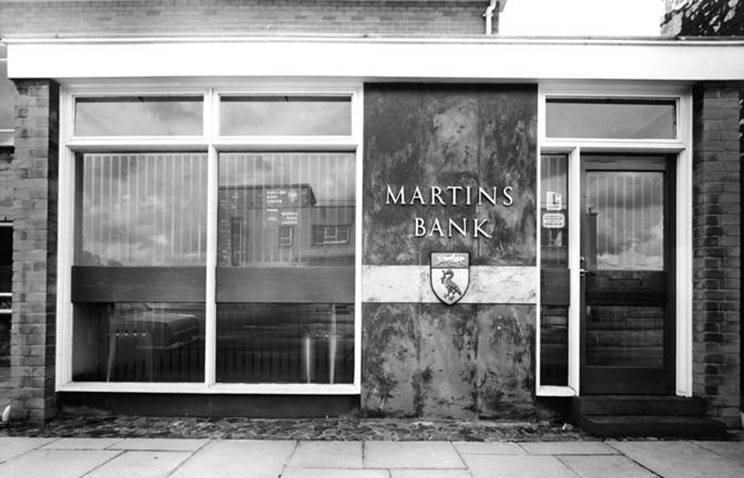 <![endif]>
Image © Barclays Ref 0033-0297
This provides a new banking service to the farmers, dealers and customers on site.  It was with great sadness that we learned of the closure of this lovely little sub-branch, which took place on 24 February 2011.  The Kendal Auction Mart site had itself for some time been winding down ahead of a new multi-million-pound redevelopment and relocation project – "J36" - at Crooklands.   In the Spring 1961 edition of Martins Bank Magazine a short feature heralds the arrival of Kendal Auction Mart Branch…
<![if !vml]>

<![endif]>
<![if !vml]>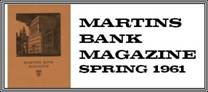 <![endif]>28 November 1960 brought another banking milestone for Kendal with the opening (below right) of a new sub branch at Agriculture House, Appleby Road by Mr Harold Woolley C B E., National President of the National Farmers' Union.   In the centre of the picture is Mr N N Jobling, the District General Manager and (third from the left) Mr C Clark, Manager of Kendal Branch.  In the picture on the left, Mr Woolley is seen signing the Visitors' Book after being received by Mr Jobling and Mr Clark.
<![if !vml]>

<![endif]>
<![if !vml]><![endif]>

By hook or by crook, Mr Woolley is first in the book!

<![if !vml]><![endif]>

The dignitaries gathered at Agriculture House

<![if !vml]><![endif]>

It is not often that a Bank has a "best-seller" on its hands, but "FINANCE FOR FARMERS AND GROWERS", issued free by Martins Bank's INFORMATION DEPARTMENT is in its FIFTEENTH edition by May 1969, and forms the basis for Barclays' advice packs to farmers after the merger and well into the 1980s.  It has proved to be enormously popular with farming customers down the years, with copies available not only in farming areas, but at every one of Martins' Branches.

<![if !vml]><![endif]>

<![if !vml]><![endif]>

Image © Barclays Ref 0033-0297

<![if !vml]><![endif]>

<![if !vml]><![endif]>

<![if !vml]><![endif]>

<![if !vml]><![endif]>

<![if !supportMisalignedColumns]>
<![endif]>
<![if !vml]>

<![endif]>