<![if !vml]>

<![endif]>
<![if !vml]>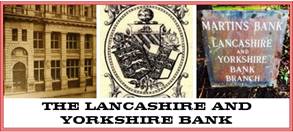 <![endif]>
<![if !vml]>

<![endif]>
The Lancashire and Yorkshire Bank opens a new Branch at 56 St Annes Road West, St Annes on the Sea in 1894, and banking services continued to be offered there for a further one hundred and twenty-eight years, St Annes closing its doors for the final time on 3 November 2022. Barclays ran this branch for the longest time – fifty-three years.  Before that, it was operated by Martins Bank for forty-one years, from 1928 to 1969.  We love the old car looking pristine outside the Branch in the 1960s, although it appears to be parked facing in the wrong direction?  There are no such traffic violations in 1952 however, when Martins Bank Magazine visits St Annes on the Sea Branch.
<![if !vml]>

<![endif]>
In Service: 1894 until 3 November 2022
<![if !vml]>

<![endif]>
<![if !vml]>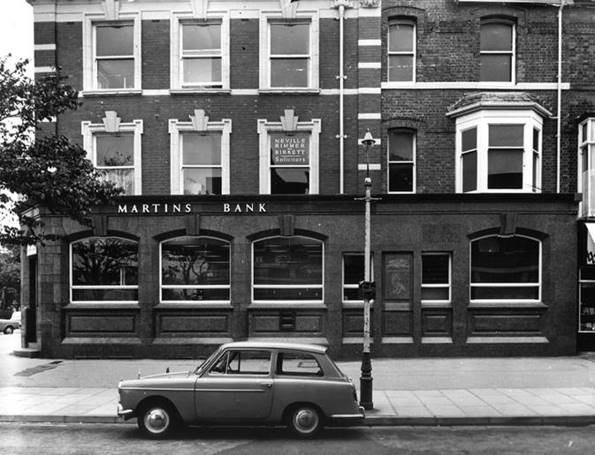 <![endif]>
Image © Barclays Ref 0033-0488
Waxing lyrical about the seaside, they also meet the staff, including Manager Mr Tillotson who at this time has clocked up an impressive forty-three years' service with the Bank…
<![if !vml]>

<![endif]>
<![if !vml]>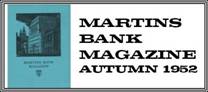 <![endif]>We visited our branch at St. Annes-on-Sea on August 6th, after meeting Mr. Blundell, our Manchester Superintendent of Branches, at a pre-arranged rendezvous in the manager's room of our Preston branch. We received a warm welcome from Mr. L. R. Tomlinson who had previously been promised the day off on condition that he ran us over to St. Annes and joined us for lunch!  Before leaving Preston, we had a quick look at the branch and were glad to have a word with most of the members of the staff, promising them and ourselves another visit all of their own on some future occasion. The day was overcast, misty, and with a slight drizzle so that we didn't see the sea at all. Not having visited St. Annes since our young days when Lytham and St. Annes were recognisable as separate places, we found it difficult to determine the character of the place, other than as a rather more exclusive appendage of Blackpool, though we realise that the natives will certainly quarrel with the word ' appendage.'
<![if !vml]>
<![endif]>
<![if !vml]>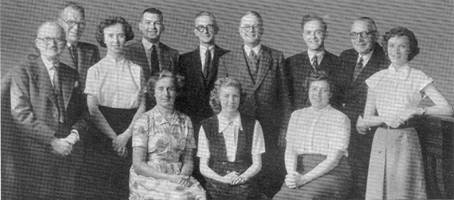 <![endif]>But whereas Brighton has its Regency Pavilion, Fleetwood its Mount Gardens, Blackpool its Tower and so on, St. Annes is exclusive to such an extent that one is denied the satisfaction of being able to point to some familiar landmark as it comes into view and say:—" Ah, St. Annes." Lytham and St. Annes are just miles and miles of promenade and if you are of the elite, you know when you are there: we:had to be told! It's a grand place for children, for the pure sea air, for a rest, for bathing, and if you want a bit more life, well, you can always take a bus to Blackpool and queue it for fish and chips, for the fun fair, for amuse­ments of every description, for the shops and for the bus back. Mr. R. B. Tillotson, who completes his 43rd year of service next year started his career in the Liverpool District, going to the Fylde coast in 1923. He was appointed Sub Manager at Blackpool in 1928, Assistant Manager at St. Annes in 1930 and Manager in 1934. As second, he has Mr. F. Barton who was appointed Pro Manager in 1949. The third signing officer is Mr. A. E. Smith, who is Clerk-in-Charge at Ansdell sub branch, and in this connection, we were most sorry for a slip in our arrangements which prevented our seeing the men at Ansdell.
We left the visit until after lunch instead of paying it on our way to the main branch in the morning. The result was that when we were ready to go the staff were somewhere in transit between the sub and the main branch and as we had a train to catch, we couldn't wait. Next time we are along this coast we will repair the omission. Three of the staff were away on the day of our visit but, in spite of the extra pressure of work, we received a most friendly welcome from everyone and were especially glad to meet M. H. Samman who contributed to one of our earlier issues, and L. Sharp with whom we have very much in common. We were also delighted to meet Miss A. E. Bleakley, one of our subscribers and a former member of our staff, now in retirement, who happened to be at the branch when we called.
After lunch Mr. Tillotson took us to his home for a much too short browse in his excellent little library of fine books, nearly all of them collector's pieces, many of them signed. What a treat to be able to handle finely printed books and to look at them in the intimacy of a private house! Mr. Tillotson also has an immensely valuable colonial stamp collection but there was no time to look at it and we had to return to the branch content with a very warm and pressing invitation to call on him again and spend more time among his treasures. This we very much hope to do. We took the prettier inland route back to Preston and after returning Mr. Tomlinson safely to his beloved branch, which seemed to have functioned very efficiently despite his brief absence, we made our separate ways to Manchester and Liverpool.
<![if !vml]>

<![endif]>
<![if !vml]>

<![endif]>St Annes on the Sea is seen here under two different owners. Firstly from 1922 and the days of the Lancashire and Yorkshire Bank Limited on the left, then to the 1970s and current owners Barclays on the right…
<![if !vml]>

<![endif]>