<![if !vml]>

<![endif]>
<![if !vml]>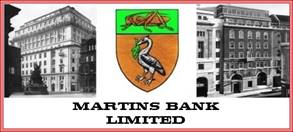 <![endif]>
<![if !vml]>

<![endif]>
<![if !vml]>

<![endif]>Llandudno opens for business at 84 Mostyn Street in 1938, and is still going strong today. Barclays is strong in Wales, so every Martins Branch counts; therefore Llandudno is an important part of Martins' expansion plans, as it pushes further into both North and South Wales, and to the very Southern edges and tips of England.  Two sub branches are opened, the first at Tal-y-Bont is closed after a couple of years and relocated to Dolgarrog which stays open through and beyond the merger with Barclays.  At the beginning of 1950, the team from Martins Bank Magazine descends on Llandudno to produce their usual report on the town, the building and the staff…
<![if !vml]>

<![endif]>
<![if !vml]>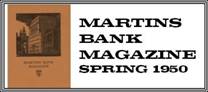 <![endif]>
<![if !vml]>

<![endif]> 
Our visit to Llandudno on January 18th was like going back home. We played on its sands in our young days, camped in the valley behind in our twenties and climbed in its mountainous hinterland in our thirties.
<![if !vml]>

<![endif]>
In Service: 1938 until present day – still open as a branch of Barclays
<![if !vml]>

<![endif]>
<![if !vml]>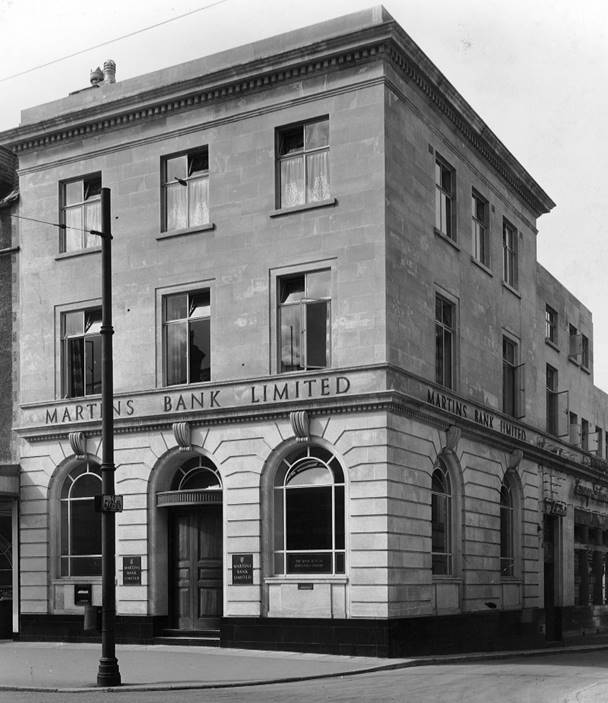 <![endif]>
Branch Images © Barclays Ref 0300-1702
To complete the feeling of home­liness, at the branch itself we were already on the friendliest of terms with two members of the staff, A. N. E. Hughes, whose photographic work will shortly be appearing in our pages, and W. G. Williams, an old colleague of Heywoods branch. (The number of people, and distinguished people at that, we come across who have had service at Heywoods branch is quite remarkable, but that is a story in itself!) We picked a perfect day for our visit, with our usual good luck; bright sunshine, a calm sea, and an invigorating tang in the air.
We received a very friendly welcome from the staff who went to a lot of trouble to ensure that the one redeeming feature of the photograph we publish was presented to us in the most favourable light! Olwen Mostyn may be a Welsh name, but she's a Manchester girl who entered the Bank at Manchester Office in 1941. She has been at Llandudno since 1945, and despite the teasing she gets she has the situation well under control, and all are agreed that she can make a nice cup of tea!  W. G. Williams's special qualification for being second man is that he speaks Welsh. We were on the Journals together at Heywoods in 1923 and the combination of Ellis and Williams, two of the most garrulous juniors ever employed by the Bank, may have been a contributory factor in the premature retirement of more than one member of the Heywoods staff of that day. At any rate, the Bank decided to break the partnership, and "W.G.W." went to Waterloo, H.O. Relief, Walton and then to Llandudno when the branch was first opened. He served with H.M. Forces from 1941-1946 and we were reunited on January 18th after being parted for twenty years. Mr. Hughes tells me that "W.G.W." can still hold his own with the natives!
<![if !vml]>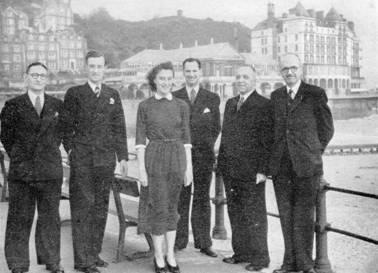 <![endif]>D. B. W. Edwards is a Craven man whose service commenced at Keighley in 1923. He was transferred to the Leeds District at Bradford in 1926 returning there in 1946 after war service in Egypt, Sicily and Italy with the 8th Army, being wounded. He went to Llandudno in April 1946 and the day after our visit his son entered the Regular Army, in the Tank Corps, following his father's tracks.  A. N. E. Hughes is a rock climber as well as a keen photographer and he hoped at one time to form a Rock-Climbing Club in the Bank, but the response was not forthcoming. He is nicely placed to indulge in both his hobbies. He commenced his service in 1937 at Lower Bebington, going to Llandudno the following year. In 1939 he went to Colwyn Bay and then followed service with H.M. Forces from 1940 to 1946. He returned to Llandudno in December 1946 after a few months on the Relief Staff. F. H. Kemp is on the Relief Staff, up and down the Coast according to the demands of sickness and holidays and was at Llandudno at the time of our visit. He also is keen on photography.
At lunch time we walked along the deserted front, sparkling in the winter sunshine, to Mr. Hughes's home, where Mrs. Hughes had prepared a repast fit for a king. Mrs. Hughes is a trained nurse, but it didn't take us long to discover that she is talented in other directions also and we spent a very pleasant hour in their home. Mr. Hughes's son is at Liverpool University and his daughter is a teacher.  A walk in the streets of Llandudno with Mr. Hughes is quite an ordeal; he seems to know everybody and one is kept raising one's hat every few yards.  Sometimes his greeting is in Welsh; sometimes in English, and everyone seems glad to see him. He is an old L. and Y. man, and entered the bank in 1919 at Woodside. He transferred to the Cattle Trade Bank the following year and was Clerk-in-Charge of the Cattle Market branches at Wakefield, York and Manchester. It was a strenuous life, quite unlike ordinary banking, and the article we published in an earlier issue by E. F. Matthews gave a good idea of the rough and tumble of this business. He became Manager at Llandudno when the branch was opened in 1938. During the first World War he served on the Western Front, on the Somme, at Ypres, and at Arras where he was wounded.
<![if !vml]>

<![endif]>
Mr R T M Williams, on his way to fame…
<![if !vml]>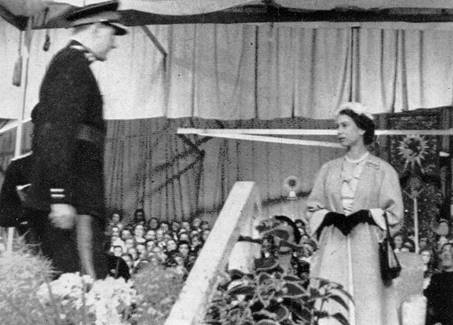 <![endif]>A number of Martins Bank's Managers return from World War II with distinguished service, some already have letters after their names, others whose work for their country and for their community is being "noted", are surely destined for glory. Mr R T M Williams is presented to H M The Queen in 1953, and by the beginning of 1957 he is mentioned in the Birthday Honours List.
<![if !vml]>

<![endif]>
<![if !vml]>
<![endif]>On the occasion of the State Visit of H.M. The Queen to North Wales on Friday 10 July.  Lieutentant Colonel R. T. M.  Williams, Manager of our Llandudno Branch, was the Commanding Officer of the troops on display. The picture shows him being presented to Her Majesty the Queen. At the Royal Garden Party at Buckingham Palace a week later, Colonel Williams was fortunate in again being presented to the Queen, this time with Mrs Williams.
<![if !vml]>

<![endif]>
… and to gathering some "gongs" - OBE, MC, TD, AND B B C (?)
<![if !vml]>

<![endif]>
<![if !vml]>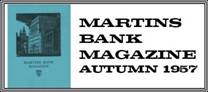 <![endif]><![if !vml]>

<![endif]>In the Queen's Birthday Honours List the award of OBE to Mr R T M Williams, Manager of our Llandudno Branch, appears.  Mr Williams has been invited to represent the 53RD Welsh Infantry Division (TA) at the annual war memorial service at Hertogenbosch in Holland on 25 October, being the anniversary of the liberation of the town in 1944 by his division, a battle in which Mr Williams took part.  On Sunday 28 July, the BBC visited the Ancient Borough of Flint in the "Down Your Way" programme.  One of the calls was at the castle where the 372ND Flint and Denbigh Yeomanry have a Battery Headquarters.  As Officer Commanding, Colonel R T M Williams was asked to meet Franklin Engelmann to talk about the Regiment and about the celebration of the tenth anniversary of the conferment of the Freedom of the Borough upon it, which took place on 31ST August.
<![if !vml]>

<![endif]>