<![if !vml]>

<![endif]>
Just as Martins Bank's advertising changes radically from the early 1960s onwards, so too does the style and content of the leaflets and <![if !vml]>

<![endif]>guides it publishes for customers.  We look at the changing face of cheques and other bank slips in our CUSTOMER STATIONERY section, and at the move to a modern hi-tech facility for printing it all at STATIONERY DEPARTMENT.  Here though, we take a brief look at some examples of the leaflets and guides from the 1950s and 60s, many of which are also shown elsewhere on the site as part of other features.
<![if !vml]>

<![endif]>
The Treaty of Rome

<![if !vml]><![endif]>

<![if !vml]><![endif]>At the height of discussions as to whether or not Britain would join the Common Market, Martins Bank Information Department decided to produce this handy leaflet to weigh up the pros and cons of membership.

<![if !vml]><![endif]>

It is a good example of the department's thoroughness, dealing with nine different topics about the Common Market, and providing a number of statistics regarding population sizes, national incomes and industrial production details for the six common market countries, the UK and the USSR.  The following statement appears on the back of the eaflet, and on many of the other special guides produced by the bank:

<![if !vml]><![endif]>

<![if !vml]><![endif]>
"The Information Department will be pleased to receive through the manager of any branch of the Bank, enquiries of an economic, industrial or commercial nature, concerning the United Kingdom, the Common Market or other countries overseas…"
We wonder - just how many times did the KGB write in to obtain information?
<![if !vml]>

<![endif]>
Wish you were here…
<![if !vml]>

<![endif]>
<![if !vml]>

<![endif]><![if !vml]>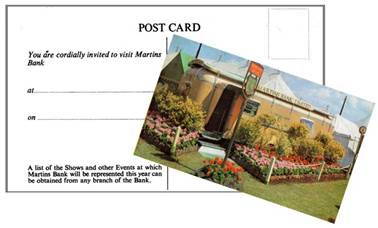 <![endif]>Martins' Show and Exhibition Branches Department looks after the fleet of Mobile Branches, which together attend around eighty shows and agricultural events in the UK each year. The post card show here on the right is one of a set that features a number of  different images of the mobile branches, and is used to invite visitors to shows, and important local business people to visit the mobile branch to see what Martins Bank is all about.  In addition to the fleet of Mobile Branches, Martins regularly attends Trade Fairs all over the United Kingdom.  Show and Exhibition Branch Department creates a variety of imaginative stands, and Martins Bank Magazine carries a large number of images of these, many in colour, over the years.  To learn more, and see the Bank in action at a variety of trade shows, please visit our TRADE STANDS feature.
<![if !vml]>

<![endif]>
Not just holiday money…
<![if !vml]>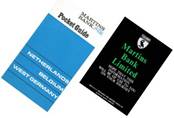 <![endif]><![if !vml]>

<![endif]>
<![if !vml]>

<![endif]> Martins Bank European Travel Guides are extemely popular, and perhaps this is because they are quite simply small, handy and very useful.  Produced from around 1959 until the Barclays takeover, the guides change their look occasionally, but essentially remain as a quick reference guide for the countries you want to visit.  A special edition is produced for those using one of the Bank's major customers – British Eagle Airways. The guides are just the right size to keep handy in a wallet, or to wrap around foreign currency and travellers cheques. Now how's that for convenience?
<![if !vml]>

<![endif]>
<![if !vml]>

<![endif]>
The future is here - today!

<![if !vml]><![endif]>When you are at the forefront of innovation and new technology, you want people to know about it, so Martins produces these customer leaflets to help customers understand two wonderful new developments:  "Martins Drive-In Bank" gives practical advice on using the special counter and getting the best out of this new way to bank.  "Pegasus" explains just how your details will be handled by the amazing new computer that is the first to offer current account data processing. Within six years, Martins will have two major computer centres and the ability to transmit data from one end of the Country to the other…

<![if !vml]><![endif]>

<![if !vml]><![endif]>
An Account at Martins Bank
<![if !vml]>

<![endif]>
<![if !vml]>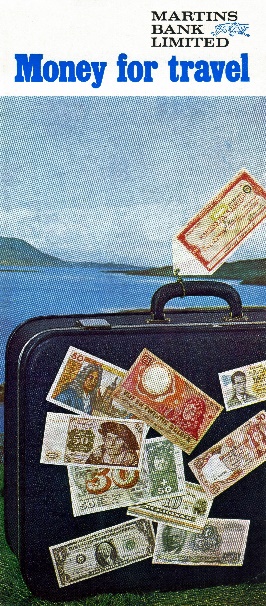 <![endif]><![if !vml]>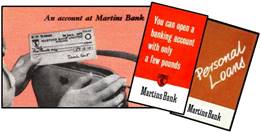 <![endif]>What we know today as "products" are just about getting off the ground by 1959.  The power of ITV, which is now four years old, to sell everything from toothpaste to white goods on hire purchase, cannot be underestimated.  At Martins, "The Housewife" is enticed by the simple but powerful image of a cheque produced from a handbag, giving housekeeping money a whole new kudos.  It has never been so easy to open a banking account, and forgive them, for the knew not what they were doing, the modern day evil of personal credit is just finding its wings thanks to the newly packaged "Personal Loans".  It is frightening to think that the Consumer Credit Act, giving protection to the borrower, is still fifteen years away!
<![if !vml]>

<![endif]>
A Co-Ordinated Campaign
<![if !vml]>

<![endif]>
<![if !vml]>

<![endif]><![if !vml]>

<![endif]>Our final set of examples of Martins leaflets is from the "Martins go to extremes to be helpful" period, a year or so before the takeover. Most of these leaflets are featured in full elsewhere on the site, so by clicking on your choice below, you will be taken to the relevant page. Sadly, the Liver Bird has been dropped from all promotional material by this point, and the grasshopper is left to fly the flag as Martins final days tick by. It is hard to imagine that in the apparently enlightened 1960s, millions of Britons still don't have, or more importantly don't trust a bank account, considering the idea to belong to a higher social class.   As the full power of branding and marketing hits the banks, they in turn hit the public with advertising campaigns and leaflets designed to woo even the most "cash only" individual, that putting that cash in a bank doesn't just bring safety, and perhaps a bit of interest.  No, having a bank account is responsible – you owe it to your family to have your financial affairs safe and in order.  Having a bank account is practical - you can start one with only a small amount of money.  Having a bank account is, perhaps most of all, a source of that highly prized 60s financial commodity – "FREEDOM". 
The new BANKERS CARD makes your account portable, and with payment by cheque now AUTOMATED, fledgling CASH MACHINES are appearing on street corners The newly created direct debits and credit cards make it easy to spend, borrow, obtain cash AND make payments quickly and safely.  In fact freedom and a bank account go together very well indeed.  Whilst already under part merger with Barclays, Martins has one final stab at independence with the issue of three leaflets designed to recruit new current account customers. (See the first three leaflets below). The campaign uses an "all walks of life" gallery helping to widen the appeal of a bank account.  Sixites fashions aside, these leaflets look almost as if they were produced yesterday, or at least only the day before that… Choose your favourite, and enjoy!
<![if !vml]>

<![endif]>
<![if !vml]>

<![endif]>
<![if !vml]><![endif]>
For your information…
It is easy to forget that Martins Bank's branches themselves - along with the staff that work in them - are all advertisements for the Bank, and at Martins Bank of course, the staff always go to extremes to be helpful.  However, there is also one more method of letting customers know about services and any special events that might occur, and that is through the use of  in-branch displays.
<![if !vml]>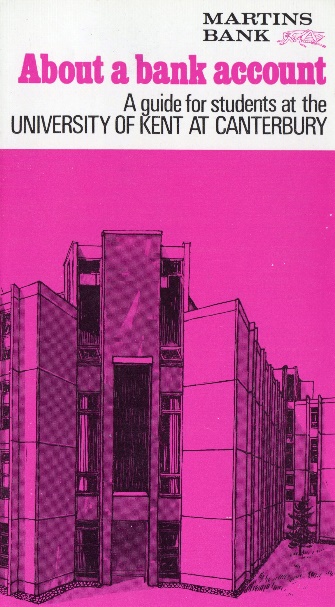 <![endif]>
<![if !vml]><![endif]>

<![if !vml]><![endif]>

<![if !vml]><![endif]>

<![if !vml]><![endif]>

<![if !vml]><![endif]>
Official Notices, counter displays, helpful leaflets and Counter Plaques to remind you of those vital services…
Images: Martins Bank Archive Collections
<![if !vml]>

<![endif]>
<![if !vml]>

<![endif]>M
<![if !vml]>

<![endif]>r