<![if !vml]>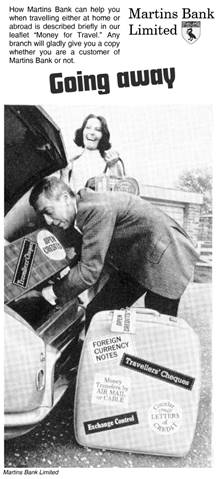 <![endif]><![if !vml]>

<![endif]>
Travellers' Cheques
This is generally the safest and most convenient way of carrying money. Martins Bank Travellers' Cheques are issued in units of £2, £5, £10, £20 and £50, and if they should be lost or stolen you can obtain a prompt refund of their value, subject only to your signing a simple form of declaration. The cheques can be encashed not only at the branches of all the main banks in the British Isles but also in most places abroad, and are Frequently accepted in payment at hotels and stores and on ships.
Foreign Currency Travellers' Cheques
Travellers' Cheques expressed in certain foreign currencies and issued by our correspondent banks abroad can be ordered, if required, through any branch of Martins Bank. When travelling in the United States of America, particularly in areas away from the main centres, it is advisable to take at least a part of one's requirements in the form of Travellers' Cheques in dollar denominations.
Circular letters of credit
Circular Letters of Credit are issued by Martins Bank for amounts of up to £2,000, and enable the holder to obtain funds as required from any of our branches and from numerous appointed offices of other banks at home and abroad.
Open Credits
An Open Credit is useful for anyone likely to stay for some time in one place, since it provides for encashment of one's own cheques, up to an agreed limit, at a particular office of Martins Bank or of another bank at home or abroad.
Transfers by Air Mail or Cable
The Bank can make arrangements by either air mail or cable for funds to be paid over through a bank abroad to a particular person on application and after identification. This is useful for travellers already abroad who find themselves in urgent need of money.
Foreign Currencies
When you go abroad it is wise to carry some foreign currency with you in addition to any other means of payment which you may have. This will ensure that" you can cover your immediate needs on arrival at your destination, particularly if you are likely to arrive outside banking hours—it should be noted, for example, that banks abroad, and especially in Europe, are often closed on Saturdays. Most foreign currencies are available in this country and can be obtained through any branch of our Bank. When such foreign currency is being obtained, it is advisable to ascertain from the branch con­cerned what restrictions, if any, are in force in respect of the import and export of currency for the countries to be visited.
Exchange Control
If you are going abroad and your destination is within the Sterling Area (technically known as "the Scheduled Territories"), there are no Exchange Control regulations which limit the amount of money you may take, although there is a limit to the total which may be taken in the form or sterling or other bank-notes. This restriction, however, does not apply to the Isle of Man, the Channel Islands or the Irish Republic.  For journeys to countries outside the Sterling Area the amount of monev which you may take with you in any form is governed be Exchange Control regulations. These regulations, of course, also govern the amount of money which may be transferred to you when you are abroad. The total amount of money which anyone is per­mitted to have when abroad will depend on the purpose and duration of the journey concerned, and information about the current regulations will gladly be given to you at any branch of Martins Bank.  You can obtain the official leaflet "Notice to Travellers" at the same time.
<![if !vml]>

<![endif]>
Chief Overseas Branch :

80 Gracechurch Street,

London EC3

Telephone :

Mansion House 6568

Liverpool Overseas Branch :

4 Water Street,

Liverpool 2

Telephone:

Central 5428

Manchester Overseas Branch :

47 Spring Gardens,

Manchester 2

Telephone :

Deansgate 4061/7 and 3585/6

Head Office :

4 Water Street,

Liverpool 2.
<![if !vml]>

<![endif]>
Martins Bank Travellers Cheques…
<![if !vml]>

<![endif]>
<![if !vml]>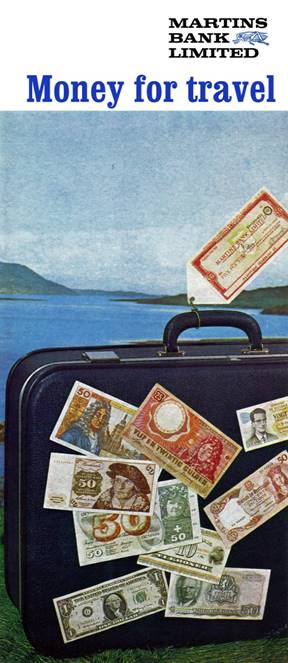 <![endif]><![if !vml]>

<![endif]>
<![if !vml]>

<![endif]>
<![if !vml]>

<![endif]><![if !vml]>

<![endif]>In 1949, exchange controls are still very strict after the Second World War, and to bring the point home about how much holiday money a person is allowed to take abroad in cash, the British Government commissions a public information film entitled "FIVE POUNDS IN NOTES". Made by British Pathé with the independent film maker Richard Massingham (pictured), who is responsible for many popular quirky short instructional films, it reminds those about to travel abroad that they must take the bulk of their money in travellers' cheques, and only five Pounds in Sterling banknotes.  In fact the cash itself is really only meant to be taken with you in order that you will  bring it back again at the end of the holiday to meet any unexpected financial needs at home! <![if !vml]>

<![endif]>
1963: Electronic Book-keeping has arrived…
<![if !vml]><![endif]>

By 1963, Martins' programme of computerisation is well under way – Cheques are routinely read and sorted by machine in London District Office. Travellers' Cheques are seen by many banks as one of the important areas of modern banking that must be given priority when it comes to computers.  Lloyds, Martins AND Barclays all make strong moves towards this in the mid- to late 1960s. 

<![if !vml]><![endif]>

In November 1963, the Bank issues this letter (left) to its correspondents abroad, advising them of the changes to its Travellers'  Cheques. There is now MAGNETIC INK encoding, including one of two new SORTING CODES for CHIEF OVERSEAS  Branch: "11-77-20" which replaces the previous National Number "11-2". 

<![if !vml]><![endif]>

<![if !vml]><![endif]>
<![if !vml]>

<![endif]>
There is also space for an account number (the seven digit serial number of the cheque).  A transaction code – 44 – will be used to denote a Travellers' Cheque. The cheques no longer bear evidence of Stamp Duty paid, and they also become open-dated for the first time. Previously the validity of the Cheques had to expire twelve months from the date of issue.
<![if !vml]>

<![endif]>
A friendly face, wherever you go…

<![if !vml]><![endif]>

Thanks to the network of Correspondent Banks abroad that have reciprocal arrangements with Martins Bank, you can be sure that a high standard of service will be offered to you wherever you go! 

<![if !vml]><![endif]>

When you tell the Bank your destination, they will provide you with a comprehensive list of banks located in hundreds of towns in your chosen country. Martins go to such extremes, in order to ensure that "Going Away" with Martins Bank Travellers Cheques is an easy and carefree experience! 

<![if !vml]><![endif]>

<![if !vml]><![endif]>

<![if !vml]><![endif]>

<![if !vml]><![endif]>

<![if !vml]><![endif]>

<![if !vml]><![endif]>

<![if !vml]><![endif]>

<![if !vml]><![endif]>
<![if !vml]>

<![endif]>
When you purchase your cheques, Martins' friendly and helpful staff will go to extremes to ensure that you are aware of the rules governing the use of the cheques, and that you know just what to do in the event that cheques are lost or stolen.  So before your journey starts, you should take a moment to remind yourself:
<![if !vml]>

<![endif]>
| | | | |
| --- | --- | --- | --- |
| <![if !vml]><![endif]> | <![if !vml]><![endif]> | <![if !vml]><![endif]> | <![if !vml]><![endif]> |
<![if !supportLists]>1. <![endif]>Your cheques will be issued in an attractive wallet.
<![if !supportLists]>2. <![endif]>Please be sure to keep your unused cheques in the wallet, as it also contains full instructions for use.
<![if !supportLists]>3. <![endif]>Please be sure to read the Cautionary Notice - this is a step by step guide to using and looking after your Travellers Cheques.
<![if !supportLists]>4. <![endif]>Remember: As the cheques themselves are as good as cash, you must treat them like any of your other valuable personal property.
<![if !supportLists]>5. <![endif]>Don't forget to record the details of the cheques that you use – this will help you keep track of your spending, and is of particular use to the Bank if the other cheques become lost or stolen.
<![if !supportLists]>6. <![endif]>This sheet also provides a reminder of how to call Martins from abroad if such a problem arises.
<![if !supportLists]>7. <![endif]>
<![if !vml]>

<![endif]>
<![if !vml]>

<![endif]><![if !vml]>

<![endif]>
<![if !vml]>

<![endif]>M
<![if !vml]>

<![endif]>